Following its celebrated debut at South by Southwest and in time for its wide release, ComingSoon.net got the chance to chat with horror icon Barbara Crampton (Beyond the Gates) to discuss her work as both the star and producer of the gothic chiller Jakob's Wife, which is now in select theaters and on digital platforms!
RELATED: CS Interview: Stevens & Crampton Talk Gothic Chiller Jakob's Wife [SXSW]
ComingSoon.net: Now that you've seen the the positive response coming out of South by Southwest, how does it feel for you coming up on it and seeing all the all this, this praise from the horror community?
Barbara Crampton: It's a relief, I guess, because I've been dreaming about it for so long. I first read the script for this five years ago, because it won a contest at the Shriekfest Film Festival and it was brought to me by Denise Gossett, who runs that festival, and the original writer Mark Steensland and he really loved the story. It was bigger and bolder, so I felt like it was in some ways similar to what I had gone through in my acting career after not working for a number of years, when I hit my mid 30s, the phone just stopped ringing and I wasn't getting offered any parts, I wasn't getting any auditions. It took me coming back with You're Next, which fortunately was a movie that did so well that people were a little bit more aware of me again, and I was still around. At that point, I rededicated myself to my career and I started really working more and now I can say that my character sort of mirrors what happened in my own career in my life. That I was sort of away from the business for a while just not feeling like I was a part of it anymore and then coming back and rededicating myself to it, a whole world opened up for me. Now I'm being really inspired working with all these young filmmakers and telling amazing stories and I feel like I had some of the best characters that I've been able to play at my entire career just in the last number of years, so I'm more excited about the business than ever.
CS: When we last spoke for the film, we tried to avoid spoilers, but I think now that now that we've got it coming up, I want to get into it a little more with you. What was it like when you first saw Bonnie as the master with the sort of Salem's lot look?
BC: I knew that Travis wanted her to have that Nosferatu make up, he was talking with the special effects team about creating that. We were all on set, because there was no makeup test, we were just waiting onset in anticipation of getting the first glimpse of her and it was delightful and frightening and really cool and really badass, all at the same time. Bonnie has a way of really transforming herself depending what kind of makeup she's in, she's very valuable as a performer and she really felt like she lived in that makeup for eternity. When I first got the first glimpse of her just like five minutes after the makeup was complete, it was really inspiring and was such a good choice for her as a performer in the movie and in general, because we don't often get to see the Nosferatu vampire. All of us loved Salem's Lot and that was one of the inspirations for this film, so Travis really wanted to make The Master look like that and especially for her I think it was a great choice.
Click here to rent or purchase Jakob's Wife!
CS: What was it like looking for or finding your monstrous look, because, you know, in some scenes, it's just the eyes, others it's just the teeth, some it's both?
BC: Well, he just wanted me to be like a youngster version of Bonnie and I'm just getting my teeth wet, so to speak. So I had to be just a little more minimalistic version of Bonnie, they kept saying they wanted me to be cute, but she's like a cute young Nosferatu and I'm an older woman so that it's like a rebirth of my character. But she's still young in her vampiric life, so we just wanted to have the touches of it and the flashes of it and there's only one scene where my nails really grow longer and that's when I bite the neighbor and I try to tear his head off. [laughs]
CS: What did you find were some of your biggest creative challenges on the film? 
BC: My character undergoes a transformation, so how to effectively and realistically bring that transformation to life and do that in such a way required me to be at my most vulnerable and most raw. Initially as one type of character and as a sort of long-suffering housewife who really has lost her zest for life and then having something happen to her where she is renewed and youthful. How to play that out both physically and emotionally, but mostly, I guess, a physical transformation has to take place and how we were going to film that. You know, special lighting to make me look different from the beginning of the movie, to you know, the middle and the end of the film, and costume wise, how we would showcase her change and keep her looking fresh for the second half of the film. I am my age the whole time in the film, but I become a vampire so how do we make that physical transformation come through in a visual way, but also in a realistic way so that it looks plausible and doesn't look artificial. We had great teams to make that visually believable. I think that was challenging mostly for Travis, you know, that was really on him to complete that, but it's also an inner journey about a woman and it's not just the physical transformation, but the emotional transformation and how she has a new zest for life that enables her to recapture her youth through the story.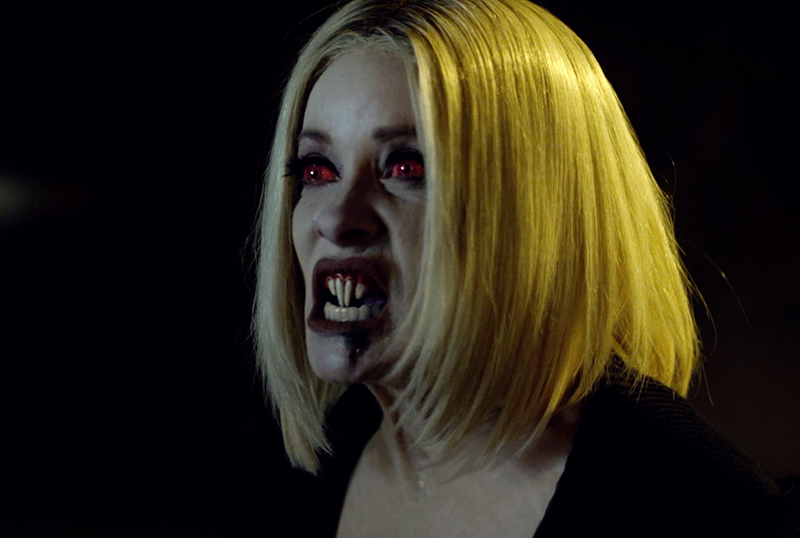 CS: What was it like filming those bloody sequences?
BC: Exciting and fun, I love special effects, I've been working with special effects from the time I first started in Re-Animator and I love how they put everything together, from the latex and the teeth to the blood and the gore. All of that and how it's all put together to hopefully present something beautiful and delicious on screen, it's really fun, it's exciting. I really enjoy — you know, as much as this movie is about feminism and about a marriage — the movie is a love letter to the fans and we wanted to give people something that they would be excited to watch visually. So those moments on screen where bite Naveed and there's blood everywhere and I get to lap it up like a kitten from the floor. We just wanted people to also have fun with the movie.
CS: One thing I thought was interesting in my chat with Travis is that he had mentioned the possibility of exploring this world further whether it's continuing Anne's journey or looking back at at the Master's past. What are your thoughts on it, since you've been behind the development for so long, and were in the producers chair
BC: I think there is a future, we've been talking about it a little bit, it really hinges on the fans. If the fans want to see more of Jakob and his wife and know more about Bonnie Aaron's character in where she came from, we definitely have some thoughts about it. I've talked about and I've had a couple of meetings on it, so we'll see what they think about it and we'll see if there's enough interest there to generate looking at future iterations. But we'd love to continue these characters because we really like them and we think the audience hopefully will like them as much as we do and want to see more of them.
CS: With this film, we got to see you explore the producing game a little more, but I'm curious if we will see you explore the writer's or director's chair in the future?
BC: I don't know, people ask me that a lot and my answer is that I'm really enjoying my beginnings as a producer. I love helping other people realize their dreams and their stories and it sounds cliché but it's really true. I love when somebody sends me a good script and I think, "Paul, this is amazing. I know I can help you." They say character is story and story is character, so I've been studying characters my whole life since I was in college and I feel like I understand story because of that. So I really like helping people hone in their scripts and I've been able to do, that with Jakob's Wife, and also with a number of other projects that I'm developing now with AMP., the people that I did take a slice with, particularly Bob Ford, who's my main producer there. We've been working quite closely together on a few projects for the future, so I'm really enjoying that, and my love for acting has been renewed and rekindled since all the way back to 10 years ago with You're Next and I love it so much. I want to keep doing that as well, adding in writing and directing seems to be the kind of thing that a lot of very successful young people are doing now, in fact most of the people that I worked with on You're Next were hyphenates even back then. Adam Wingard is an editor and he was the cinematographer and the director and Ti West was an actor in the movie as well as a producer and a writer and a director, and everybody on that movie was doing other jobs. So I do think there's a possibility that I could do something in the future, but I would probably want to get my feet wet with maybe directing a short and see how that goes. But I also know that when you're working on one project as the director, you kind of need to adjust your focus just to that one project for a few years and I don't have that many more years left, Grant, I'm getting up there [laughs]. I enjoy being a dabbler and working on helping other people direct their movies, as a producer I can kind of come and go in the process and as an actor, I can come and go in the process, but being a director, you really have to focus your whole energy on that. So to say that I want to do that is not something that I'm willing to commit to yet, but I'm definitely willing to commit to doing a short, I'm talking to some people about about attempting to do that in the near future.
RELATED: CS Video: Sacrifice Interview With Horror Genre Icon Barbara Crampton!
The film centers on Anne, who is married to a small-town minister and feels like her life and marriage have been shrinking over the past 30 years. After a chance encounter with "The Master," she discovers a new sense of power and an appetite to live bigger and bolder than before. As Anne is increasingly torn between her enticing new existence and her life before, the body count grows and Jakob realizes he will have to fight for the wife he took for granted.
Alongside Crampton (We Are Still Here), the ensemble roster for the film includes Larry Fessenden (Stake Land), Nyisha Bell (Coming 2 America), Mark Kelly (The Hot Zone), Sarah Lind (Wolfcop), Robert Rusler (A Nightmare on Elm Street 2, Vamp), Bonnie Aarons (The Nun, The Conjuring 2) and Phil Brooks (aka CM Punk, Girl on the Third Floor).
The horror-thriller is directed by Travis Stevens (Girl on the Third Floor) and co-written by he, Mark Steensland (The Special) and Kathy Charles and is an AMP production, produced by Bob Portal (It Came From The Desert), Inderpal Singh (The Hoarder), Crampton and Stevens. RLJE Films is a business unit of AMC Networks while Shudder is the studio's premium streaming service for horror, thriller and supernatural titles.
Jakob's Wife previously made its debut at SXSW in March and is now available in select theaters and on digital platforms and VOD!