Ahead of the film's highly-anticipated arrival on Blu-ray and DVD, ComingSoon.net got the opportunity to chat with star Kathryn Newton (Blockers, Supernatural) to discuss her return to the horror genre with Chrisopher Landon's body-swapping comedy genre mashup Freaky!
RELATED: CS Interview: Christopher Landon Talks Freaky, Potential Sequel & HDD Crossover
ComingSoon.net: I loved Freaky back when I saw at Beyond Fest and it's still a blast, I remember reading that you weren't initially interested in the script, so how did your interest come around on it?
Kathryn Newton: I was always interested in the script actually, just gotta say that, because Chris Landon and Michael Kennedy wrote an amazing story about a girl and when I read it I was just blown away, because I thought, this is the best character for me ever. Being in a film where I got to play serial killer and a teenage girl, it was insane. The holdup, I don't know where the holdup came from but it was just because there was a moment where I think my team was — when you're young, you don't know what to do, so I listened to people all the time. You know, I'm learning to just do what I want, but that's my own thing. So my team was like, "No, you're not going to do this movie." Then I had a meeting with Jason Blum, and I was like, "I'm gonna do this movie. I'm talking to Jason today, I'm going to walk out getting a movie" and that's exactly what happened. We called my agent during the meeting and Jason was like, "Kathryn's doing this movie." And I really wanted to be in this movie! I worked with Chris Landon and Jason Blum on a film called Paranormal Activity 4 when I was 14 years old. It was the first lead of a film I was in and it was the best experience. I mean, I grew so much, it was all improv. So then I think Chris knew that I could do this, because he saw me on that film and so because of our history on that one, it brought me this great opportunity on Freaky and I was not going to miss out on that. It was probably one of the best experiences I've ever had on a film and then Vince Vaughn came on board and everything got even better, because he elevated the project. It was already good. It was already a great script, it was already going to be a great movie and then he made it incredible because he's an amazing actor. Not only that, he really cared and you can see that in the movie. You know, he elevated the project.
ComingSoon.net: So what was it like working with Vince to hone in on each other's personalities for your characters?
KN: It started with Chris and I talking about Millie and he did a little rehearsal with me one on one as Millie and he recorded me eating and ordering food and talking about my backstory with my mother. I think he sent that to Vince and I think that gave him some ideas for his version of Millie. When we got to Atlanta, Vince and I met at dance rehearsal for the first time, like, cold meeting "Hi, I'm Katherine," "Hi, I'm Vince. Let's do a weird, embarrassing dance routine." I think that kind of broke the ice, there was no director there, there was nobody there, it was kind of like probably a mistake [laughs]. Like no one probably wanted us to meet that way, but it was perfect because he was all in, you know, you can imagine Vince like doing a whole cheerleading routine is hilarious. Then we had we went out and met with our director, Chris Landon, and we has rehearsals with him for a couple days and we just talked about the characters, which I was blown away by because I was going into this project thinking I was going to be copying Vince Vaughn mannerisms. So I started watching all these movies and as soon as I started working on the film, I realized that's not what we were doing here at all. Vince and I were going to create two characters together. It was completely better than what I imagined, so he came up with ideas, he asked me for ideas and it was a total collaboration between the three of us. I would be on set as The Butcher and thinking about doing something like, "Do you think I would hold the knife this way? What do you think? How would The Butcher really say this line?" I would be able to talk to Vince about it, which you don't really get to do, it's not a general thing that actors get to act like a director. Like an actor thinking about a character's choice is so different, so it was a strange experience to be able to ask someone playing the same character what's his choice, because we're both doing the same thing. We were always on the same page, and without Chris Landon, I mean, it's such an elevated high-stakes movie and he was able to balance the heart with the horror and the comedy. So we really trusted Chris and just let him lead the ship.
CS: Since you mention Vince and going back to a bunch of his movies, what were some of your favorites that watched for research?
KN: I watched Swingers and I hadn't seen that before, but I kind of realized, watching those movies that it would be impossible to be Vince Vaughn. So I put that away and I just focused on creating a character and that's exactly what it was. It was never an imitation game and I think that we created mannerisms for each other to be grounded in, but we were never really copying each other. It wasn't really like that, because that would have been weird in playing The Butcher.
CS: Since you do have that duality of personas what would you say was one of your biggest creative challenges getting to the heart of both souls as you played them? 
KN: I thought it would have been harder, but Millie's really close to who I am. I was her in high school, just trying to get by like totally not cool and it doesn't matter what you look like or what your friends tell you, because Millie has great friends who are telling her how great she is all the time, but she doesn't feel that about herself. I think that's really important for people to understand that, it's always those things that you're maybe insecure about when you're young or you're made fun of that actually makes you special and unique. I think she sees that, like the things that she tries to hide The Butcher takes advantage of and is super powerful. For The Butcher, it really wasn't that hard to be The Butcher, I mean, you just have to go there, I was just like, "All right, I'm a serial killer. I'm going to try to kill these dudes." You just do it and it was really fun for me [laughs], because I'm not like that at all, I'm so not The Butcher that you just kind of jump into it and you don't think about it because if I thought about it, I probably would be overwhelmed.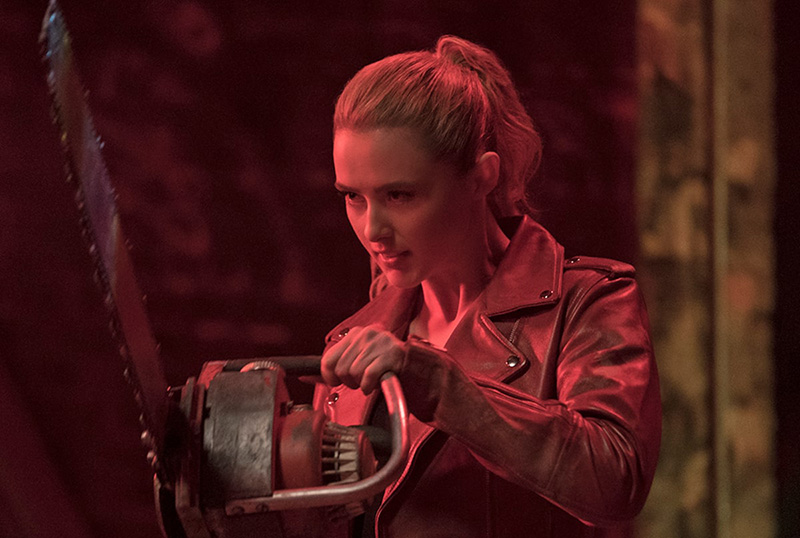 CS: You mentioned Paranormal Activity, but we've also seen you explore the world of horror before with Supernatural and killing things in the show, so what was it like getting back into the bloody game of killing with Freaky?
KN: Supernatural changed my life, Paranormal Activity also changed my life. I was so excited to get back into the horror genre, the number one reason is the fans are die-hard and amazing, and I learned that on Supernatural. I played Claire Novak and she became a fan favorite quickly and I never took that for granted and I was so grateful. It turned into they gave Claire her own spin-off show, and it didn't work out, but that is when I realized the power of a fandom, the true power and if they want something, they'll get it and they stick with you. I'm SPN family forever and, you know, now we have a Freaky family, so I think that's pretty cool. Everyone was so scared of me on set and avoided me at all cost when I had that chainsaw in my hand. But I'm pretty, I'm an athlete and we did some training for some of the fight scenes and on the day, it was a breeze. It was really fun to get bloody and cut people up and scare everybody, I'm so not like that. I think I too grew a lot like Millie because I genuinely am just like a normal girl and then when I acted like The Butcher and I saw how people treated me on stage, I was like "Whoa, look at the power that I have" and I didn't even know, so I definitely took that with me.
CS: What was it then like building up the chemistry with your besties off-camera before bringing that to the takes?
KN: It was so easy, Celeste and Misha are both incredible actors and they were so he was just so happy to be there, because we all thought it was special and fun. I think the first night or the second night of meeting, I brought them to a Post Malone concert just to go have a good time, and we did and I think we were immediately just good friends. I think when you're young, and you're in a weird new place, like alone, you immediately find your family on set and I don't know, I think when you make friends with people and you really love them, that's how you get a better project. Everyone comes from different places, maybe it's your first movie or for Vince it's like his 1000th movie, but we were all there.
CS: What was it like for you also getting the news the film would be making its premiere with the drive-in at Beyond Fest last year?
KN: It was an honor because Beyond Fest, it's the people who we made the movie for, horror fans. Obviously the movie is for everybody, but it's kind of a big deal to be giving the horror fans something that they hopefully love, because we were thinking about them. When we made the movie, we wanted to make people happy and Chris Landon and Michael Kennedy are really in a horror world, they really cared. They really wanted to make everybody feel scared and grossed out and laugh and cry, and so it was a big deal and to hear everybody honking, I got chills. It was really cool. I'd never been to a drive-in before and it was a great experience, I took my friends and they were shaking in the car next to me. Usually I'm the one when I go to a horror film, I'm the one screaming and my eyes are closed and my best friend couldn't handle it. They were screaming and shaking. I was like, "This is amazing." Then everyone honking their horns and screaming in the cars next to you, I mean, this movie was amazing to see the audience and I just hope that people watch it with their friends, because it's fun to see your friends freak out.
CS: So since its success Chris Landon and Jason Blum have teased the possibility of another sequel or even a crossover with Happy Death Day, what are your thoughts on either of those happening?
KN: I'd love to reunite with the Blumhouse family and Chris Landon again and again and I think Happy Death Day is great and Jessica Rothe is an amazing actress. I fell like if the fans ask then, you know the power of fandom, so I think that just has to come from the audience, it's the audience's decision now.
CS: What would you hope to see from a story in which the two cross over? 
KN: I don't think I can comment on that. I just don't think I can, I don't really know. I know that usually, in my experience, when you talk about a sequel too much, it doesn't happen, but it's just like, I just want to let it happen [laughs]. I've been on sets where it's like, "The sequel, the sequel, the sequel" and then it never happened. So the movies where you don't talk about it is when it happens, so this is kind of feeling like that. I see the fans putting us in edits together, me and Jessica, and tagging us. You know, that's what I feel like gets the sequel made, so if the fans want it they have to ask, and that would mean the world to me if they wanted that. I think it would be cool because there's no, like, iconic horror franchise crossover that I'm aware of right now, that's new, of our generation, that's a reflection of the time that we're in now and is not from my parents time. I think there's an opportunity to do that for people like me or people like us.
CS: To look away from the film, December saw the awesome announcement you were joining the MCU as Cassie in the next Ant-Man movie and I'm curious what is one of the key things you want to make sure you carry over with your portrayal of Cassie from the previous two actresses? 
KN: I don't think I can comment on that either [laughs]. But I'm super, super excited, and like, it's been a dream come true to be part of the MCU, I've been a fan my whole life since I was 10 years old going to the movies with my dad. I've seen every Marvel movie, I've seen Iron Man like 10 times, probably, I just love it. So my whole life, I've been thinking about how do I get there and what do I do? I've been an athlete, I've been training with this in mind to be a superhero, so I'm just ready to do that and I really hope that I make all the fans extremely happy and I give them the best I can.
CS: Since you've been a fan of the MCU for so long, which individual franchise did you always hope the most to join between Iron Man, Thor, etc.?
KN: I never really thought about that, I never thought about which one I'd want to join. I think that the MCU is huge and there's kind of something there for everybody, whether it is on the screen and I've seen it in a movie or if you just go to the comics, the worlds are endless, so you couldn't really dream big enough. I feel like that's kind of my whole thing in life is you can have dreams of joining Marvel or dreams of making a horror film, like Freaky is above and beyond my dreams of what I thought the film was going to be and like with Marvel, I could have never dreamed of what character because it's going to be better than it is in my dream. But I like all those Marvel movies, I think Iron Man was my favorite though, I think that Robert is darling, he's so funny in those movies. I think that was like the first one I saw in theaters was Iron Man, but so think that one's the one that sticks with me.
CS: It's also been a while since we've heard word about the Detective Pikachu sequel and I was a huge fan of the first, so have you heard any rumblings at all about it lately? 
KN: No I haven't [laughs]. I heard that they wrote something, but that was like two years ago now, I feel like it was two years ago. That one needs a sequel, in my opinion, I need to know what Lucy and Psyduck are doing, what is going on in Ryme City and can Lucy and Psyduck save the world? This is what I'm asking, I need to see it, I think that we need more people in it. I just think that it was a great film and, I don't know if you saw it, but I mean it was beautiful. We shot it on film, it was shot in London. Justin Smith is incredible, Ryan Reynolds is so incredibly talented, it was such a great cast. I love that movie so much. I think it'll happen, maybe it's one of those sequels that comes after a little while, you know?
RELATED: CS Interview: Alan Ruck Talks Horror-Comedy Freaky, Plus Exclusive Clip!
Click here to purchase your own Blu-ray copy of Freaky today!
BONUS FEATURES on BLU-RAY, DVD and Digital:
Deleted Scenes

The Butcher Lends a Hand
Charlene Hears a Rumor
Late for the Party

Split Personalities: Millie vs. The Butcher – Two opposing characters. One killer chemistry! Go behind-the-scenes to see how Vince Vaughn and Kathryn Newton worked together to bring these two very different characters to life and how they created distinct personal traits for both. This piece will focus on the magnetism between Vaughn and Newton, and how that chemistry raised the stakes for two characters stuck in such a strange situation.
Crafting the Kills – This feature will take viewers into the "Wood Shop" set to see how all of the various elements and departments come together to create an extraordinary kill that fans will talk about for years to come. We will also discuss the inspiration behind this bilateral bisection, what makes it both fun and horrifying, and how it is different from anything else you have seen in other horror films.
Christopher Landon's Brand of Horror – Blending horror and comedy is a difficult task that not many can achieve, but Christopher Landon has proven time and time again that he is uniquely skilled at it. Freaky is no different. Learn how Christopher's vision brought new energy to the concept and elevated the story, all while creating a fun and proficient working environment. This behind-the-scenes look at how he weaves humor and gore together will give fans an intimate understanding of why a Christopher Landon film is a genre of its own.
Final Girl Reframed – The concept of a "Final Girl" is nothing new in the horror genre. However, Millie isn't your typical Final Girl. We take a closer look at all the ways Freaky takes your genre expectations and smashes them
Feature Commentary with Co-writer/Director Christopher Landon
From the deliciously debased mind of writer-director Christopher Landon (Happy Death Day, the Paranormal Activity franchise) comes a pitch-black horror-comedy about a slasher, a senior, and the brutal truth about high school.
In Freaky (formerly titled as Body Swap), Seventeen-year-old Millie Kessler is just trying to survive the bloodthirsty halls of Blissfield High and the cruelty of the popular crowd. But when she becomes the newest target of The Butcher, her town's infamous serial killer, her senior year becomes the least of her worries. When The Butcher's mystical ancient dagger causes him and Millie to wake up in each other's bodies, Millie learns that she has just 24 hours to get her body back before the switch becomes permanent and she's trapped in the form of a middle-aged maniac forever. The only problem is she now looks like a towering psychopath who's the target of a city-wide manhunt while The Butcher looks like her and has brought his appetite for carnage to Homecoming. With some help from her friends—ultra-woke Nyla, ultra-fabulous Joshua and her crush Booker —Millie races against the clock to reverse the curse while The Butcher discovers that having a female teen body is the perfect cover for a little Homecoming killing spree.
RELATED: Freaky Review: A Bloody & Hilarious, If Mildly Underwhelming, Ride
Freaky is led by Kathryn Newton (Big Little Lies, The Society, Blockers) and Vince Vaughn (Wedding Crashers, True Detective). It will also feature Celeste O'Connor (Selah and the Spades), Misha Osherovich (The Goldfinch), Uriah Shelton (Enter the Warriors Gate) Alan Ruck (Succession), Katie Finneran (Why Women Kill), and Dana Drori  (High Fidelity series).
The film is directed by Christopher Landon, who co-wrote the script with Michael Kennedy. It is produced by Blumhouse's Jason Blum with Couper Samuelson and Jeanette Volturno set as executive producers.
The horror-comedy is available on digital platforms, Blu-ray and DVD now!
Freaky
Freaky

Freaky_bd_ocard_3dskew_mm01