HAPPY HOLIDAYS! To help you with that last minute December shopping, ComingSoon.net is bringing you our specially curated Holiday Gift Guide in four parts this year! Part 4 focuses on games & apparel from some of our favorite companies like Funko, Mondo, Sideshow, Loot Crate & more. Check out all our selections below, and click on each title to purchase on Amazon!
RELATED: CS Holiday Gift Guide Part 1: Movies & TV!
RELATED: CS Holiday Gift Guide Part 2: Books!
RELATED: CS Holiday Gift Guide Part 3: Toys & Collectibles!
APPAREL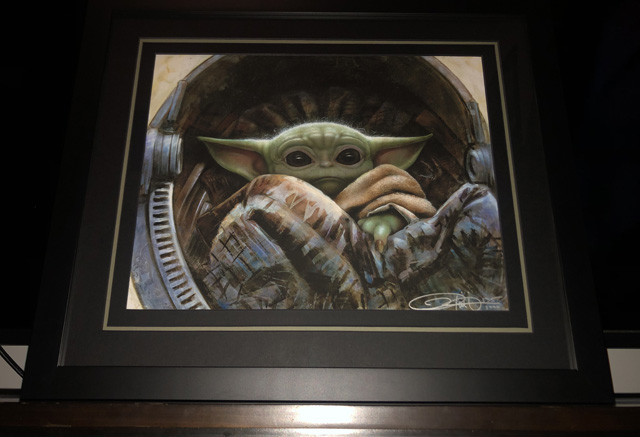 The Child Art Print by ACME Archives
Sideshow and ACME Archives present The Child Fine Art Print, an officially licensed Star Wars collectible by acclaimed artist Olivia De Berardinis.
Relive the moment when you (and the entire galaxy) first fell in love with The Child, lovingly referred to by fans as "Baby Yoda", from Star Wars™: The Mandalorian. This incredibly detailed portrait by artist Olivia captures the innocence of the mysterious alien asset moments after it was first discovered by Din Djarin, the Mandalorian himself. With wide, wondering eyes and tiny grasping fingers, The Child pulls down the blanket within its hovering pram to gaze up at its new guardian, unknowingly forming an unshakeable clan of two.
Each The Child Fine Art Print is a faithful reproduction of Olivia's original acrylic-on-wood-painting, capturing all of the precious and painstaking detail in a fine art collectible format. The Child Fine Art Print is limited to an edition size of 1000 pieces, each hand-signed by the artist and accompanied by a Certificate of Authenticity, making this a must-have fine art collectible for Star Wars fans.
15.00% off with code THECHILDPRINT
The Child Star Wars Art Print – $325.00
from: Sideshow Inc.
20.00% off with code THECHILD20
The Child Star Wars Art Print – $150.00
from: Sideshow Inc.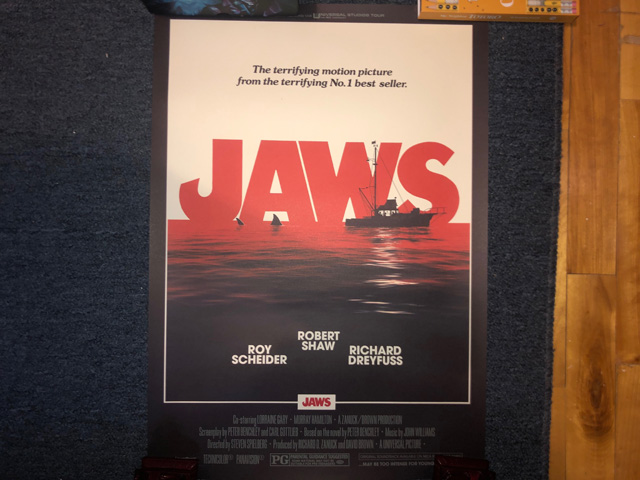 Jaws Print (Vice Press)
Open lithograph print by Matt Ferguson with with stamp of authenticity on reverse. Printed on 300gsm archival paper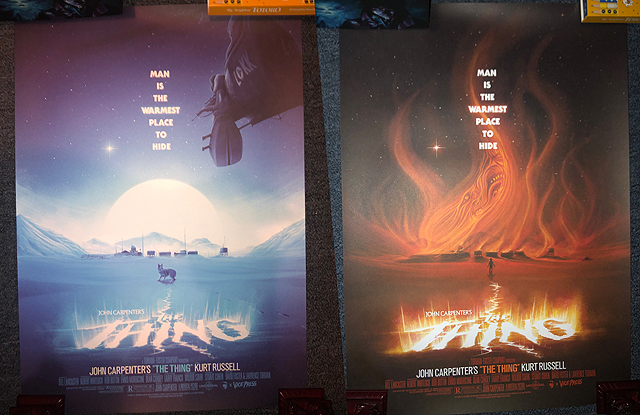 The Thing Prints (Vice Press)
Open lithograph prints by Patrick Connan with with stamp of authenticity on reverse. Printed on 300gsm archival paper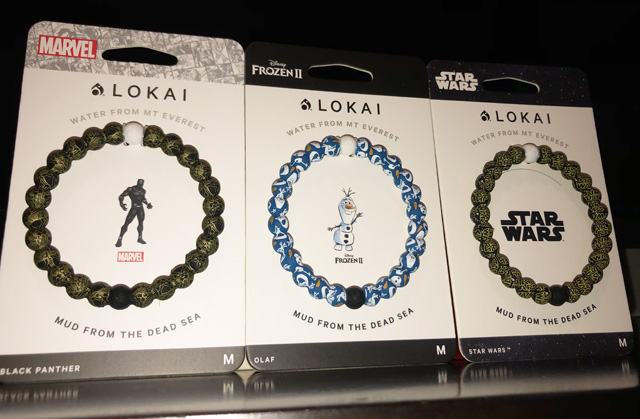 Lokai Bracelets
Black Panther: In order to Find Your Power, first you must Find Your Balance. Each bracelet in the Marvel Collection by Lokai is infused with elements from the highest and lowest points on Earth: water from Mt Everest and mud from the Dead Sea. These extreme elements remind you to find balance, staying humble through the highs and hopeful through the lows – and the Marvel universe reminds us all to find the hero inside. For each Marvel Collection Lokai sold, Lokai will donate $1 to Make-A-Wish to help grant the wishes of children with critical illnesses.
Disney Frozen 2 Olaf: Each bracelet in the Disney Collection by Lokai is infused with elements from the highest and lowest points on Earth: water from Mt Everest and mud from the Dead Sea. These extreme elements remind you to find balance – staying humble during life's highs and hopeful through its lows; wishes can come true! Wear your heart on your sleeve with your favorite classic Disney and Pixar Lokai bracelets. Friends encourage friends to Dream BIG, Wish often, and always have Courage. For each Disney Collection Lokai sold, Lokai will donate $1 to Make-A-Wish to help grant the wishes of children with critical illnesses.
Star Wars: Luke Skywalker describes the mystical Force as "Balance. Powerful light, powerful darkness." In our real world journey to find balance, we all experience this contrast of highs and lows. Each Lokai in the Star Wars™ Collection by Lokai is infused with elements from the highest and lowest points on Earth: water from Mt Everest and mud from the Dead Sea. These extreme elements remind you to find balance — staying humble during life's highs and hopeful through its lows; and our love for Star Wars reminds us that the galaxy is an incredibly vast place. For each Star Wars Collection Lokai sold, Lokai will donate $1 to Make-A-Wish® to help grant the wishes of children with critical illnesses.
Big Trouble in Little China T-Shirt
Here's what ol' Jack Burton always wears at a time like this. Paige Reynolds of Phantom City Creative has a particular eye for clever design, and her new illustration for BIG TROUBLE is no exception. She's taken Jack Burton's infamous tank-top design and added an ingenious twist – swapping out the nameless character for his greatest foe, Lo Pan! The faithful rendering, touch of texture, and muted color palette give this shirt the feel of a well-loved artifact from the 1980s.
Mothra vs. Godzilla T-Shirt
Printed by Impact Merchandising on Next Level 3600 black 100% cotton tees with printed interior label.
SnarkFish T-Shirts
Ladies and gentlemen, the SnarkFish Holiday Sale continues, and there's no need for promo codes, everything in the store is now 20% off. Thus, all the geeky t-shirts, tank tops, art prints, pins, toys, Pokemon plushies, video games plushies, plushie Alien Facehuggers, nifty vinyl decals, gift cards, and everything in the store is that much cheaper and ready to go! If you have assorted nerds in your life, odds are they'll like something we have, or they shall vow revenge. And that makes things eventful.
Loot Crate
What better gift to give your pals than the gift of a Loot Crate box or subscription? So many items in each box!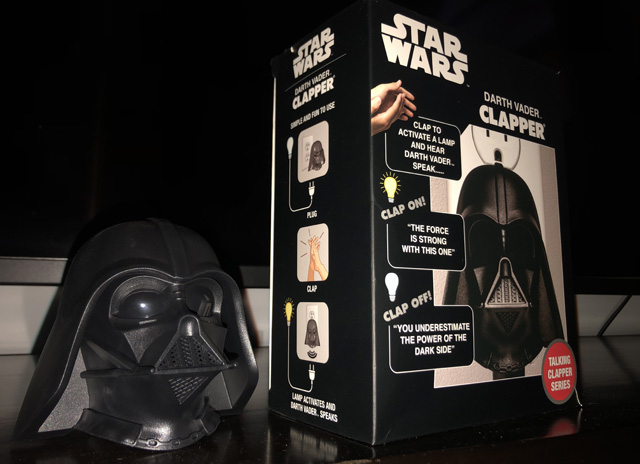 Darth Vader The Clapper
Lights On! Lights Off! The Darth Vader Talking Clapper is a fun and easy way to turn on the lights, TV and other frequently-used appliances in your Empire with a simple clap of your hands .
Chia Pet: The Child
Star Wars Yoda is now a Chia Pet! Chia Pet is a fun & amusing gift for any age & any occasion. Easy to do… Fun to grow! You'll see a full coat in about 1-2 weeks, & you can reuse your Chia indefinitely. Simply replant with Chia seeds.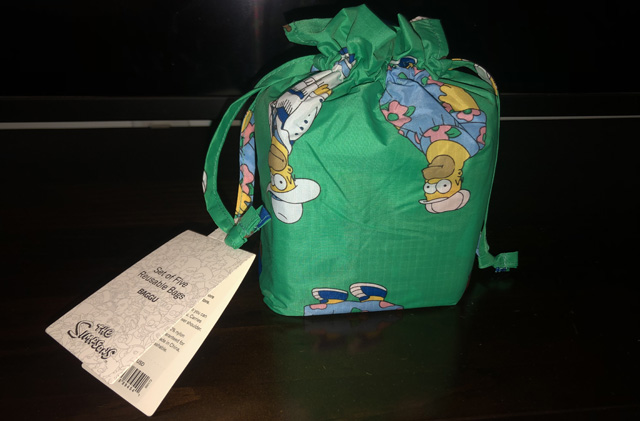 The Simpsons Baggu
Best selling reusable bag is not just for the grocery store, it goes everywhere and hauls (practically) anything. Carry in your hand or over your shoulder. Holds 2-3 plastic grocery bags worth of stuff. The latest collection celebrates America's favorite TV family. Take your favorite Simpsons character with you wherever you go.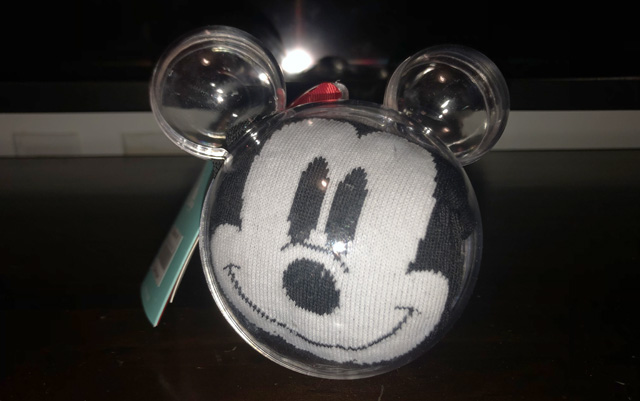 Mickey Mouse Socks
This sock bundle includes 5 pairs of no show socks with Mickey Mouse theme throughout.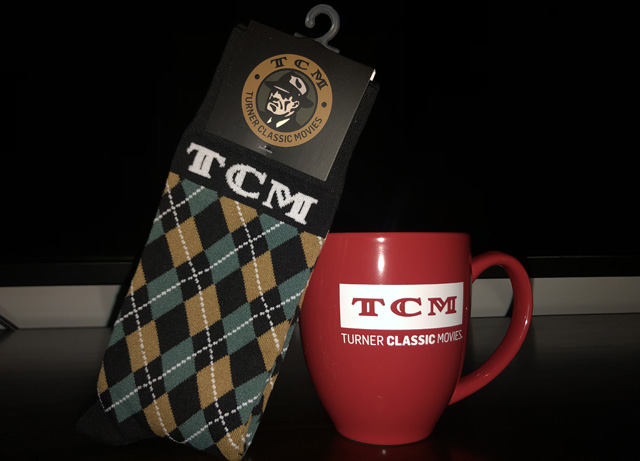 TCM Mug & Socks
Pour a cup of your favorite hot beverage and tune into TCM. This large, sturdy stoneware mug is a practical and stylish way to bring Turner Classic Movies into your home or office, and is inspired by the slate gray model used every day by your favorite TCM hosts.
This argyle pair of novelty socks makes a neat gift, and it's exclusive to the Backlot Boutique – part of the Gangster sock collection.
Batman Children's Face Masks
Behind every mask is a smile. Encourage your child to wear a face mask with these fun designs, inspired by Batman™! Each mask features a contouring nose strip and three layers of protection including a protective fabric layer, filter layer, and a soft inner layer. To wear the face mask, place the side with nose piece upward. Hang the ear loops on the ears. Press the nose piece to fit the bridge of the nose, then press the nose piece and pull the end of the mask to the lower jaw. Adjust the mask so that it covers the bridge of the nose to the lower jaw. Just Play Cares: for every box purchased, Just Play will donate a portion of the proceeds towards First Responders Children's Foundation. Masks fit most children ages 2 to 7. Product size 5'' x 3''.
The Holiday Soundtrack (vinyl)
The Holiday has become a staple of the Christmas season and the soundtrack is being released for the first time on LP, pressed on festive white vinyl. The music was arranged by Hans Zimmer, one of the titans of modern day film composing. The 4x GRAMMY Award winner has composed music for over 150 films, including The Lion King (for which he won the Academy Award for Best Original Score).
GAMES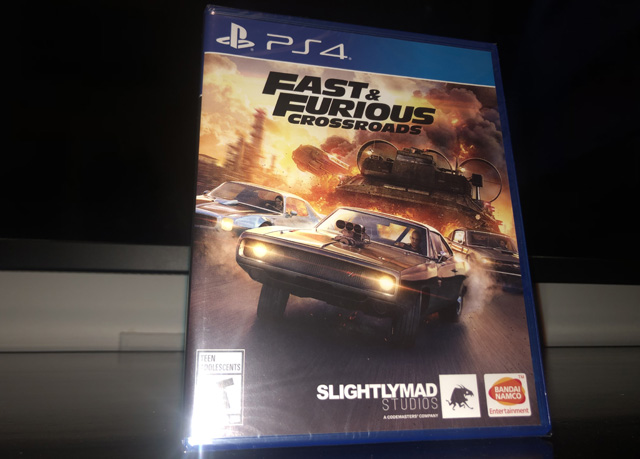 Fast & Furious Crossroads (PS4)
Rev-up for an official new chapter in the Fast & Furious universe as the blockbuster film series' Dom, letty and Roman – voiced by original film talent – return and put you at the center of the story.
Trollhunters: Defenders of Arcadia (PS4)
Jump into the world of Trollhunters as Jim Lake Jr. to stop Porgon the Trickster Troll and his sneaky plans! Team up with Claire in couch co-op and also get a helping hand from lots more loved characters to face unknown evil forces and help stop the Time-pocalypse! Upgrade your armor and boost your abilities to become more powerful than ever. The fate of the universe is in your hands!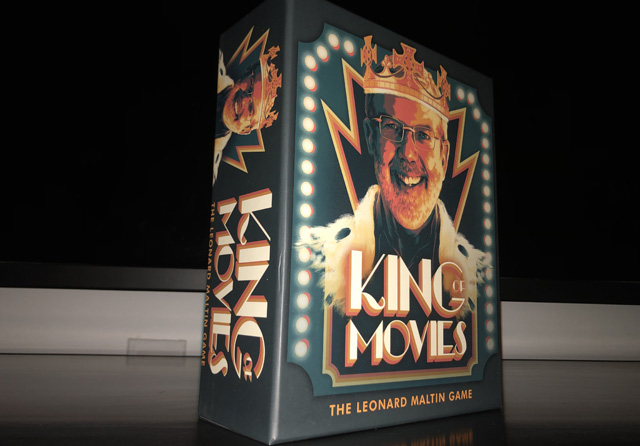 King of Movies
For 51 years, Leonard Maltin's Movie Guide served as the film geek's Holy Bible, an annually updated softcover brick of a reference book, packed with thoughtful, witty, and occasionally weird capsule reviews of thousands of films. Those synopses are at the heart of King of Movies: The Leonard Maltin Game, a tabletop casual party game of creative invention and hilarious deception. In King of Movies, it doesn't matter if you've seen every film ever made or if you've never seen a movie in your life. The fun is in the fibbing.
Elf: Journey from the North Pole Game
Help Buddy the Elf find his dad by laying a loopy route from the North Pole to New York City. Play path cards to the board and move Buddy along its crazy curves. Lead him toward your secret goal landmarks along the way to score points. The player with the most points when Buddy the Elf finds his dad wins!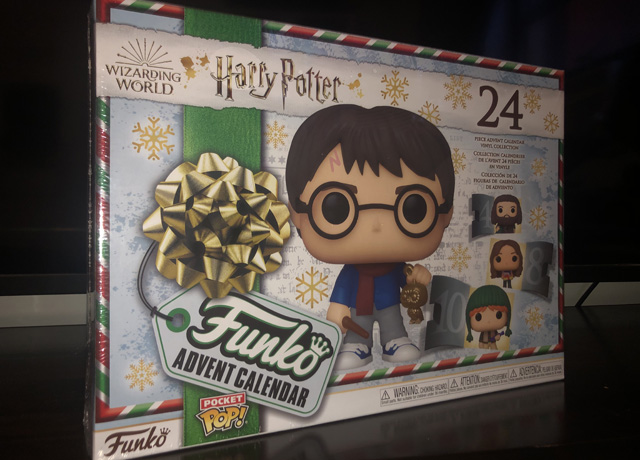 Funko Harry Potter Advent Calendar
Harry, Ron, Hermione, and Hagrid invite you to join in on the holiday happiness with the Wizarding World Harry Potter advent calendar. Open a one of the tiny doors to reveal which of the 24 Pocket Pops! will join your collection that day. Hide them among your other holiday decorations or assemble them within your collection to spread cheer among your other collectibles. Vinyl figures range in height, depending on the character; maximum 2-inches tall. Collect all Harry Potter items from Funko!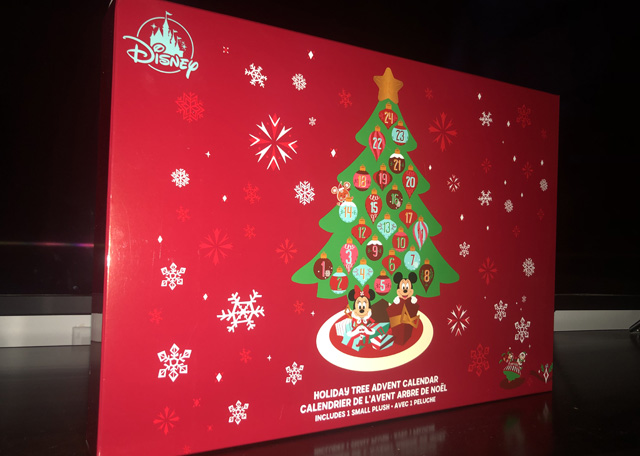 Disney Holiday Tree Advent Calendar
A wonderful world of Disney favorites await to help count down the dates to the big holiday. 25 numbered pockets of this plush wall hanging each contain a tiny stuffed surprise character or icon.
The Nightmare Before Christmas Advent Calendar
Celebrate the holidays with Tim Burton's The Nightmare Before Christmas alongside Jack Skellington, Sally, Zero, and more with this ghoulishly delightful pop-up advent calendar.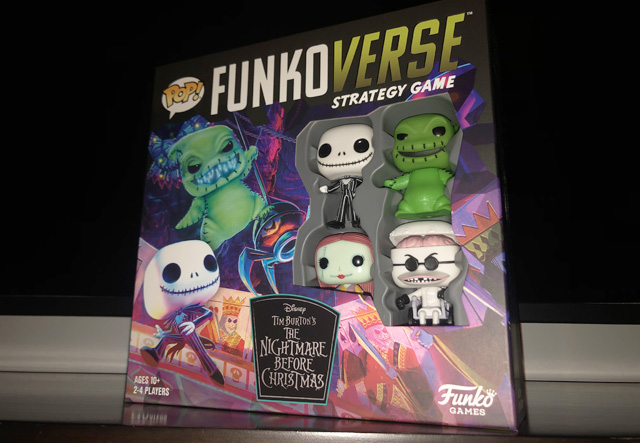 FunkoVerse: The Nightmare Before Christmas
In the Funkoverse Strategy Game, you combine your favorite characters and go head-to-head in exciting game scenarios. Each turn, you select one of your characters and perform two actions. Each character has access to basic actions like moving and challenges as well as several unique abilities that may be performed only by spending ability tokens. Funkoverse uses an innovative "cooldown" system—the more powerful the ability, the longer it will take for the ability token to become available again—so players have to spend their ability tokens wisely. Each character in Funkoverse is unique, so players are encouraged to try out different combinations of characters and items in order to discover their favorite synergies and powerful strategies for the different game scenarios.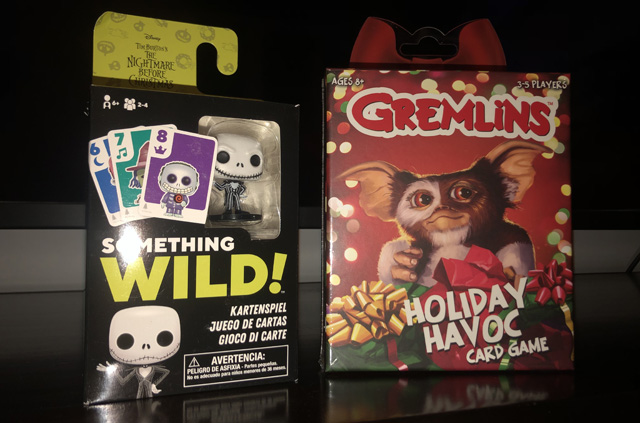 Gremlins: Holiday Havoc & Something Wild: The Nightmare Before Christmas
The Gremlins have gone from cute Christmas-gift pets to mini-monsters causing havoc around town, and you must stop them!
A fast-paced and easy-to-learn line of family card games featuring beloved Disney characters and collectible Pop! pocket figures.
Disney Shadowed Kingdom
In Mondo's new two-player cooperative card game Disney Shadowed Kingdom, you'll enlist the help of your favorite Disney Hero and team up with a friend to dispel the Shadow polluting The Kingdom, and journey to discover lost Magic. It's a quest that'll require deduction, memory, and luck as you work strategically to quietly explore locations within The Kingdom, ensuring that the monsters lurking in the darkness remain undisturbed. With stylized illustrations by Marcel Mercado, a richly detailed story, and unique but easy-to-learn non-verbal gameplay mechanics by designer Imp House Games, Disney Shadowed Kingdom is a family-friendly introduction to a magical world of gaming.
The Haunted Mansion: Call of the Spirits
Disney's beloved The Haunted Mansion comes to life—err, death—in this hauntingly fun family board game! Explore all the classic rooms of the ghost-infested manor, from the festivities-filled Ballroom to the Attic and out to the Graveyard and beyond in search of spirits. Beware, though, of the Hitchhiking Ghosts, who are notorious for "following you home" as that may spell your doom in the end!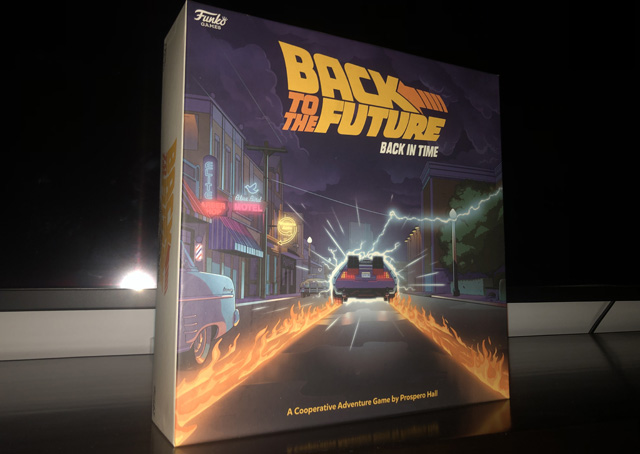 Back to the Future: Back in Time
Prepare for a DeLorean-fueled race against time to prevent Marty McFly's future from fading away! Players take on the roles of major characters from the blockbuster movie that launched the time traveling trilogy and helped define the 1980s. Players work together to defeat Biff and his trouble-making gang while ensuring Marty's parents fall in love and the DeLorean accelerates to 88 mph in time to blast Back to the Future. Filled with cinematic touchstones and fun strategic choices, this is the game fans have been waiting for!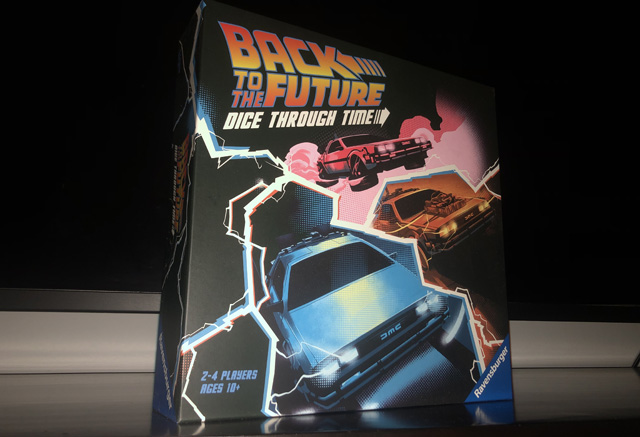 Back to the Future: Dice Through Time
Biff stole DeLorean and took a ride in time, upsetting events and dispersing objects in space and time. Now it's up to you to help Doc and Marty repair the time-space continuum before the temporal paradoxes destroy the very fabric of the universe. Jump aboard the time machine, complete events, return objects to their place, and help restore time balance. The future is in your hands.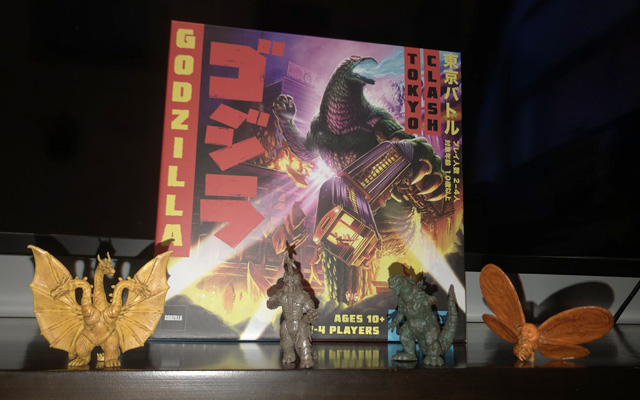 Godzilla: Tokyo Clash
You are Earth's most fearsome Kaiju – Godzilla, Mothra, King Ghidorah, and Megalon – battling for dominance as the most terrifying monster in Japan! Stomp across the vintage Tokyo cityscape, unleash devastating attacks, and throw trains, tanks, and battleships at your enemies. Master each Kaiju's unique battle style to gain dominance before the humans drive the monsters from the city! The game features an impressive 3-D table-presence with large-scale figures, buildings, and a modular gameboard so every game is unique! Game Contents – 13 Game Board Tiles, 4 Kaiju Miniatures, 4 Kaiju Mats, 4 Kaiju Decks, 13 Building Miniatures, 6 Event Cards, 74 Tokens, 1 Damage Track Mat, 5 Tracking Cubes, 1 Oxygen Destroyer Marker, 1 Miniature Stand, Instructions.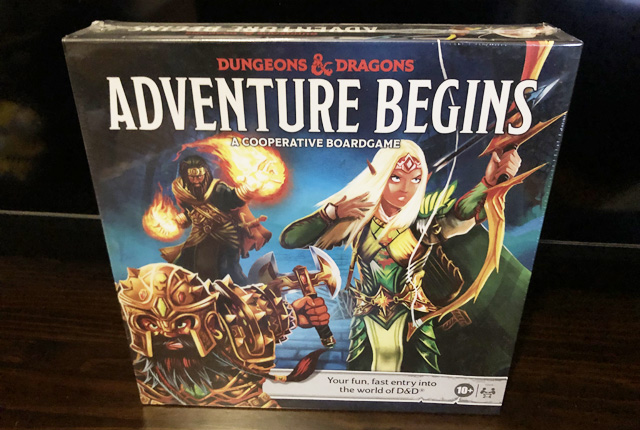 Dungeons & Dragons: Adventure Begins
The Dungeons & Dragons Adventure Begins game is a cooperative board game for ages 10 and up. It's a fun, fast entry into the world of D&D. Designed for new D&D fans, players get to choose their characters and their journey as they travel through the lands of Neverwinter.