You know his name. You've heard his voice. Probably, you've made fun of his chin. For almost 40 years, Bruce Campbell has been a pop culture icon. He has appeared in countless movies and TV shows. He's even written books! The name 'Bruce Campbell' has transcended any of the characters he's played, save for maybe one. Bruce Campbell has been an icon to nerds the world over since the '80s. And, like a fine scotch, he has only gotten older with time. His self-deprecating sense of humor has endeared him to a multitude of fans across the world. He has played, in no particular order, a waiter, an announcer, a promoter, an actor, a spy, himself, Elvis, a reluctant hero, a baker, a shaker and a candlestick-maker. Campbell has played all of those roles with a self-assurance that can only be found in a man that has spent years being directed by Sam Raimi. No matter what role Campbell has played, he has always given his all to it. That is why fans adore him so much.
5) Brisco — The Adventures of Brisco County Jr. (1993-1994)
The Adventures of Brisco County Jr. was a short-lived but deeply-loved series from the '90s that starred Bruce Campbell in the titular role. Brisco was a Harvard-educated lawyer-turned-bounty hunter. He was hired by a bunch of wealthy industrialists to find an outlaw named John Bly and bring him in, dead or alive. The show aired on the Fox Network from 1993-1994, lasting only one season. But sometimes, the brightest stars fade first, as was the case with this show. Though it was, ostensibly, a Western, it also incorporated elements of sci-fi, horror, action and lots of comedy. Campbell proved that this cowboy was more than a one-trick pony with his role as Brisco. This is just one example of networks canceling a show despite its popularity among a core audience.
4) Sam Axe — Burn Notice (2007-2013)
His name was Michael Westen. He used to be a spy until he got a Burn Notice (IE he was fired and blacklisted from the FBI). When you're burned, you've got nothing. No cash, no credit, no job history. You're stuck in whatever city they decide to dump you in and you do whatever work comes your way. You also rely on anyone who's still talking to you: a trigger-happy ex-girlfriend, an old friend who used to inform on you to the FBI, and family too. Campbell played Sam Axe, a former friend and current Jack-of-all-Trades (heh) to the main character, Michael. This role was designed for Campbell, as Sam was a hard-drinking, sarcastic, lovable oaf…which seems to be the role Campbell is most comfortable playing. Burn Notice had a good seven-season run and much of its success was due to Campbell's performance.
3) Himself — My Name is Bruce (2008)
Bruce Campbell is the king of self-parody. He's done it in books, television shows, and even a movie! The movie is called 'My Name is Bruce,' and it tells the story of an aging, out of shape "B-Movie" star who can't seem to escape the one role that made him famous. Sound familiar? My Name is Bruce came from the mind of Campbell himself, as well as frequent collaborator Ted Raimi (brother of Sam…more on him later). It is self-deprecation at its finest and Bruce pulls no punches when addressing many of the rumors and innuendos about himself. In the film, 'Bruce' hires prostitutes, drunk dials his ex-wife, and wears lots of Hawaiian shirts. We like to believe these aspects of his life are true-to-life. Because of his role in a certain trilogy of movies, however, Bruce is kidnapped by a mega-fan who is convinced that Campbell can help his town fight off a real monster. Bruce isn't interested until he meets the kid's mom. Then, he becomes the hero he was always written to be.
2) Elvis Presley- Bubba Ho-Tep (2002)
The world didn't know it needed a movie about Elvis fighting an ancient mummy named Bubba Ho-Tep, but now that we have it, we can't imagine our lives without it. Bruce Campbell starred as an aging but very much alive Elvis Presley in this comedy/horror film from the minds of Campbell and Don Coscarelli. Ho-Tep was an underrated gem when it first came out, but it has since grown into a cult-hit just like the films it was parodying. There's been talk of a sequel for years, but Campbell is getting closer and closer to becoming a geriatric genetic jackhammer himself, so the possibilities are looking more and more dismal.  Still, we will always have a movie in which Bruce Campbell plays an old Elvis and fights an evil mummy. What a time to be alive.
1) Ash Williams — The Evil Dead, The Evil Dead 2, Army of Darkness, Ash vs The Evil Dead (1983, 1987, 1993, 2015-2018)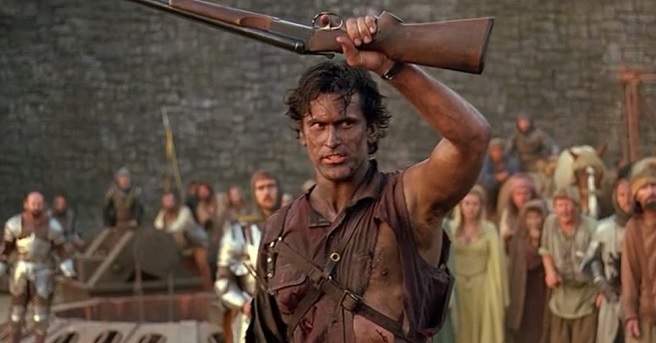 And then there was Ash. It was always going to be Ash. In fact, it was written about in the Necronomicon, otherwise known as "The Book of the Dead." Bound in human flesh and inked in blood, the Necronomicon wrote about a reluctant hero who would end up being the savior of the world. That man was Ash, and it was the greatest role Bruce Campbell ever played. What started out as a lovable but laughable "final boy" in the original Evil Dead film turned into a character that was everything movie nerds wish they could be. Ash was an attractive, sarcastic badass who then turned into a slightly less attractive but still super charming middle-aged uncle. Through it all, Ash kicked a lot of ass. Without the character of Ash, Bruce Campbell would have been a fine actor- solid and quirky. But as Ash, Bruce Campbell grew into something more. He became a hero, an icon…a legend.
We are a participant in the Amazon Services LLC Associates Program, an affiliate advertising program designed to provide a means to earn fees by linking to Amazon.com and affiliated sites.