It is difficult to mention Heath Ledger today without mentioning his tragic premature death. The Australian actor passed away soon after he completed filming Christopher Nolan's The Dark Knight, which would turn out to be the biggest box office hit of his career. Indeed, his career was almost surely on the rise before it was cut tragically short. However, it makes films he performed in all the more precious. Fortunately for Ledger's fans, his career in film, even though it lasted barely more than a decade, he performed in 18 movies when all was said and done. He was also the subject of a 2017 documentary titled I Am Heath Ledger. During his time in Hollywood, he was an actor worth watching in just about anything. Here are the ten best films of his career.
Brokeback Mountain
(2005)
Ang Lee's watershed film Brokeback Mountain would be incomplete without Ledger. He plays Ennis Del Mar, a hired ranch-hand who embarks upon a secret, taboo relationship with another rancher, Jack Twist (Jake Gyllenhaal). The affair is fraught and is frequently disrupted because of their hesitance to break the social norms of the time. Lee, whose strength is often emotional resonance, is in full form here with Ledger and Gyllenhaal as two strong lead actors.
I'm Not There
(2007)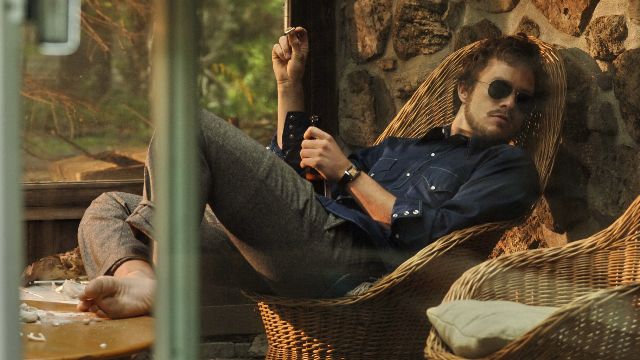 I'm Not There was directed by Todd Haynes — probably best known for his films Far From Heaven and Carol. It is a somewhat high-concept meditation on the work of musician Bob Dylan. Six characters in the film are made to represent an aspect of his persona and music. Ledger plays one of the six characters, an actor in the 1960s named Robbie Clark. He offers a sturdy performance in a strange but fascinating film by Haynes.
10 Things I Hate About You
(1999)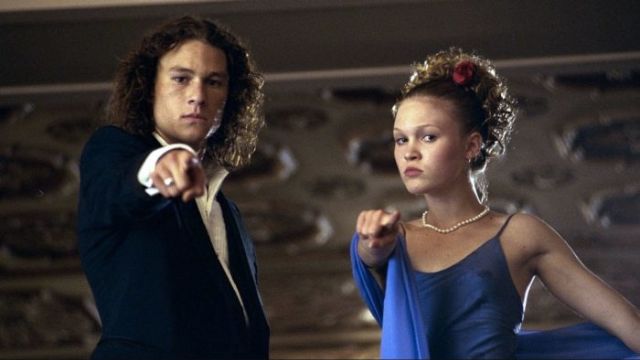 10 Things I Hate About You is a loose adaptation of William Shakespeare's play The Taming of the Shrew. Julia Stiles plays Kat Stratford, the eponymous shrew. New student Cameron James (Joseph Gordon-Levitt) pays school bad boy Patrick Verona (Ledger) to date Kat so that he may date her sister Bianca (Larisa Oleynik). The film is thoroughly enjoyable, as the performances are solid and Shakespeare's play translates easily to a contemporary high school setting.
The Dark Knight
(2008)
The Dark Knight, Christopher Nolan's follow-up to his gritty origin film Batman Begins, is often touted as one of the best superhero films to date. Ledger's performance as a less cartoonish but equally volatile Joker, in particular, is frequently mentioned amongst its greatest strengths. In the film, the Joker antagonizes the eponymous vigilante (Christian Bale) as well as his loved ones. Critics adored the film and audiences clamored to see it. The film earned more than a billion dollars at the box office.
The Imaginarium of Doctor Parnassus
(2009)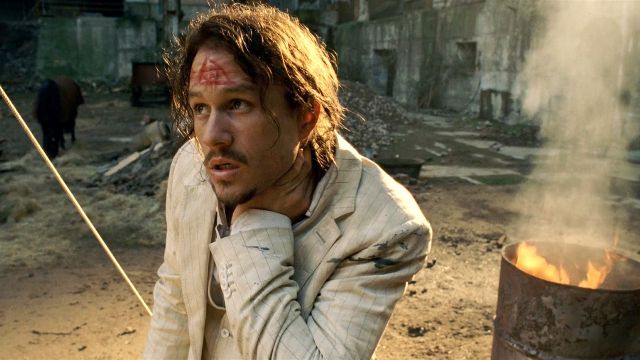 Ledger's final film role was for a late work of Terry Gilliam's — though he passed away with about two-thirds of filming left. His role was completed with the efforts of Jude Law, Colin Farrell, and Johnny Depp. Gilliam, often known for his part in the British comedy troupe Monty Python, also directed a number of fantasy films including Time Bandits and Brazil. In The Imaginarium of Doctor Parnassus, the titular doctor (Christopher Plummer) has made a deal with the literal Devil — a deal the Devil has come to claim. A man named Tony (played by Ledger, as well as Law, Farrell, and Depp) agrees to help Parnassus defeat the Devil in a game of collecting souls to escape the deal. It is a bizarre film typical of Gilliam.
A Knight's Tale
(2001)
In A Knight's Tale, Ledger plays a 14th-century peasant named William Thatcher. Dissatisfied with his lot in life, he intends to change it by pretending to be a knight and competing in jousting tournaments. He pulls off the hoax by wearing the armor of his recently deceased master. With the help of his friends Roland and Wat (Mark Addy and Alan Tudyk), William also seeks to win the affection of a beautiful noblewoman named Jocelyn (Shannyn Sossamon). While not without flaw, A Knight's Tale is an enjoyable period adventure.
Monster's Ball
(2001)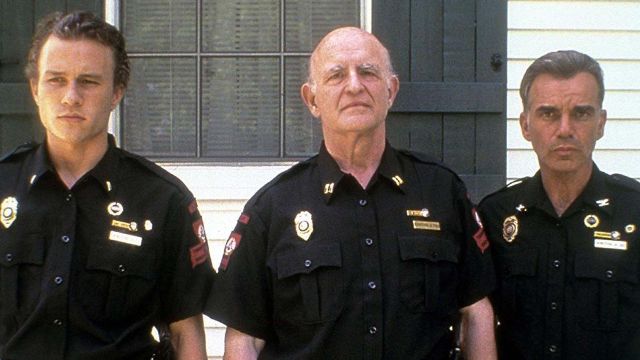 Monster's Ball is a film about the Grotowski's. a multigenerational family of state prison executioners (Peter Boyle, Billy Bob Thornton, Ledger). They perpetuate a cycle of emotional and physical abuse. On the other side of the film, a woman (Halle Berry) whose husband (Sean Combs) was executed struggles to raise and support her overweight son by herself. It is a dark film with powerful performances. Berry, in particular, was awarded the Academy Award for Best Actress — the first African American to do so.
The Patriot
(2000)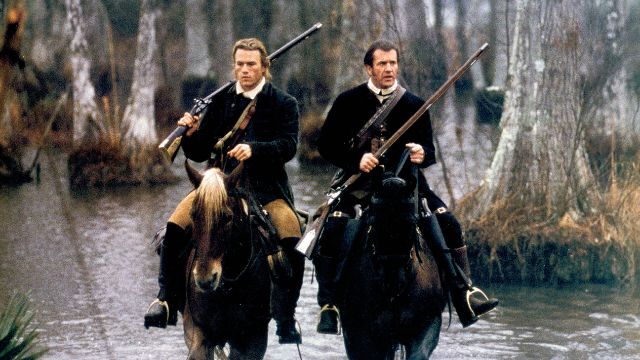 Director Roland Emmerich — best known for his science fiction action film Independence Day—tried his hand at capturing Colonial America with The Patriot. Mel Gibson plays the titular patriot, Benjamin Martin — a composite of a few historical figures. He is drawn into the early conflict of the American Revolution. Ledger plays Benjamin's eldest son Gabriel who enlists in the Continental Army. The film is beloved by many for the way it portrays the fight against British colonialism.
The Brothers Grimm
(2005)
The Brothers Grimm is another film starring Ledger and directed by Terry Gilliam. Although not quite as noteworthy as The Imaginarium of Doctor Parnassus, it is also a worthwhile film for any fan of Ledger. He and Matt Damon play the eponymous brothers — highly fictionalized, fantastical versions of the historical figures. The duo are mere con artists until their path crosses with that of genuine evil and supernatural queen (Monica Bellucci). The film is, above just about all else, visually imaginative and engrossing.
Casanova
(2005)
Director Lasse Hallstrom—best known for his films Chocolat, Cider House Rules and What's Eating Gilbert Grape — brings back to life the story of Giacomo Casanova. Ledger plays Casanova, the world-famous 18th-century womanizer whose surname has become synonymous with such behavior. He continues his seducing ways until he meets a woman (Sienna Miller) who seems immune to them, which fascinates him all the more. Though Ledger gives a sturdy performance and it is an undeniably gorgeous-looking film, the whole affair never quite comes together.
We are a participant in the Amazon Services LLC Associates Program, an affiliate advertising program designed to provide a means to earn fees by linking to Amazon.com and affiliated sites.