You know his name. You've heard his voice. You've trembled at his laugh. Very few people are as associated with the world of Horror like Vincent Price is. Price was a genre stable throughout the '50s and '60s. He has played a wide array of characters, but the real-life Vincent Price is, arguably, the most intriguing character of all. With a career spanning decades and including a wealth of film, television and stage roles, Vincent Price more than deserves the two stars that he has on the Hollywood Walk of Fame. Price has had notable roles in films like The Ten Commandments, as well as television shows like Batman (Egghead represent, yo!). It is his contributions to the horror genre, however, that have left an indelible mark on Hollywood. He has inspired countless actors, directors, and musicians, including Tim Burton.
While he has had an entire career of memorable roles, we want to focus on the 5 horror movie roles that Price is the most well-known for.
5) The Abominable Dr. Phibes (1971)
"Love means never having to say you're ugly." Such was the tagline for the 1971 cult classic, The Abominable Dr. Phibes. This film was a later film in Vincent Price's career, yet it is still one that he is instantly known for. Playing as more of a comedy than horror, Dr. Phibes focuses on the titular character, played by Price, as he murders the medical team that he believes is responsible for his wife's death. As no stranger to the Ten Plagues of Egypt (Price played a pivotal role in The Ten Commandments), Dr. Phibes uses said plagues as inspiration for his murders. The Abominable Dr. Phibes is a horror/comedy film before that genre even existed and, while everybody involved did a wonderful job with the film, it was Price's performance that really stood out and made this film, as well as its sequel, Dr. Phibes Rises Again, true cult classics.
4) The Last Man on Earth (1964)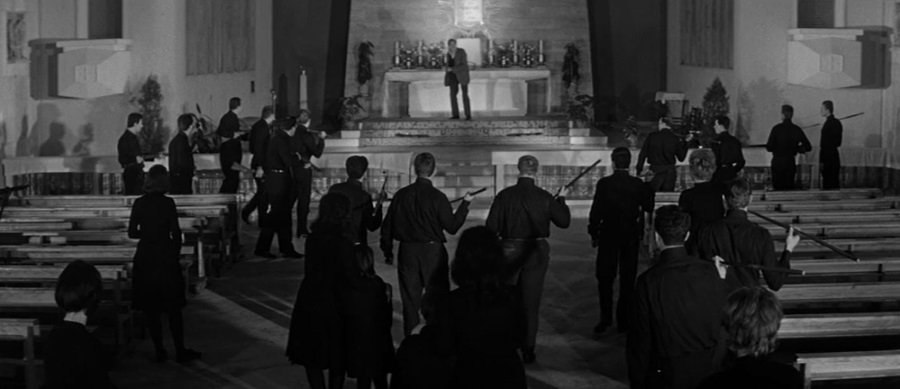 Before Will Smith was a Legend, Vincent Price was The Last Man on Earth. Inspired by the 1954 Richard Matheson novel, entitled 'I Am Legend,' the Last Man on Earth was a black-and-white, Italian-American Science Fiction film. Focusing on Dr. Robert Morgan as, incidentally, the last man on earth, Price is truly a one-man-show for the majority of the film's runtime. A plague has befallen the world and Price is, he believes, the only survivor. He finds out this is not true, though many of his neighbors are now zombie-like vampires, intent on destruction. Morgan does come across a woman named Ruth, and the two strike up a friendship, as two people who are the only two people on the planet are wont to do.
3) The Masque of the Red Death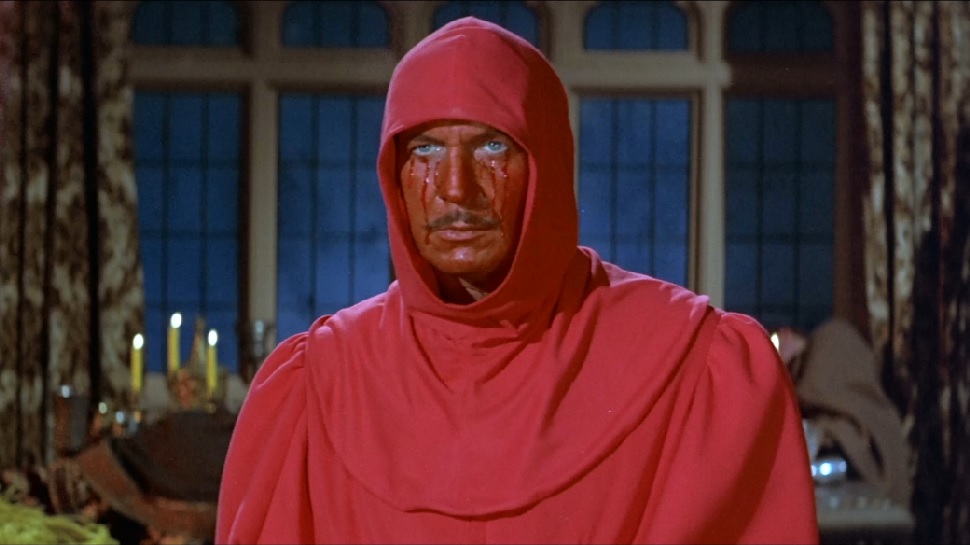 Vincent Price was almost like the spiritual successor to Edgar Allen Poe. While Poe wrote stories and Price acted them out, the two had a vastly similar love of the dark. Price portrayed characters in many of Poe's film adaptations but, perhaps, the Masque of the Red Death was the best. Masque tells the story of an evil, narcissistic prince who sits far atop a village. Once he learns of a horrific plague that has infected the townspeople, he invites all of the villagers into his castle for a massacre under the guise of a party. Price plays the role of Prince Prospero, a Satanist who continues to see a red-hooded figure and begins to think it is a messenger from Satan himself. Unfortunately for the prince, "death has no master," and the hooded figure is not a messenger, but is the red death itself. Enraged, Prospero removes the mask of the red death, only to discover it is he, himself that was under it. The figure then tells Prospero that "Each man creates his own God for himself- his own Heaven, his own hell."
This is Price at his most evil and it is wonderful. While he played various "shades-of-grey" characters throughout his career, this role left no room for discernment — homie was a straight-up bad guy. He was a bad guy that more than got his comeuppance, however. Before being stricken down, Prospero is asked by the Red Death "Why should you be afraid to die? Your soul has been dead for a long time." We hope we are never invited to a Danse Macabre, and we completely blame this movie.
2) The Tingler (1959)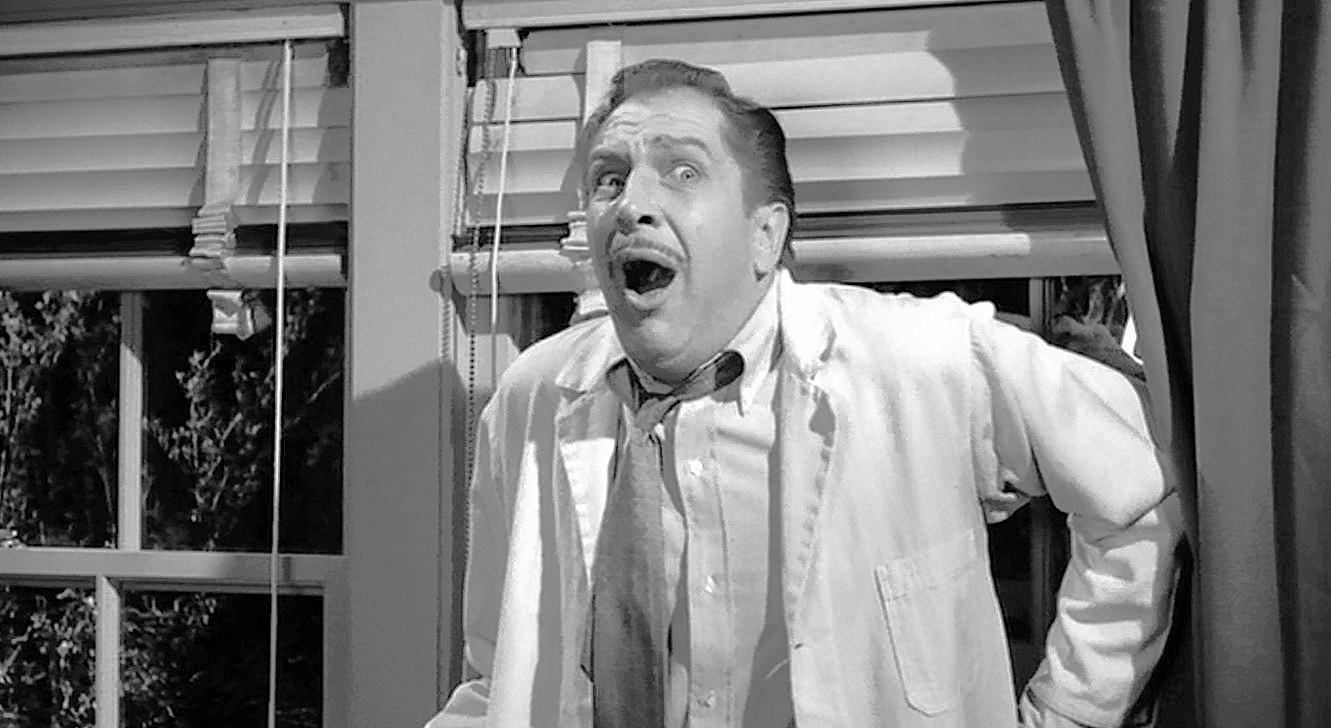 When William Castle and Vincent Price got together, magic happened. There were countless examples of this but one of the greatest is 1959's The Tingler. The Tingler was written by Robb White, directed by Castle and it starred Vincent Price as Dr. Warren Chapin, a pathologist who discovers that the tingling of the spine in states of extreme fear is the result of a parasite attached to the person's spine. As if the premise of the movie wasn't terrifying enough, the release of this film also utilized a gimmick known as "Percepto," a vibrating device in some theater chairs that would coincide with the "tingling" moments in the film. Tingler didn't need the gimmick, but it certainly helped. The real selling point of this film, however, was the performance of Vincent Price. Surprisingly, Price is the good guy of this film as he tries to stop the titular Tingler, as well as human adversaries. The Tingler is, perhaps, the scariest Vincent Price movie, evoking more screams than laughter. Because this is Vincent Price we're dealing with, however, he has to unsettle us a little bit. He does so at the end of the film.
1) House on Haunted Hill (1959)
As if there could be any other choice. Released around the same time as The Tingler, House on Haunted Hill was the epitome of Vincent Price. In the film, Price played eccentric millionaire Frederick Loren, who has invited 5 people to a very haunted house on a very haunted hill. Whoever can survive the night will be awarded $10,000. (Sidenote: $10,000?? We'd do it for free!!!) The film plays host to a variety of scares, but it is the performance of Vincent Price that really stands out. Price is not an outright villain in this film, but everything that happens is sort of his fault sooo…Also, his wife hates him and has tried to murder him a number of times. So he's not a great guy, but he's also not the bad guy of the film.
We are a participant in the Amazon Services LLC Associates Program, an affiliate advertising program designed to provide a means to earn fees by linking to Amazon.com and affiliated sites.