Yearly sports titles often impart a sense of déjà vu, but few cast that effect as much as EA Sports' NHL series. From the same modes year in and year out to copy and pasted trophies and achievements, it's been the most consistent series in EA's catalog to both its benefit and detriment. NHL 23 is yet another entry that fails to have a major hallmark feature, instead offering just a few improvements that strengthen the overall user experience. And while its solid gameplay formula remains intact, NHL 23 doesn't add much to it.
To demonstrate how little has changed, the first selling point that the game approaches players with is "last chance puck movement." What this actually equates to are 500 new gameplay animations that are centered around skirmishes when the puck is near the goal. From last-second passes to diving at a loose puck to deflect it into the back of the net, these wild animations do add to the gameplay. Hockey isn't always graceful and these additions add to the realism of the experience and can produce some frantic, awesome moments.
As far as modes go, only the franchise mode has seen major additions in the form of more customization features. Nearly every aspect of its seasons can be changed, such as the playoff round structure or how the conferences are constructed, but the best element is being able to replace the teams. I used this to put the alumni squads into the franchise mode, allowing me to play in star-studded games featuring some of the best players to ever lace up a pair of skates. Getting to see Joe Sakic and Patrick Roy on the Colorado Avalanche again was a real joy and there's a lot of additional replay value to be had by tweaking settings and rosters to your own liking.
RELATED: Madden NFL 23 Review: More Freedom Than Ever Before
NHL 23 is also the first game in the series to feature a female cover star as Canadian standout Sarah Nurse shares the cover with Anaheim Ducks center Trevor Zegras. This move is to signify the addition of female players in the Hockey Ultimate Team, so players can have co-ed matches — which fits in well with the fantasy nature of the mode as hockey legends can also be thrown in. This is a nice step for greater inclusion and a cool move given how rarely women's hockey makes headlines outside of the Olympics.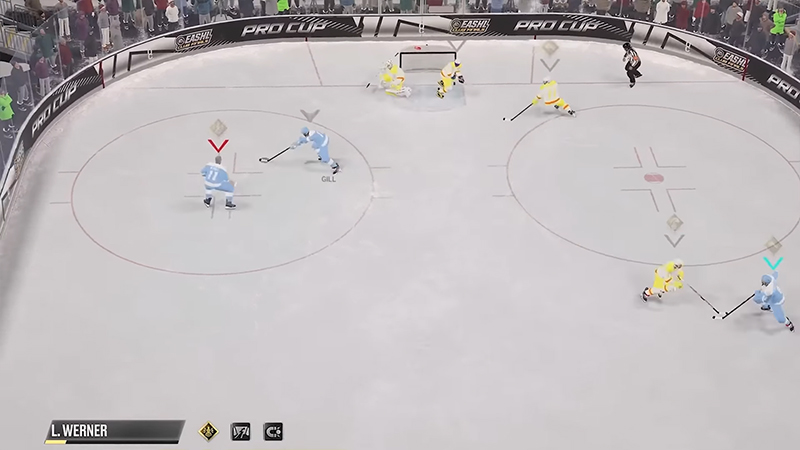 Every other mode from the past couple of years returns, such as the World of CHEL suite that features more arcade-like modes for created characters, so it's still a very feature-rich game. However, other than a few small graphical updates (player likenesses have been upgraded in the rare instance you actually see their faces) and a slightly cleaner presentation, you rarely can tell from a screenshot that you're not playing last year's title. That isn't a huge problem when the core gameplay is so satisfying, but it does make the experience too enticing for those with NHL 22.
It's worth noting that cross-platform play is planned to be added in November, which is always a nice addition. However, this feature not making the launch certainly dampens the experience a bit, especially when I struggled to fill out my team in the Threes mode and had to play with a computer-controlled teammate. Hopefully, this will become a standard for all of EA's multiplayer titles going forward.
RELATED: Ted Lasso Confirmed for FIFA 23
It's a fair complaint to make that EA Sports' NHL series has rested on its laurels and has little reason to innovate with no competition. However, EA Vancouver has made a number of small tweaks that make NHL 23 an improvement, even if fans are still waiting for a larger overhaul that takes advantage of the greater horsepower on modern systems. While these changes aren't enough to make it an essential upgrade, anyone who makes the jump will find a lot to like. EA's efforts to continually improve the on-ice gameplay and provide a robust amount of modes still make it a good hockey game even if those enhancements aren't exactly new.
SCORE: 7.5/10
As ComingSoon's review policy explains, a score of 7.5 equates to "Good." A successful piece of entertainment that is worth checking out, but it may not appeal to everyone.
---
Disclosure: The publisher provided a PlayStation 5 copy for our NHL 23 review. Reviewed on version 1.001.000.