Ever since Italian developer Milestone regained the MotoGP license in 2013, fans have been treated to yearly entries. Considering the studio is juggling a number of yearly franchises in addition to original efforts like Hot Wheels Unleashed, it's not uncommon for the changes to be quite nominal. However, MotoGP 22 features a stellar new mode that celebrates the sport's past and also continues to polish the overall gameplay, making it one of the studio's most impressive efforts yet.
Unlike some of Milestone's other motorcycle racing games, such as the recently released Monster Energy Supercross 5, the bikes aren't easy to handle. Weighing over 346 pounds, Grand Prix motorcycles require time to turn unlike a dirt bike and this creates a very methodical type of racing, one that can't rely on last-second turns and requires plenty of lead-up going into a bend in the road. Milestone has spent over a decade fine-tuning its simulation of MotoGP events and the racing comes together quite nicely in MotoGP 22 as the sense of speed and sheer horsepower in these bikes mixed in with the purposeful handling creates a unique feeling racer when compared to other games inside the genre.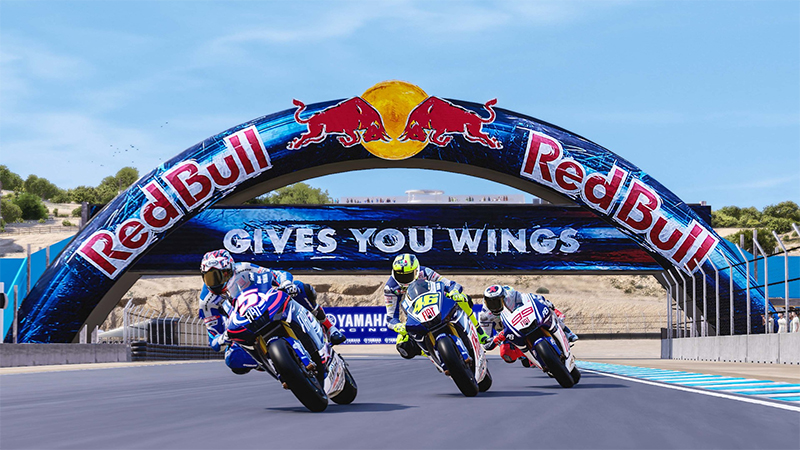 Considering this is the series' second outing on PlayStation 5, I was hoping that it would take full advantage of the DualSense controller. After all, Grand Prix motorcycle racing is an intense test of man attempting to push a powerful machine to its limit, straddling the line between speed and safety. When watching a race, there's a thrilling aspect of seeing a rider go near-horizontal around a curve, a display of physics where you can't believe the motorcycle is staying on both wheels.
Granted, it's asking a lot to ask a video game to try to recreate this high-speed thrill where a mistake is typically only noticeable once you're flying off a motorcycle onto the pavement, but MotoGP 22 could use the controller's force feedback to communicate to players the minutiae that occurs when a bike is about to straddle that dangerous line and thus allow players to course correct in real-time as an experienced rider does. Instead, the game has a pretty standard implementation of rumble that occurs when you're off the track or have crashed, which is fine but doesn't quite communicate the sense of danger that should be there.
This year's biggest addition is a historic mode called Nine Season 2009, which chronicles the eventful season that saw the legendary Italian speedster Valentino Rossi win his ninth and final MotoGP championship. This mode stands out and is quite remarkable because of how it celebrates the season from the perspectives of four now-retired legends: Rossi, his top rival in Casey Stoner, his teammate that looked to surpass him in Jorge Lorenzo, and the diminutive Dani Pedrosa that looked to prove that he could be successful on the larger bikes. This more intimate perspective makes it stand out from a lot of modes in sports titles that simply look to celebrate the biggest moments on a less personal scale.
So, not only do you get to relive the jovial moments of Rossi's victories, you get to follow all four riders as their seasons feature triumph and disappointment. The excellently edited video packages that bookend the multi-part races also play their role in making this mode more special. Milestone built this for its hardcore audience, as the developer isn't afraid to dive deeply into the small details that make that specific season so interesting. Everything from the significant impact racers felt from having to switch to Bridgestone tires from Michelin ones to unpredictable rain conditions forcing riders to choose when to pit and use their secondary bikes are covered. It would've been so easy to make this mode a simple celebration of Rossi's accomplishment, but instead, it's a love letter to, and examination of, the entire sport and the human riders that make it so spectacular.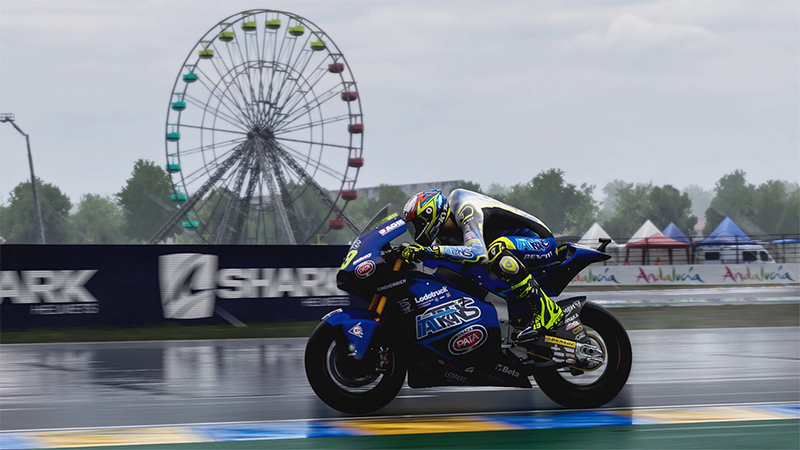 Beyond that, MotoGP 22 has the usual bevy of expected modes. There's the centerpiece career mode, which allows players to race in either MotoGP or its two lower classes. There is enough meat here to keep players entertained for several seasons as they develop a full team around their created rider, going as far as to hire agents and other crew members that improve the player's business deals and on-track performance. There's also a surprisingly in-depth suite of creation tools for those looking to create their own liveries for bikes and helmets, which is a nice touch but nothing entirely new for the series.
Whether you just want to suit up and race the iconic MotoGP courses or are looking to relive the 2009 season in one of the finest historic modes ever in a racing game, you can't go wrong with this year's offering. No matter if you picked up last year's game or not, MotoGP 22 is a worthwhile purchase that doesn't need the typical caveats attached to it like most annualized franchises. Milestone has continued fleshing out its racer with more than just extra coats of polish, which makes for an easy recommendation.
SCORE: 8/10
As ComingSoon's review policy explains, a score of 8 equates to "Great." While there are a few minor issues, this score means that the art succeeds at its goal and leaves a memorable impact.
---
Disclosure: The publisher provided a PlayStation 5 copy for our MotoGP review. Reviewed on version 1.003.000.