To call PlatinumGames' output uneven would be an understatement as the Japanese developer has released Game of the Year contenders such as Bayonetta 2 and NieR: Automata while simultaneously putting out terrible titles like Teenage Mutant Ninja Turtles: Mutants in Manhattan. The studio has been open about financial struggles in the past, with founder and legendary director Hideki Kamiya openly stating that Automata's surprise success saved the company. Once again PlatinumGames has teamed up with publisher Square Enix for Babylon's Fall, a live-service game that aims to last longer than its solo titles and stabilize the studio's finances. But that assumes that anyone will be around to play this underbaked game.
PlatinumGames has gotten most of the live-service game basics correctly and implemented them well. There's colored loot to collect, missions that are easily selectable, a roadmap, and quests that can be played with three other players. However, there is one issue here that is the elephant in the room: very few players are experiencing the game at launch when its playerbase should be at its peak. So that means unless you want to play the game solo, which is doable but defeats the entire purpose of its existence, you are stuck in the most difficult quest of all — finding other players.
As a veteran of playing offbeat and niche video games, I don't mind waiting a while for a match to fill up. It's certainly not ideal, but it's easy enough to do other things while you wait to be connected to other players playing the same quest as you. However, Babylon's Fall makes the mistake of automatically starting the missions if no players are found after a minute or so of waiting. This means if you want to find someone, you either need to constantly estimate how much time has passed and then cancel the mission request or abort a mission once it has started and go through the menus again to start searching. It's an odd decision not to just leave a room up while looking for others, especially when the player base is so small.
Bafflingly, it's also not as easy as it should be to play with friends. Rather than just partying up with a friend and then joining missions together, players can only join the same hub area. After that, one player can start a mission and then the other has to check the list of available party quests and then join the one made by their friend. Taking too long can result in randoms filling up the slots (although this isn't too likely given how barren the player base is) and it's an element of the game that greatly needs to be worked upon if there's to be any long-term life as a live-service game.
This is all unfortunate as playing Babylon's Fall solo is mostly a drag. The combat here isn't quite as mechanically rich as PlatinumGames' character action titles, so slowly bashing on enemies by yourself doesn't have the same enjoyment. The action gets better with a crew of four people as enemies don't overstay their welcome and the mixture of physical and magical attacks brighten up the visuals of an oftentimes drab game. Otherwise fun boss fights become a war of attrition when playing by one's self as you're chipping away at a huge health bar that is designed for multiple players to be attacking in unison. This leads to 15-minute affairs of dodging simple attack patterns that are just tricky enough for you to get hit if you ever get sloppy, which will happen when battles are that long.
While fighting foes isn't quite as interesting as it is in Bayonetta, there are some interesting systems at play. Players have light and heavy attacks that each have a weapon associated with them, while also having some goofy magic mechanic where you have magical control over two additional weapons. This means that every weapon has three main uses: light and heavy attack variants, and the goofy magic one that uses energy to deploy. For example, a shield in the light attack slot starts a defensive block, while the heavy attack is an offensive bash move, and the magic variant shields the player from oncoming attacks at the cost of energy. Each weapon having so many uses makes for a pretty intriguing variety within loadouts and creative players can dig a little deeper and try to find new strategies (although you can't change your weapons mid-mission, so you're in for a bad time if your experimentation has gone awry).
But it can't escape mediocrity, as Babylon's Fall presents a painfully boring world in its opening hours. Cutscenes drag on for way too long for a narrative about some mysterious disease that is ultimately uninteresting, you're stuck fighting in a generic fantasy town, and it all looks sort of drab as the Final Fantasy XIV-esque character models look dated without stellar art design to hide its simplicity. However, if you stick with the game, and it doesn't seem like a ton have so far as it becomes more and more difficult to find players in the later missions, you'll get to see a lot more variety in the locales, a few interesting traversal sections (one imitates the awesome dragon bridge scene in Demon's Souls), and some enjoyable boss encounters as long as you manage to find others so those fights don't overstay their welcome.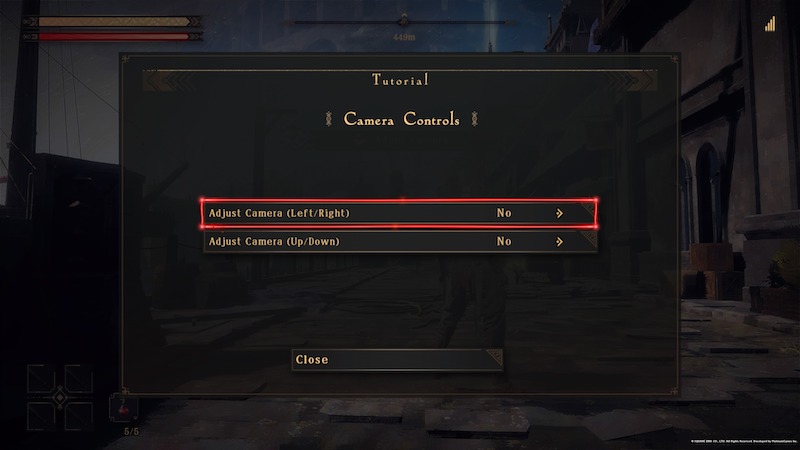 The screenshot above, where the game weirdly gives you a yes or no option for its camera controls, really sums up Babylon's Fall's issues. It's super rough around the edges and just isn't quite there. The combat is solid but never quite finds its groove, the story has a passable premise but isn't presented in an amusing way, the matchmaking technically works but makes everything more of a hassle than it should be, and so on. There's a solid enough game somewhere here, but it's never lifted beyond that qualifier. When there are so many options for people's attention nowadays, it's not a shock that most are choosing to not spend their time in PlatinumGames' latest.
While Babylon's Fall's long-term success as a live-service game remains to be seen, it has a decent, if wholly unremarkable, core to build off of. The odds are certainly not in its favor given how few players are active at launch, and the bland world makes it hard to really get invested in any potential additions down the line no matter how good they are. This foray into this vein of loot-based, cooperative multiplayer is far from PlatinumGames' best, although those that continue on with the campaign will get to experience some engaging boss encounters and more interesting level design that are kept from those who bail early on. Ultimately, Babylon's Fall is an enjoyable enough diversion if you have a friend willing to go with you on the journey, but that time can clearly be used better in other games that aren't bereft of players.
SCORE: 6/10
As ComingSoon's review policy explains, a score of 6 equates to "Decent." It fails to reach its full potential and is a run-of-the-mill experience
---
Disclosure: The publisher provided a PlayStation 5 copy for our Babylon's Fall review. Reviewed on version 1.000.002.