Ghost of Tsushima is coming on its first anniversary and it might be celebrating that with a new expansion. According to a few supposed insiders, Sony is preparing to announce Ghost of Ikishima, a standalone expansion to Ghost of Tsushima.
Ghosts of Ikishima. An Expandalone type game. Aiming for 2021. Not sure how so many seemed to find out so quick.

— Nick  (@Shpeshal_Nick) June 24, 2021
This rumor (as noted by Wccftech) has some credibility to it, but it's also a little sporadic. In a Sony-focused ResetEra thread, some users were lightly speaking about the rumored State of Play coming on July 8. Some users pasted in the above tweet from XboxEra Co-Founder Nick "Shpeshal_Nick" Baker stating that "Ghosts of Ikishima," a standalone expansion to Ghost of Tsushima, is real and aiming for a 2021 release. He then cleared up that it is probably "Ghost" and not "Ghosts" as he makes the same mistake with the first game. He also compared it to Spider-Man: Miles Morales and Gears 5: Hivebuster; both of which are budget-priced games that are available as separate purchases.
MORE: Avatar: Frontiers of Pandora Trailer Highlights Ray Tracing & Tech Advances
Noted leaker KatharsisT, after saying she also already knew about this, then followed up on Baker's rumor by saying that it was a single-player title before stating that she didn't want to spoil the surprise. KatharsisT has been right in the past before — even supposedly leaking Ghost of Tsushima's multiplayer mode — but has also made claims about a few games that haven't come true yet like the insistence of a Silent Hill reboot's imminent reveal. Others have said that Silent Hill is coming back so it might be happening, but given how it hasn't been revealed yet after hinting that it would be, it is worth mentioning.
There's also no solid consensus on the platforms it would be on. Baker said he assumed it would be on PlayStation 4 and PlayStation 5, but that was just a guess. Seeing as though Ghost of Tsushima was on PS4, that seems to be a somewhat safe bet, even if Death Stranding: Director's Cut is a PS5 exclusive (for now, at least) as it was only rated for the PS5 and that was the only platform in the trailer.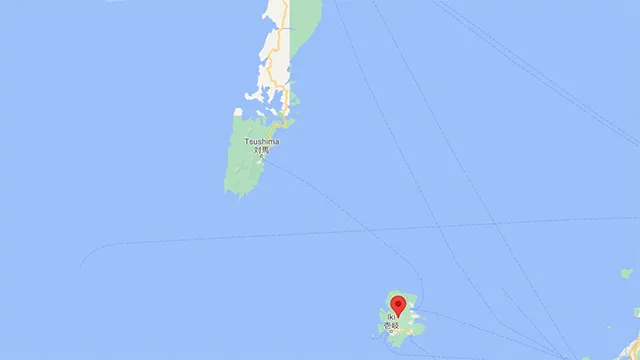 Sucker Punch has not officially spoken about any sort of follow-up to Ghost of Tsushima but it would make sense given its past with these "expandalone" games. Infamous 2 got a standalone non-canon expansion only four months later with Infamous: Festival of Blood in 2011. Infamous: First Light was also a standalone expansion of Infamous: Second Son. Both titles were well before Sony started to embrace these smaller takes on its big games such as Uncharted: The Lost Legacy and the aforementioned Spider-Man: Miles Morales.
MORE: PlayStation Celebrates Pride Month With Theme & Curated Game List
Ikishima, or Iki Island, is a small island around 40 miles southeast of Tsushima, as shown in the above picture. Ikishima is also much smaller than Tsushima, making it an ideal spot for a smaller game.