(Photo by Leon Bennett/Getty Images)
Many companies put out home versions of arcade classics, as is the case with the upcoming Simpsons and X-Men cabinets from Arcade1Up. New Wave Toys, a manufacturer focused on retro collectibles, is following up its 1942 and 1943 cabinets with the Q*Bert x RepliCade, which is a mini arcade version of the game packed into a tiny package complete with a 4:3 display and HDMI out port. There'll also be a "Warren Davis Edition" that includes additional cabinet detailing, simulated wear and tear, a Gottlieb raised letter coin door, and an exclusive mini decal set.
The real Warren Davis, however, isn't jaded by this new, nostalgia-driven take on his old game. In fact, he's pretty stoked to see the game he created back in 1982 come back in such a fashion.
RELATED: Q*bert Miniature Arcade Cabinet Announced, Releasing Later This Year
"It's amazing," says Davis of the level of detail that RepliCade's cabinet has reproduced. "I sent them pages and pages of notes on what needed to be tweaked on the prototype. Then they went even further and found out small differences that I didn't even know existed. It's a passion project and they're tremendous guys."
Another draw about the RepliCade set is that it includes the unreleased in arcades sequel to the original called Faster Harder More Challenging Q*bert.
"I've always felt that Faster Harder More Challenging Q*bert is Q*bert," said Davis. "It's the director's cut. I always thought we should've released it for the players that mastered the original."
While, as its name suggests, the Q*bert sequel is much more difficult to get through, Davis gave some tips for casual players looking to dive into the RepliCade cabinet. Since players will have full access to the operator's settings, they can make the game easier, adjust the requirement for extra lives, and make other tweaks that will fit their playstyle.
Warren Davis is Proud of Q*bert's Legacy
The impact of Q*bert on gaming can't be overstated. It didn't just become a powerhouse inside arcades, it found itself getting vast amounts of merchandise and even an animated cartoon as part of CBS' Saturday Supercade. Davis had no hand in the series and found its depiction of the character quite hilarious in retrospect.
"A lot of people [played Q*bert] and went, 'What kind of drugs were they on to make this?' When I watched the show, I went, 'What kind of drugs were they on to make this?' They gave Q*bert arms. He was speaking English. He had a letterman jacket on!"
While not a fan of the cartoon, Davis has enjoyed seeing Q*bert make cameos and appearances in films over the years as the character appeared in Wreck-It Ralph, Pixels, and is set to appear in the upcoming Ryan Reynolds-led Free Guy. In fact, Davis is confused as to why Sony doesn't use the character even more.
"I don't get why they don't do much more with him," said Davis. "I have no financial stake in it. We all worked on contracts, so I never owned Q*bert. There just seems to be so much nostalgia and a love for the character."
It's safe to say that the Q*bert cartoon isn't as fondly remembered as the game itself. Not only did the arcade hit inspire plenty of sequels, but also many clones and knock-offs. While Davis is flattered by all of the Q*bert clones released over the years, he also can't imagine developing something that is a derivative work.
"I just don't see how that type of work can be fulfilling," says Warren. "I could never just take someone else's work and try to recreate it. It is what it is: a cash grab."
Working at Midway
While Davis is best known for working on Q*bert, he also had a hand in many of the best '90s arcade games. His video digitization system was used to bring in digital images into games, which gave arcade titles a new photorealistic look that wowed players. After joining Midway, Davis was a programmer on 1991's light gun shooter Terminator 2: Judgment Day. As a fan of the first Terminator film, the whole experience was a thrill for Davis. His digitizing tools would then be used in was then used in the Mortal Kombat series, NBA Jam, Cruis'n USA, WWF WrestleMania, and more.
Warren recalled another contribution to Mortal Kombat, which was how he helped make the game's attract mode a reality. Mortal Kombat co-creator Ed Boon was trying to get a full-sized picture of Goro to display, but due to the memory restraints of the system, it wasn't possible. Thanks to a compression and decompression system programmed by Davis, Boon was able to include the attract mode screen he wanted.
"After I gave it to Ed [Boon], I jokingly told him I don't want much, just give me a quarter from every cabinet sold. We had a good laugh. Months later, I get a bonus, and it wasn't life-changing money, but it was a pretty good amount and it was for Mortal Kombat. Now I don't know if it's because of that conversation, but I made good money off of Mortal Kombat."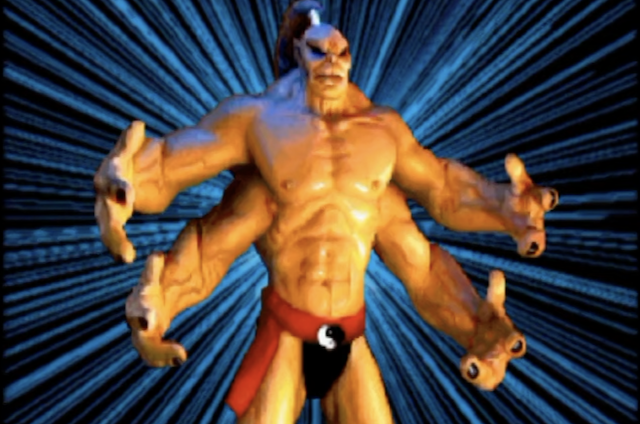 Davis' Midway career would also see him work with the rock band Aerosmith on Revolution X, an arcade rail shooter that starred the band members. And while it sounded like a lot of work, it was a positive experience for him.
"Aerosmith was amazing to work with," said Davis. "We worked such long hours. I think we had them for three 13-hour days, but we were never tired since there was just such a natural energy to working with them. They were all so professional and did everything that we asked of them."
Davis' Interesting Past and Future
Oddly enough, Davis never set out to work on video games. He initially came to Chicago in order to study improv at the famed The Second City comedy club. Eventually, his finances dried up and he needed work, which eventually led to him using his computer programming background to get a job at Gottlieb. His first game was Q*bert and the rest is gaming history.
Nowadays, Davis works as an actor and gets to put his improv skills to work. He has appeared in popular television programs such as The Middle, Criminal Minds, and All My Children. On top of his current acting career, Davis is also set to become a published author as a book about his gaming career is set to release later this year.
"People like hearing my stories and I'm not going to be here forever to tell stories. Originally, I self-published the book and would take it to retro conventions I'd get booked at. Then COVID happened and I had to cancel all my appearances. Since I was doing a lot of sitting around, I figured I'd throw some feelers out to publishers and that's how this happened. The new title is Creating Q*Bert: and Other Classic Video Arcade Games."