Netflix will release JoJo's Bizarre Adventure: Stone Ocean Part 2 this week.
Following the success of the first 12 installments in December, the streaming service is dropping episodes 13-24. Highly popular manga JoJo's Bizarre Adventure ran from December 1990-April 2003. Stone Ocean is one of the most successful story arcs of the manga. Briefly, the story focuses on Jolyne Cujoh, set up by her ex-boyfriend to serve a 15-year sentence in prison.
When to Watch JoJo's Bizarre Adventure: Stone Ocean Part 2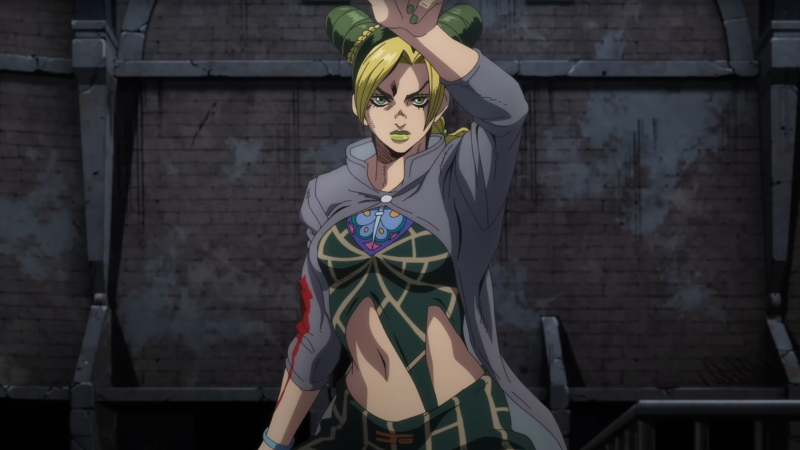 Netflix set the JoJo's Bizarre Adventure: Stone Ocean Part 2 release date at 3 a.m. ET/12 a.m. PT on Thursday, September 1. Based on the original manga by Hirohiko Araki, the anime series has been on-air since 2012. It centers around the Joestars, a superpowered family taking down supernatural enemies.
"The legacy of the Joestar family continues with Jolyne as she and her companions take on new Stand users behind the bars of Green Dolphin Street Prison."
RELATED: JoJo's Bizarre Adventure: All-Star Battle R Gets Systems Intro Trailer
JoJo's Bizarre Adventure: Stone Ocean is a production by David Production Inc. It hails from chief director Kenichi Suzuki together with director Toshiyuki Kato. Its creative team also includes Yasuko Kobayashi for series composition, Masanori Shino for character design, Shunichi Ishimoto for designer of the stands, sound director Yoshikazu Iwanami, and music by Yugo Kanno.
The Japanese voice cast features Fairouz Ai as Jolyn Cujoh,  Mutsumi Tamura as Ermes Costello, Mariya Ise as F.F., Atsumi Tanezaki as Emporio Alnino, Yuichiro Umehara as Weather Forecast, as well as Daisuke Namikawa as Narciso Anastasia, and Daisuke Ono as Jotaro Kujo.
The English cast sees Kira Buckland as Jolyne Cujoh, Matthew Mercer as Jotaro Kujo, and Tiana Camacho as Ermes Costello. Additionally, Brittany Lauda plays Foo Fighters, Stephen Fu plays Weather Forecast, Casey Mongillo plays Emporio Alniño, YongYea plays Enrico Pucci, Patrick Seitz plays DIO, Amber Lee Connors plays Gwess, David Matranga plays Johngalli A., Jas Patrick plays Thunder McQueen, Suzie Yeung plays Miraschon, and Clifford Chapin plays Romeo Jisso.