Demon Slayer's Mugen Train film was universally loved by fans and critics alike, and the Demon Slayer anime is attempting to tackle that story again with a retelling before the premiere of Season 2. The first episode of the Demon Slayer Mugen Train Arc is interesting, however, as it represents an entirely new addition to the story, not even featured in the original manga. 
"Flame Hashira Kyojuro Rengoku" takes place shortly before the events of Mugen Train, and serves as a prologue of sorts to the movie, showing how Rengoku found out about the train itself.
As a blazing orange sun dawns Rengoku is sitting in a noodle shop, and it's here that Demon Slayer's unparalleled animation is once again put on display. Even something so simple as the shop owner making noodles and pouring broth is given such attention and care. While the episode is a bit light on action, the fight scenes present still sport the same gorgeous animation given to Mugen Train. If anything, this premiere should help assuage any fear that animation quality might dip, as many second seasons do. Ufotable still nails the presentation, striking an incredible balance with the show's soundtrack, animation, voice acting, etc.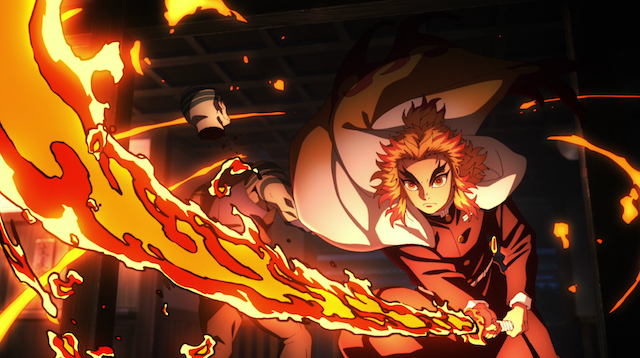 Rengoku is the star of the show, and if there's anything to show why he's a fan-favorite character it's this episode. The Flame Hashira is full of personality and vigor, and this premiere does a phenomenal job of fleshing out his character and personality, providing a bit of context into what he faced before Mugen Train. Most of the narrative revolves around Rengoku helping a grandmother and her daughter that sell bento boxes, and there's even a nice little surprise related to Rengoku's family. The episode, as a whole, feels like an echo of Mugen Train and makes the events of the film hold even more emotional weight now. 
It's interesting to see the Demon Slayer anime finally bring some original content to the story, and it gives me hope that it's something we might see more of moving forward. Mugen Train was an almost one-to-one adaption of the manga, and after this premiere, I'm very interested to find out what the extra and extended scenes bring. 
If there's any criticism I could weigh against "Flame Hashira Kyojuro Rengoku," it's that the event in the middle crawls a little bit. Still, it feels like the perfect addition to Mugen Train that expertly juggles the same tone as the film and provides some much-needed extra screen time for one of the series' most compelling characters. 
SCORE: 9/10
As ComingSoon's review policy explains, a score of 9 equates to "Excellent." Entertainment that reaches this level is at the top of its type. The gold standard that every creator aims to reach.
---
Disclosure: The critic watched the episode on Funimation for ComingSoon's Demon Slayer Mugen Train Arc Episode 1 – Flame Hashira Kyojuro Rengoku review.