If you are a celebrity, an influencer, or a thought leader, is there a quantifiable way to know your impact on other people's lives? Dear… on Apple TV+ seeks to answer this question for icons from all walks of life, such as Oprah Winfrey, Gloria Steinem, Spike Lee, Kareem Abdul-Jabbar, Ava DuVernay, Yara Shahidi, Stevie Wonder, and Aly Raisman, among others. Inspired by "Dear Apple" spots, the series combines cinematic biographies of famous people with letters from people whose lives they have touched and transformed.
Where to Watch Dear…
Good news! There are a few ways you and your family can not only enjoy Dear… but everything Apple TV+ has to offer. Apple TV+ offers a free 7-day trial as well as a one-month free trial as part of a bundled package if you purchase Apple One. Already have an Apple device? That includes a free three-month subscription to Apple TV+ if redeemed within 90 days.
RELATED: Dear… Trailer: Celebrities Reflect On Fan Letters in Apple TV+ Series
How Many Episodes Are in Dear…?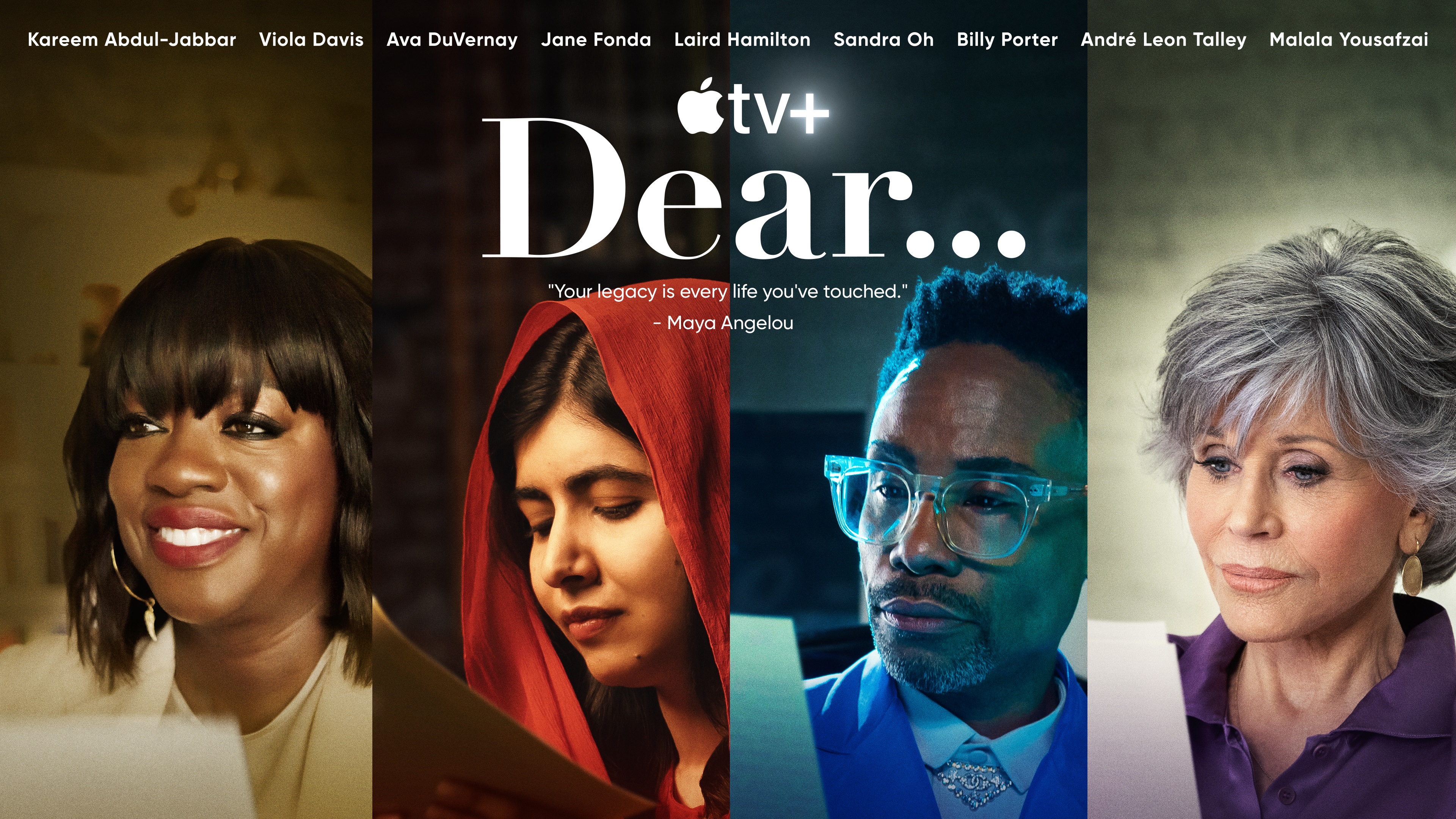 There are 19 episodes in Dear….The runtime for the episodes varies between 23-38 mins. You can check the complete list of Dear… episodes and their release date below.
Season 1
"Spike Lee": June 5, 2020
"Lin-Manuel Miranda": June 5, 2020
"Stevie Wonder": June 5, 2020
"Oprah Winfrey": June 5, 2020
"Gloria Steinem": June 5, 2020
"Big Bird": June 5, 2020
"Jane Goodall": June 5, 2020
"Aly Raisman": June 5, 2020
"Yara Shahidi": June 5, 2020
"Misty Copeland": June 5, 2020
Season 2
"Viola Davis": March 4, 2022
"Sandra Oh": March 4, 2022
"Kareem Abdul-Jabbar": March 4, 2022
"Billy Porter": March 4, 2022
"Jane Fonda": March 4, 2022
"Ava DuVernay": March 4, 2022
"Malala Yousafzai": March 4, 2022
"Laird Hamilton": March 4, 2022
"André Leon Talley": March 4, 2022
What Are the Critics Saying about Dear…?
The critics have mostly liked Dear… The audience? Not so much. With an approval rating of 83% on Rotten Tomatoes from the critics and an average audience score of 56%, Dear… seems to have garnered all kinds of reactions and reviews.
Brad Newsome from The Sydney Morning Herald writes, "It's a pity that it's presented in a style reminiscent of an expensive, schmaltzy corporate video – but even viewers violently allergic to such things will have little trouble enduring it given the substance beneath."
Brian Lowry from CNN observes, "The eclectic lineup means your mileage may vary from episode to episode, but the underlying point – celebrating the influence that such figures can have – endorses the ability of celebrities to influence society in positive ways, or as Winfrey puts it, 'drop pieces of light into people's lives.'"
RELATED: Mandatory Streamers: Fab 5 Head to the City of Brotherly Love in Queer Eye Season 5
Is Dear… Suitable for Kids?
Dear… has a TV-MA rating. The series is meant for viewing by mature audiences only and may not be suitable for audiences under 17.