Today at the D23 2019 Expo, Lucas film and Disney+ officially announced the long-rumored Obi-Wan series, and confirmed the return of Ewan McGregor as the iconic Jedi!
McGregor received a warm welcome when he arrived onstage to make it official. It was also revealed that scripts are currently being written and shooting will happen sometime next year. The new series will take place eight years after the events of Revenge of the Sith, where we last saw Obi-Wan delivering the infant Luke Skywalker to his Tatooine homestead. An updated timeline graphic shown at the event places the Obi-Wan show as happening somewhere in the middle of the span of events in Solo: A Star Wars Story.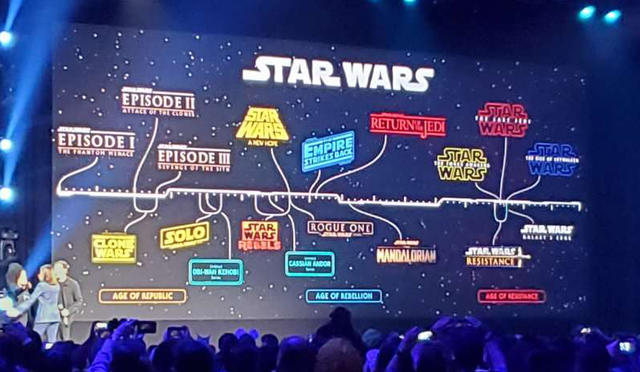 RELATED: Ewan McGregor Talks About the Potential Obi-Wan Movie
McGregor took over the role of Obi-Wan for the Star Wars prequel trilogy two decades ago from the late Alec Guinness. His last live-action appearance was in 2005's Revenge of the Sith. However, McGregor also lent his voice to Rey's Force vision in The Force Awakens. Additionally, McGregor hasn't been shy about his desire to reprise his role.
Two years ago, director Stephen Daldry was supposedly lined up to direct a standalone Obi-Wan film. Unfortunately, the dismal box office performance of Solo: A Star Wars Story put all the spinoff movies on hold.
No other details about the potential Obi-Wan series are currently available. A few Star Wars novels and comics have explored Obi-Wan's life on Tatooine between Episodes III and IV. Obi-Wan also had a memorable rematch with Darth Maul in Star Wars Rebels. But any story direction for the new show is simply conjecture at this point.
Disney+ already has two live-action Star Wars series lined up: The Mandalorian and the untitled Cassian Andor series.
What do you want to see in a potential Obi-Wan Kenobi series? Share your thoughts in the comment section below!