A new report states that Swamp Thing is getting a shortened first season, and is ending its production early, and abruptly. According to Star News Online, a local outlet in Wilmington, North Carolina where the show is being filmed, the writers are being asked to hastily re-write the ending as Warner Bros. evaluates the future of its streaming service, DC Universe. Originally slated for 13 episodes, Swamp Thing is now whittled down to 10, hence the need for an ending re-write.
Series star Virginia Madsen wrote a post on her Instagram that read "I'm beyond sad. What a terrible decision. We have been cut to the core by those who have never set foot into the Swamp. And despite the rule I am going to use the hashtag. #swampthing." The post has since been deleted, but screenshots still exist.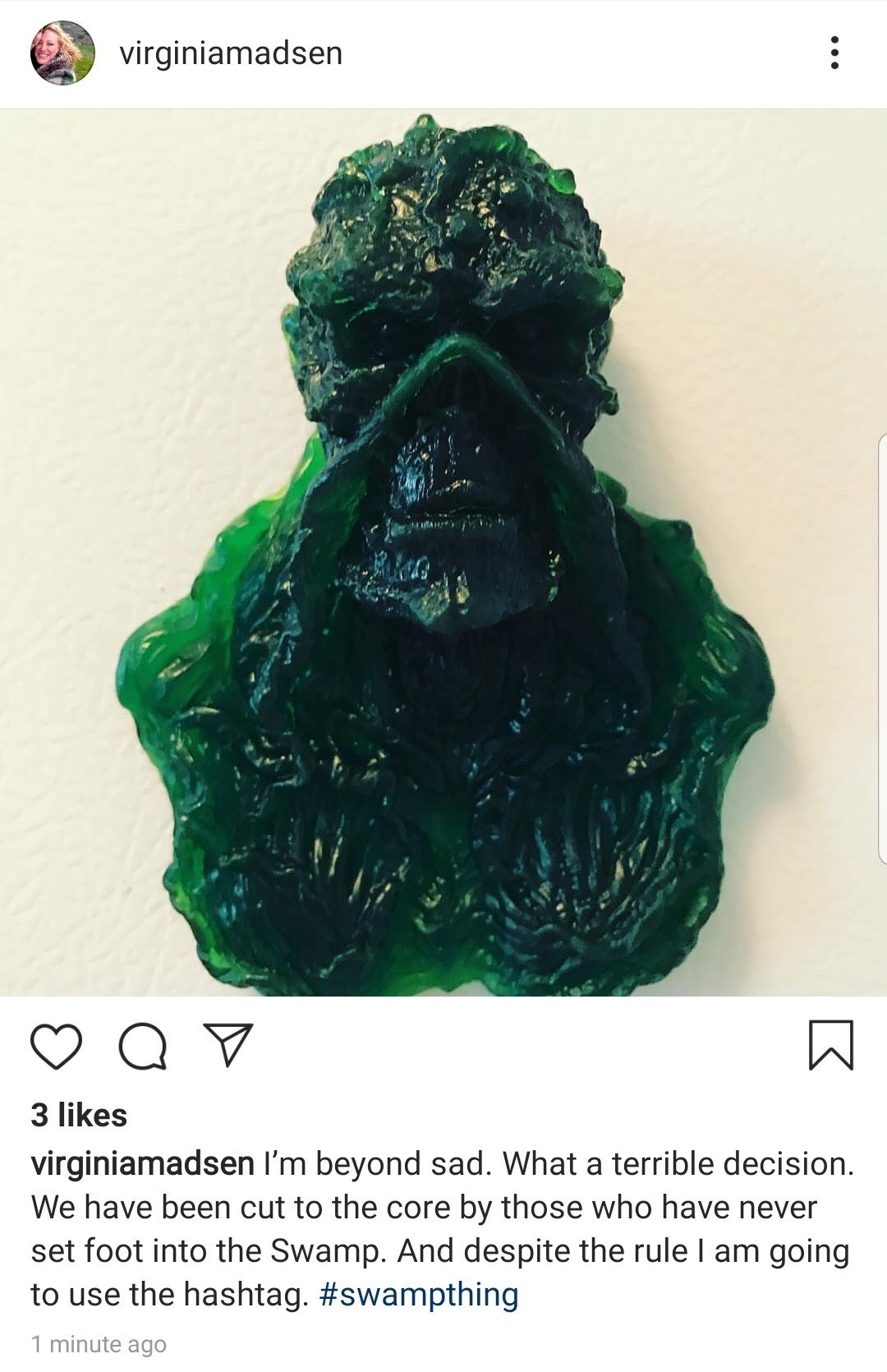 The live-action DC Universe adaptation of the classic antihero originally created by Len Wein and Bernie Wrightson will be executive produced by Len Wiseman (Sleepy Hollow) who will also direct the pilot. Mark Verheiden (Battlestar Galactica, Netflix's Daredevil) and Gary Dauberman (It) are attached to co-write the series and act as showrunners, with James Wan (Aquaman) set to executive-produce the series alongside Verheiden, Dauberman, and Michael Clear.
Alongside Madsen, the series will star Andy Bean as Alec Holland, Will Patton as Avery Sutherland Crystal Reed as Abby Arcane, Maria Sten as Liz Tremayne, Jeryl Prescott as Madame Xanadu, Jennifer Beals as Sheriff Lucilia Cable, Henderson Wade as Matt Cable, Kevin Durand as Jason Woodtrue/Floronic Man and Leonardo Nam (Westworld) as Harlan Edwards. Committing to the lead role of the titular monster is The Flash's Derek Mears.
Swamp Thing made his comic book debut back in 1971 and has maintained his position as a staple of the DCU since then, including seminal runs written by Alan Moore, Brian K. Vaughan, Mark Millar, and Scott Snyder. The character was previously adapted into a feature film from Wes Craven in 1982, which spawned a sequel seven years later, and a USA Network series that ran for three seasons in the early '90s. Dick Durock took on the role in both the films and the series. An animated Swamp Thing series also debuted in the early '90s but only aired five episodes.
As of now, Swamp Thing is still slated to debut on DC Universe on May 31.
Swamp Thing TV
Swamp Thing

Swamp Thing 2

Swamp Thing 3

Swamp Thing 5

Swamp Thing1

Swamp Thing Poster Abby Arcane

Swamp Thing Poster Alec Holland

Swamp Thing Posters 4

Swamp Thing Posters 3

Swamp Thing Posters 2

Swamp Thing Posters 1

SWAMP THING

SWAMP THING