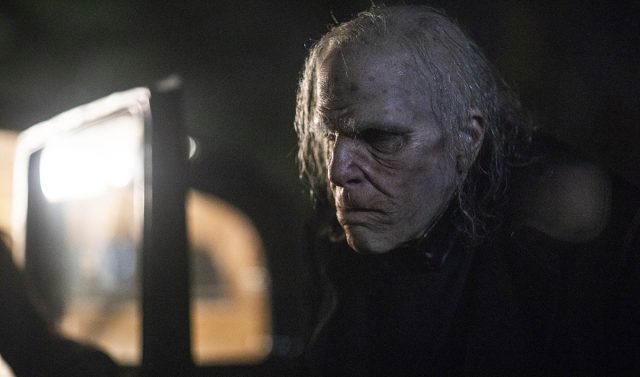 Following the world premiere of NOS4A2's pilot episode at 2019 South by Southwest Film Festival, Bloody Disgusting reports that AMC's upcoming supernatural horror series adaptation includes the novel's Map of United Inscapes of America, Charlie Manx's famous map of hidden roads that leads him to Christmasland.
The map shown in the pilot puts the series in the same universe as author Joe Hill's graphic novel series Locke & Key along with It, written by Hill's father Stephen King, as it includes the locations Lovecraft Keyhole and Pennywise Circus.
During the Q&A portion of the screening, showrunner Jami O'Brien added that season one will only be covering a third of the novel's epic story and he has also promised that the fans should expect more King references this season.
The series stars Zachary Quinto as the main antagonist Charlie Manx, Ashleigh Cummings as Vic McQueen, Olafur Darri Olafsson as Bing Patridge, Ebon Moss-Bachrach as Chris McQueen, and Virginia Kull as Linda McQueen.
RELATED: Zachary Quinto & Ashleigh Cummings to Lead AMC's NOS4A2 Series
NOS4A2, based on Joe Hill's bestselling novel of the same name, tells the story of Charlie Manx, a seductive immortal who feeds off the souls of children, then deposits what remains of them into Christmasland – an icy, twisted Christmas village of Manx's imagination where every day is Christmas Day and unhappiness is against the law. Manx finds his whole world threatened when a young woman in New England discovers she has a dangerous gift.
The Goldfinch's Ashleigh Cummings will play Vic McQueen, a young, working-class artist whose creativity awakens a supernatural ability to track Manx (Quinto). What Vic lacks in social confidence, she makes up for in courage, humor, and tough-as-nails grit. She strives to defeat Manx and rescue his victims without losing her mind or falling victim to him herself.
RELATED: Joe Hill's NOS4A2 Series Coming from AMC
NOS4A2 is produced by AMC Studios in association with Tornante Television. The series is executive produced by Joe Hill, Jami O'Brien (Fear The Walking Dead, Hell On Wheels), who created the show for television and will serve as showrunner, and Lauren Corrao, Co-President of Tornante Television. The cast also includes the previously announced Olafur Darri Olafsson (Lady Dynamite) as Bing Partridge, Virginia Kull (The Looming Tower) as Linda McQueen, Ebon Moss-Bachrach (The Punisher) as Chris McQueen and Jahkara Smith (aka Sailor J) as Maggie Leigh.
The first season is slated to premiere this year.
NOS4A2
NOS4A2

Virginia Kull as Linda McQueen, Ashleigh Cummings as Vic McQueen - NOS4A2 _ Season 1, Episode 2 - Photo Credit: Dana Starbard/AMC

NOS4A2

Ashleigh Cummings as Vic McQueen - NOS4A2 _ Season 1, Episode 1 - Photo Credit: Dana Starbard/AMC

NOS4A2

Zachary Quinto as Charlie Manx - NOS4A2 _ Season 1, Episode 1 - Photo Credit: Zach Dilgard/AMC

NOS4A2

Olafur Darri Olafsson as Bing Partridge - NOS4A2 _ Season 1, Episode 7 - Photo Credit: Zach Dilgard/AMC

NOS4A2

Ashleigh Cummings as Vic McQueen - NOS4A2 _ Season 1, Episode 5 - Photo Credit: Zach Dilgard/AMC

NOS4A2

JJ Smith as Maggie Leigh - NOS4A2 _ Season 1, Episode 4 - Photo Credit: Zach Dilgard/AMC

NOS4A2

Ashleigh Cummings as Vic McQueen - NOS4A2 _ Season 1, Episode 3 - Photo Credit: Zach Dilgard/AMC

NOS4A2

Ebon Moss-Bachrach as Chris McQueen, Ashleigh Cummings as Vic McQueen, Virginia Kull as Linda McQueen - NOS4A2 _ Season 1, Episode 1 - Photo Credit: Dana Starbard/AMC

NOS4A2

Zachary Quinto as Charlie Manx - NOS4A2 _ Season 1, Episode 5 - Photo Credit: Zach Dilgard/AMC

JJ Smith as Maggie Leigh - NOS4A2 _ Season 1, Episode 1 - Photo Credit: Dana Starbard/AMC

JJ Smith as Maggie Leigh - NOS4A2 _ Season 1, Episode 1 - Photo Credit: Dana Starbard/AMC

Zachary Quinto as Charlie Manx - NOS4A2 _ Season 1, Episode 1 - Photo Credit: Dana Starbard/AMC

Zachary Quinto as Charlie Manx - NOS4A2 _ Season 1, Episode 1 - Photo Credit: Dana Starbard/AMC

Asher Miles Fallica as Daniel Moore - NOS4A2 _ Season 1, Episode 1 - Photo Credit: Zach Dilgard/AMC

Asher Miles Fallica as Daniel Moore - NOS4A2 _ Season 1, Episode 1 - Photo Credit: Zach Dilgard/AMC

Zachary Quinto as Charlie Manx - NOS4A2 _ Season 1, Episode 1 - Photo Credit: Zach Dilgard/AMC

Zachary Quinto as Charlie Manx - NOS4A2 _ Season 1, Episode 1 - Photo Credit: Zach Dilgard/AMC

Ashleigh Cummings as Vic McQueen, Darby Camp as Haley Smith - NOS4A2 _ Season 1, Episode 2 - Photo Credit: Dana Starbard/AMC

Ashleigh Cummings as Vic McQueen, Darby Camp as Haley Smith - NOS4A2 _ Season 1, Episode 2 - Photo Credit: Dana Starbard/AMC

Olafur Darri Olafsson as Bing Partridge - NOS4A2 _ Season 1, Episode 2 - Photo Credit: Dana Starbard/AMC

Olafur Darri Olafsson as Bing Partridge - NOS4A2 _ Season 1, Episode 2 - Photo Credit: Dana Starbard/AMC

JJ Smith as Maggie Leigh, Ashleigh Cummings as Vic McQueen - NOS4A2 _ Season 1, Episode 2 - Photo Credit: Dana Starbard/AMC

JJ Smith as Maggie Leigh, Ashleigh Cummings as Vic McQueen - NOS4A2 _ Season 1, Episode 2 - Photo Credit: Dana Starbard/AMC

Olafur Darri Olafsson as Bing Partridge - NOS4A2 _ Season 1, Episode 2 - Photo Credit: Dana Starbard/AMC

Olafur Darri Olafsson as Bing Partridge - NOS4A2 _ Season 1, Episode 2 - Photo Credit: Dana Starbard/AMC

Virginia Kull as Linda McQueen - NOS4A2 _ Season 1, Episode 2 - Photo Credit: Zach Dilgard/AMC

Virginia Kull as Linda McQueen - NOS4A2 _ Season 1, Episode 2 - Photo Credit: Zach Dilgard/AMC

Olafur Darri Olafsson as Bing Partridge, Zachary Quinto as Charlie Manx - NOS4A2 _ Season 1, Episode 3 - Photo Credit: Zach Dilgard/AMC

Olafur Darri Olafsson as Bing Partridge, Zachary Quinto as Charlie Manx - NOS4A2 _ Season 1, Episode 3 - Photo Credit: Zach Dilgard/AMC

Ashleigh Cummings as Vic McQueen - NOS4A2 _ Season 1, Episode 3 - Photo Credit: Zach Dilgard/AMC

Ashleigh Cummings as Vic McQueen - NOS4A2 _ Season 1, Episode 3 - Photo Credit: Zach Dilgard/AMC

NOS4A2

Ebon Moss-Bachrach as Chris McQueen, Ashleigh Cummings as Vic McQueen - NOS4A2 _ Season 1, Episode 3 - Photo Credit: Zach Dilgard/AMC

Zachary Quinto as Charlie Manx - NOS4A2 _ Season 1, Episode 4 - Photo Credit: Zach Dilgard/AMC

Zachary Quinto as Charlie Manx - NOS4A2 _ Season 1, Episode 4 - Photo Credit: Zach Dilgard/AMC

NOS4A2