It's Always Sunny In Philadelphia Season 13 Episode 4 Recap
In the previous episode of It's Always Sunny In Philadelphia, Dee staged an all-female attempt at breaking Wade Bogg's drinking record. Which, predictably, failed. What does this next installment have in store? Let's find out as we recap It's Always Sunny In Philadelphia season 13 episode 4 'Time's Up For The Gang!'
Seminars Can Be Fun
Due to being put on a list of 'the worst places for women,' the gang was forced to attend a sexual harassment seminar. Mac, Dennis, Charlie, and Frank all did not want to be there. But, Dee was excited that her male co-workers were finally being confronted about their wrong-doings. The seminar started and was being run by a woman named Kate. Frank decided to leave the seminar after being informed that the statute of limitations on offenses was 300 days. Kate resumed the seminar and split the group up with one half going with her and the other half going with her associate, Allen.
The Climate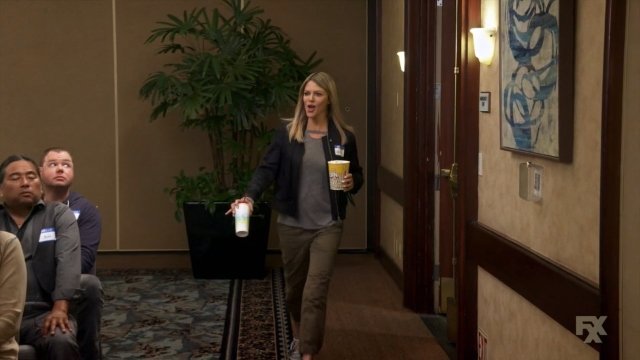 Mac, Dee, and Charlie went with Allen. He led the group through a role playing activity. Mac and Charlie failed to understand the point of the role playing, as they didn't think anything was wrong with the situation. Mac and Dee were called up to act out a scene. Immediately, Allen pointed out the aggressive nature of Mac's interaction with Dee. Mac failed to see how it was wrong, but Dee agreed with Allen and accused Mac of continually assaulting her in the workplace. Mac got nervous when Allen pointed out that Dee could have him arrested for his actions, and he got physically warm due to the climate of the room.
Elsewhere, Kate was running the group that Dennis was a part of. Dee joined him and quickly asked about being called a 'bird'. Kate informed her that it wasn't sexual harassment, but was not a kind thing to say. Frank returned to the seminar in a bathroom. During break time, Dennis was worried that Dee was gaining to much power and decided that he had to do something about it.
Seminar Part II
Back on Kate's side, Mac continually interrupted her with incorrect answers and statements. Later, Allen painted the picture of a situation very similar to Charlie's interactions with The Waitress. Charlie then recounted a sexual encounter he had with Dee, and Kate pointed out that it sounded like Dee had raped Charlie. Dee began to get very physically uncomfortable due to the temperature of the room. Dennis kicked Kate and Allen out of the seminar and took over teaching duties. Dennis pointed out the only way men get caught committing sexual harassment is because of their ugliness, wealth or sexual orientation. He then taught the group that everyone needs to be careful about their activity. He also revealed that he put together the 'unsafe place' list and commissioned the entire seminar.
What did you think of It's Always Sunny In Philadelphia season 13 episode 4? Let us know down in the comment section!