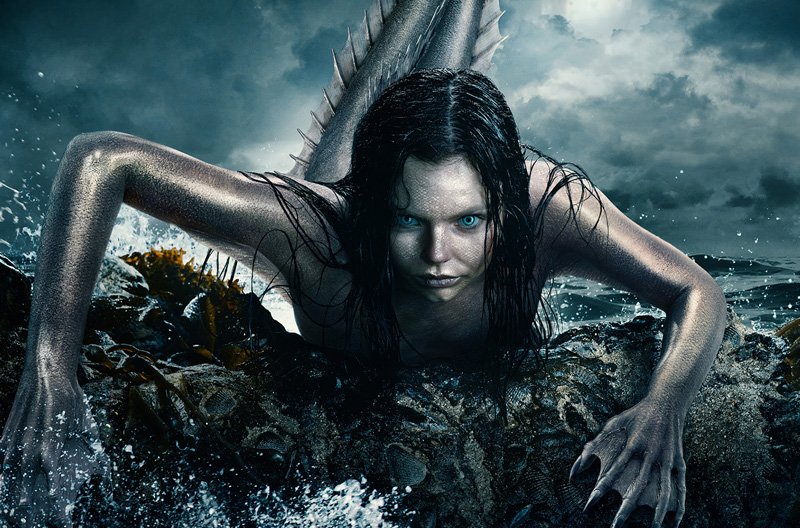 WonderCon 2018 is in full swing and today we got a chance to check out the panel for the upcoming Freeform series Siren. The panel consisted of Eline Powell (Ryn), Alex Roe (Ben), Fola Evans-Akingbola (Maddie), Ian Verdun (Xander), Rena Owen (Helen), and Sibongile Mlambo (Donna), along with creator Eric Wald and showrunner Emily Whitesell.
We got to see a brand new clip from Siren where we see some marine biologists discussing what could be a new predator that ate half of a mako shark. Ben, one of them, drives home and sees Ryn on the road with no clothes. He takes her back and dresses her, but she can't speak. She begins to sing a siren's song to mesmerize him. When someone comes to the door, she escapes.
We see her running through the town and looking at the people who are celebrating Mermaid Days in the town. She runs into Helen, the town eccentric who recognizes who she is. Ben tries to catch her, but she runs off.
Wald said that the film Jaws was an early influence for him. He said that people think of it as a horror film, but it's really the story of a small town. He said that every culture has mermaid myths, but that he wanted to flip the classic depiction on its head.
Whitesell also spoke about the things that brought the mermaids to the surface and that part of it was that the sea bed has been stripped and they've been forced closer to the surface.
Powell said that the role isn't glamourous, but that it is exciting. "Her hair doesn't get brushed everyday," she said. "She doesn't have Flounder. It's perhaps a bit different. If you had said I was going to play a mermaid when I was little, I would have imagined something different." She said that the prosthetics in the beginning took six to seven hours and that it took three men to lift her into the tank. She explained that she doesn't speak English yet and that she approached the role through expressions and movement. She also explained that Ryn approaches sexuality in a non-binary way. She sees souls and not bodies. 
Donna is another mermaid who seems to be vicious. Miambo explained that she had to do a lot of stretching to stay calm. The ladies had to take lessons in holding their breaths. She also said the tank she's in at the beginning of the series is warm like a jacuzzi.
Roe told us that "Ben has to do a lot of thinking because she's human, but she's also not human. I think that's a good questions that raises in terms of interspecies relationships. "He said she's vicious but that he's drawn to her."
In the epic tale, the coastal town of Bristol Cove, known for its legend of once being home to mermaids, is turned upside down when a mysterious girl (Eline Powell) appears and begins wreaking havoc upon the small fishing town. Using their resources, marine biologists Ben (Alex Roe) and Maddie (Fola Evans-Akingbola) must work together to find out who and what drove this primal hunter of the deep sea to land, and are there more like her out there?
Siren is based on a story by Eric Wald and Dean White who both serve as executive producers. Emily Whitesell (Finding Carter) serves as showrunner and executive producer. Brad Luff, Nate Hopper and RD Robb also serve as executive producers.
Siren will premiere on International Mermaid Day, Thursday, March 29 (8:00 – 10:00 p.m. EDT/PDT). Are you guys excited for the new series Siren? Let us know in the comments.