ComingSoon.net had the opportunity to speak with The Boys stars Chace Crawford and Jessie T. Usher all about The Deep and A-Train and what fans can expect in the new season, which premiered today on Amazon Prime Video. You can check out the interview below!
RELATED: CS Interview: The Boys Creator Eric Kripke Talks Music, Adapting the Comics & More
In Season 2, The Boys are on the run from the law, hunted by the Supes, and desperately trying to regroup and fight back against Vought. In hiding, Hughie (Jack Quaid), Mother's Milk (Laz Alonso), Frenchie (Tomer Capon), and Kimiko (Karen Fukuhara) try to adjust to a new normal, with Butcher (Karl Urban) nowhere to be found. Meanwhile, Starlight (Erin Moriarty) must navigate her place in The Seven as Homelander (Antony Starr) sets his sights on taking complete control. His power is threatened with the addition of Stormfront (Aya Cash), a social-media-savvy new Supe, who has an agenda of her own. On top of that, the Supervillain threat takes center stage and makes waves as Vought seeks to capitalize on the nation's paranoia.
The Boys is an irreverent take on what happens when superheroes, who are as popular as celebrities, as influential as politicians and as revered as gods, abuse their superpowers rather than use them for good. It's the powerless against the super powerful as The Boys embark on a heroic quest to expose the truth about the supergroup known as "The Seven." The show retains most of the comics (available for purchase here) boundary-pushing violence and sexuality while exploring the dark side of superhero celebrity and fame.
RELATED: The Boys Season 2 Trailer Features New Footage
The series was created by Evan Goldberg and Seth Rogen, who are responsible for another subversive comic book-inspired series, AMC's Preacher, and Supernatural creator Eric Kripke.
Season 1 is available for streaming on Amazon Prime Video.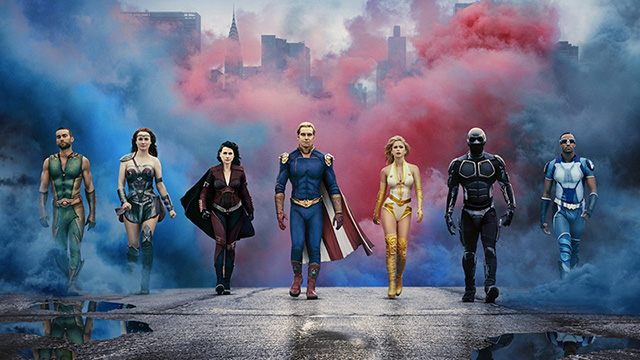 ComingSoon.net: What was it like talking to your gills?
Chace Crawford: That was a wild scene, I had gotten it well in advance, so I kind of had some time with it, but then they had a guy there who's like a Broadway singer and he was helping me. There was so much time in between in which I was like, 'Make sure I'm on key,' so I'm like up there trying to sing the song and it was weird and kind of vulnerable, but it was great.
I have done so many takes and scenes where it wasn't weird to have someone throwing me the line off-camera, I kind of knew what I wanted to do with it and it was really bizarre, I was kind of bizarre for it to be a weird day and luckily we had all day to do it and there was no real time crunch. It wasn't like, 'Hey we need to rush through this thing,' which was really nice, so we really found it. I had fun with it, they wrote a really wild and great scene and I was really excited about it and a little nervous.
CS: There's this balance of sympathetic and unlikable personalities with your characters, what's that like for you trying to portray this middle-ground?
Jessie T. Usher: That's one of my favorite, if not the best, part about playing this character. Someone said it to me the other day, they sent me a message and said, 'From the very first 15 minutes I hated your character the most and by the end of season one I think he might be my favorite,' and I think that's kind of what I like to play around with. A lot of our favorite villains are ones we sympathize with in the end. When you find out what's made them who they are, then you start to feel for them and you kind of are conflicted about it and that's what makes a great character is that complexity, that conflict, and that's what I like to play around with the most with A-Train.
Just reading his lines off the page made me dislike him, but then you see a lot of what he's going through and although I still don't agree with his decisions and his actions, I still think if I knew him personally he and I would be friends [laughs]. I would have to keep him in check, I would have to keep him in line, but we'd be friends because I understand, I get it. What he's going through is not easy for anyone to get and that doesn't excuse what he does, but at the same time I get it and I love being able to play around with a character who's in that predicament.
Crawford: I think for me that's why I was drawn to the script, I think it's really interesting and Kripke does a really good job with toeing that line and not making the characters black and white. They're humans and what would you do if they were real people with superpowers and all the faults and everything else, so I came into it with an open mind. In the first season, I was kind of wondering like, 'What is the tone going to be?' because I'm on my own, I'm talking to dolphins while there's all this action and other stuff, so I just kind of put all that in the back of my mind and kind of went for it.
I also think that it's interesting that when The Deep has his comeuppance in those moments where the tables have turned on him a little bit and it's very uncomfortable, but to show all of those colors and there's the opportunity for all that comedic stuff. I didn't even know if all of the dolphin stuff would work, but it turned out great. When I was on set doing that it was weird, I was in a warehouse and people were shaking the van and pumping the dolphin and I could just hear them laughing at video village and I thought, 'Okay, we're on to something, not completely ridiculous.'
CS: Is The Deep trying to bring A-Train in on his new path?
Usher: People like A-Train and The Deep are so far gone, they're lost. Their sense of being of who they are is so far gone that they'll almost believe anything, they're looking for something to grab on to, something that makes sense to them, so it made sense why The Deep went the route that he did. Somebody kind of came in and said, 'This is what we have, this is how it works' and he said, 'Yeah, this is perfect.'
A-Train is in the same position sort of where his sense of self is gone, he'll be looking for something as well and I can't give too much away, but that's the one thing A-Train and The Deep have in common is they got caught up in the fame and the money and the status and now they're just grabbing at something.
The Boys Season 2
The Boys Season 2

The Boys Season 2

The Boys Season 2

The Boys Season 2

The Boys Season 2

The Boys Season 2

The Boys Season 2

The Boys Season 2

The Boys Season 2

The Boys Season 2

The Boys Season 2

The Boys Season 2

The Boys Season 2

The Boys Season 2

The Boys Season 2

The Boys Season 2