ComingSoon.net got the opportunity to chat with Community alum Yvette Nicole Brown to discuss her exciting new project The Big Fib, an educational game show on Disney+ in which she stars alongside Jumanji vet Rhys Darby and is set to premiere on the streaming service on May 22!
RELATED: Exclusive: Yvette Nicole Brown on Community Reunion, Possible Movie!
When she first got the call from producers Haymaker TV offering to set up a meeting to host the series, Brown decided to dive into the podcast source material Pants on Fire from Deborah Goldstein and found it to be "amazing," and swiftly asked the studio "Where do I sign?"
"I've been talking about the show, I'm like, 'Well I'm hosting a kids' game show, but it's really not a kids' game show, it's a show about education and information and silliness,' and I think in these times we all need that," Brown described. "I was really excited to take part and I feel like the team we assembled in New York, where we shot our 15 episodes, the wonderful kids and the talented actors and experts we had on the show just came together in a beautiful way."
In getting to work alongside the Jumanji and Flight of the Conchords alum, Brown found she had to "pinch myself" and "chew the inside of my jaw" every day in the hopes of not killing a take as Darby's outrageous performance as the cyborg C.L.I.V.E. kept her on her toes.
"I didn't really keep myself from laughing often, if you watch the show, I'm breaking throughout because he's doing things I don't know that he's going to do," Brown recalled. "So he literally completely in to CLIVE, the robot sidekick, and he's a genius. We knew that when we saw Jumanji, he's also a great author, he has a lot of children's books, so Rhys is the truth and he adds a whole other level of excellence to the fun we're already having."
Looking at the show's general premise and structure, Brown found that the "beauty of the show" for both audiences and herself came in the fact that no one really knows "what fibber and what expert is going to come out" and the topics the episode was going to cover, even asking the producers to keep her in the dark so as to "play the game along with every kid."
"The first round we can always kind of pick the fibber, because it's more played for fun, but by the time the real expert comes out with the real fibber that's trying to pretend to be the expert, you really have no idea how it's going to play out, at least I didn't," Brown noted. "I'm not proud to say, I think I guessed right twice out of the 15 times, maybe, but I got surprised every single time. It's an interesting mix of space travel and sports and music and plants, every day I learned something I didn't know and that's what's great about this show. Kids ask the best questions, so I love that they're in the driver's seat. If you notice when watching the show, I don't even have a chair. So I'm leaning on a stool next to the babies in the throne, and I'm doing it in heels most of the time, so I kind of loved that they were the ones that got to decide how the game was played because I find that children, because they're not here as long as we've been here, they're guileless and they can see the tricks people do, the little masks we all wear, babies can see through all of that. So they can look and go, 'Oh no, he was fidgeting, so that means he's not telling the truth' or 'He said 'um' like three times before he answered that question, so that tells me he's a liar.' We don't catch those things as adults, because we're so used to saying 'um' or possibly fidgeting when we're trying to think things through, kids don't have that, they see right through it."
In looking back at working with the various kids on the show, she finds it hard to choose any one that she had the most fun working alongside, as "each one of the babies was delightful in one way or another" and recalled the different personalities they brought to the show.
"Some took themselves very seriously and this was a moment for me to delve into the truths of the universe, they were fun," Brown described. "But there were some that would joke and just said, 'I'm just gonna have a good time and see what happens.' There was some you would look at and think, 'You're probably going to cure cancer at some point, it's going to be you.' It was different types of kids everyday and we had siblings a couple of times, it was just so interesting to see their different personalities. I feel like kids and older people are the unsung humans, they're the ones that are discounted and pushed aside the most and I think they're the ones that are closest to God and have the most influence when it comes to human nature, so I felt like getting to play with the kids was such a gift."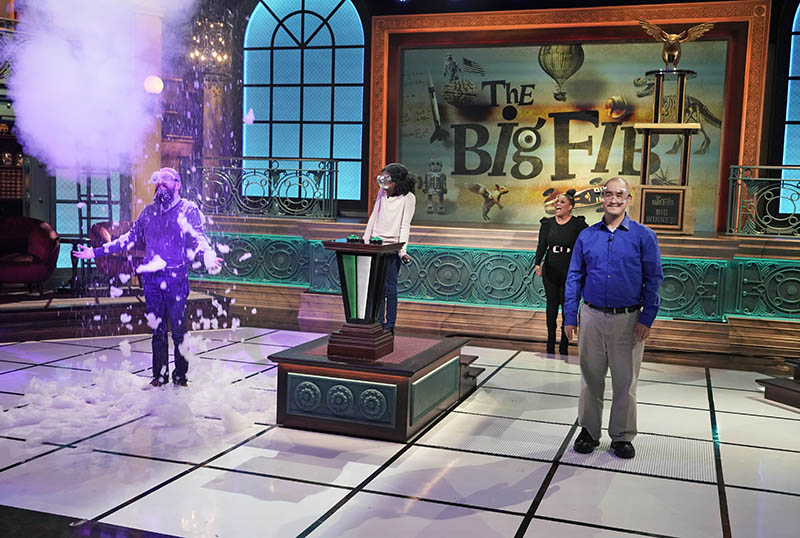 At the end of each episode, the children contestants are presented the opportunity to choose who is the expert and who is the fibber and unleash an abundance of foam from the Fib Foam machine on them if chosen correctly, but before they do so, Brown reminds the contestant of the rule and runs with heels in hands to avoid the foam, and says across all 15 episodes, she is "very proud" to have not gotten any foam on her.
"If you notice as I'm saying the last lines, I'm already escaping the foam, just in case somebody's got a little trigger finger and hits it too soon, I like to be way out of the way," Brown laughed. "I never got got, I never got got, I have to knock on wood to make sure."
With the current health crisis happening in the world, many studios in Hollywood are evaluating how to proceed with programs and production and while Brown definitely wants "to keep every safe" and acknowledges the importance of needing to "social distance and all that," she is very hopeful abut the series coming back for a second season and even has a couple of ideas for its future, including celebrity guests and potential topics.
"I mean that would be fun, I don't know how it would work though, we could have a celebrity guest trying guess along with the kids, but as soon as Tom Hanks walks out and is pretending to be Tom Hanks, we're going to know it's Tom Hanks," Brown explained. "So we couldn't use anybody famous for any of the fibbers or the experts, but there's probably a way we could bring some of the Disney+ actors, some of the younger ones, to play the game, that would be fun. I would love to have a voiceover artist, like a prolific voiceover artist, someone that people don't know that is the voice of someone they know. Like Bill Farmer, who's got a great new show coming on Disney+ called A Dog's Life, he's the voice of Goofy and Pluto. I know what Bill Farmer looks like, but I don't know if the kids would. So the idea of him coming out and talking about voicing Goofy or Pluto and someone else saying they voiced Goofy and Pluto and then at the end we get to hear Bill Farmer be Bill Farmer, that would be amazing."
The release of the series also coincides with a time in which many parents are having to teach their children from home as well as find new ways of entertaining them, as well as numerous streaming platforms expanding their family-friendly libraries, and Brown feels like The Big Fib is a great series to bring the whole family together during this time.
"I think that we're going to be 30 minutes to an hour of time, depending on how many episodes you watch, where parents can go, 'It's time for science' or 'It's time for arts and entertainment,'" Brown opined. "Whatever they want to call their time with The Big Fib, I think that the kids will learn a lot, the parents will learn a lot and also there's a lot to talk about afterwards, like 'Why did you think this person was the fibber? What did you learn today that you didn't know?' Because the other thing about a lot of the fibbers is that they're telling some truths as well, so you can learn from the experts as well as from the things the fibber taught themselves to try and appear to be an expert."
RELATED: Disney+ Titles for May 2020 Revealed!
She also believes that there is a lot that all age ranges can take away from the series, including that people should strive to "always learn" and that there is "always something new to learn" out there, driving to her to veer away from describing The Big Fib "as a kids' game show" and instead call it "a fun game show led by kids."
"Because I learned just as much as the babies did and I believe the kids ask better questions than I would've been able to ask myself, so that to me was another learning experience, so I hope they take away that kids matter, you never stop learning and it's not good to be a liar," Brown laughed. "Don't be a big old fibber!"
The 48-year-old actress has recently started finding a new home at the House of Mouse's streaming service, beginning with last year's live-action Lady and the Tramp remake and she is fully prepared to "build a home there forever" if given the opportunity.
"I've been a Disney kid my whole life, I don't remember a time in my life where I wasn't watching a Disney movie or playing with a Disney toy or dreaming of my prince coming, all of that stuff that's part of the Disney world," Brown warmly recalled. "Also I've lived my life as a PG-13 person, I'm pretty wholesome and middle of the road with my tastes, so I kind of fit right in with what Disney does between Lady and the Tramp to The Big Fib and Big Shot, a dramedy with John Stamos I have coming up."
Ever thought you could spot a fib better than a kid? Find out on The Big Fib, a new Disney+ game show hosted by Brown and featuring Darby as her robot sidekick, C.L.I.V.E. In each episode of this comedy game show, a kid starts by playing a warm-up round where a silly liar and an authentic expert share fabulous fibs and fun facts.
Starring up-and-coming comedic talent, this round is played for laughs as well as always having a nugget of real information about the topic be it ice-cream, tree-climbing or toy design. Next our kid contestant plays the main round where they question an expert who's paired with a really good liar on the same topic. It's up to our kid to find the fibber. There are visual clues, fascinating props, a hot seat round of rapid-fire questions and various topics, including jellyfish, venom and killer plants. The show culminates with the expert and liar standing under the Fib Foam machine to await their fate. If our kid chooses correctly, the liar gets foamed.
The series, which is produced by Haymaker TV with Aaron Rothman, Josh Halpert, Irad Eyal, Leight Hampton and Brown, is hosted by the latter and features kid contestants. It is based upon the podcast Pants on Fire by Deborah Goldstein.
The Big Fib premieres May 22nd, streaming only on Disney+.