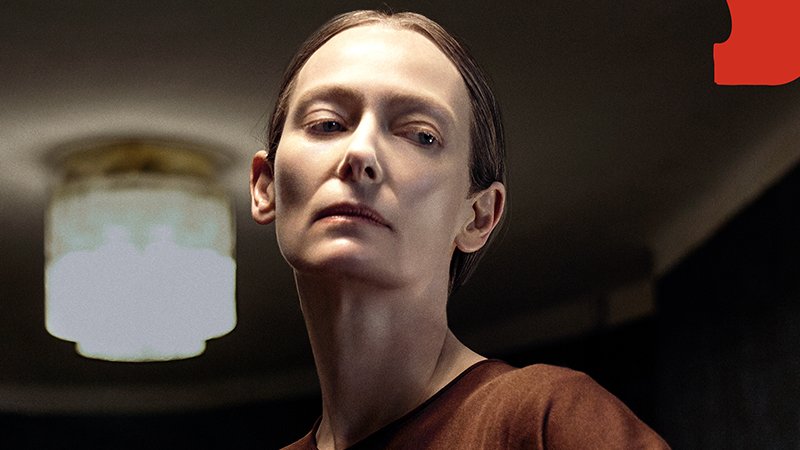 Radiohead alum Thom Yorke has unveiled a full track for his upcoming score to the horror film Suspiria, titled "Suspirium." The composer had recently shared a snippet of this particular track, which featured little more than the melancholy piano melody heard at its opening. Now, the full track is online for you to soak in … and the results are quite superb, with the artist lending his powerful vocals to create a haunting — thought lovely — piece of music. Check it out below!
Yorke, whose work on Suspiria has garnered early awards buzz, recently spoke with The Hollywood Reporter while in Venice ahead of the film's world premiere, and admitted he felt a tad overwhelmed at the idea of remaking one of the most acclaimed horror soundtracks of all time — the original Suspiria soundtrack by Italian rock group Goblin.
"I referred to the original 'Suspiria' film," explained Yorke. "It was an odd process from the beginning. When they first came to see me, the producers and [editor] Walter [Fasano], I just thought they were mad, because I've never done a soundtrack before. And 'Suspiria' is one of those legendary soundtracks. It took a few months to even contemplate the idea."
Despite his reservations, Yorke eventually agreed to do the film, but opted to go in an entirely different direction with his take.
"I watched the original film several times, and I loved it because it was of that time, an incredibly intense soundtrack. Obviously Goblin and Dario worked incredibly closely when they did it together," Yorke said. "But it was of its time and there was no way I could reference it in any way. There was no point, other than what I found interesting was they used repetition of motifs, again and again and again. Part of your mind was saying, 'Please, I don't want to hear this anymore. That was really great. There's a way of repeating in music that can hypnotize. I kept thinking to myself that it's a form of making spells. So when I was working in my studio I was making spells. I know it sounds really stupid, but that's how I was thinking about it. It was a sort of freedom I've not had before. I've not worked in the format of song arrangement. I'm just exploring."
RELATED: New Suspiria Trailer: Give Your Soul to the Dance
In the film, a darkness swirls at the center of a world-renowned dance company, one that will engulf the troupe's artistic director, an ambitious young dancer, and a grieving psychotherapist. Some will succumb to the nightmare. Others will finally wake up.
The cast includes Tilda Swinton (We Need to Talk About Kevin, Doctor Strange), Dakota Johnson (Fifty Shades of Grey, How To Be Single), Chloë Grace Moretz (Kick-Ass, The Miseducation of Cameron Post), Mia Goth (A Cure for Wellness, Everest) and Jessica Harper of the original Suspiria.
Call Me by Your Name director Luca Guadagnino steps behind the camera for the remake of Dario Argento's 1977 classic which features a script by David Kajganich (A Bigger Splash, The Terror). The horror film will have its world premiere at 75th Venice International Film Festival.
It had been previously reported that actress Tilda Swinton plays two roles in the film, taking on the role of "real life German psychoanalyst" Lutz Ebersdorf who will "make his feature debut" in the film, but Guadagnino confirmed to Yahoo back in February that he will be portrayed by the real Ebersdorf. The score will be composed by legendary singer/songwriter Thom Yorke of Radiohead.
Suspiria will officially debut in theaters on November 2. Fans in New York and Los Angeles will have the opportunity to watch the film one week early as select theaters will debut the feature on October 26.
Suspiria (2018)
Suspiria (2018)

Suspiria (2018)

Suspiria (2018)

Suspiria_ver21_xlg

Suspiria_ver20_xlg

Suspiria_ver19_xlg

Suspiria_ver18_xlg

Suspiria_ver17_xlg

Suspiria_ver16_xlg

Suspiria_ver15_xlg

Suspiria (2018)

Mondo poster

Suspiria (2018)

Suspiria (2018)

Suspiria (2018)

Suspiria (2018)

Suspiria (2018)

Suspiria (2018)

Suspiria (2018)

Suspiria (2018)

Suspiria (2018)

Suspiria (2018)

Suspiria (2018)

Suspiria (2018)

Dakota Johnson stars in SUSPIRIA Photo: Sandro Kopp/Amazon Studios

Suspiria (2018)