Yesterday the King returned to the world as Warner Bros. Pictures released the first trailer for Godzilla: King of the Monsters. Hidden within that 2:30 minute video was more than the fan-favorite Kaiju from Toho Co., but subtle nods to other classic horror movies and noted personal favorites of director Michael Dougherty.
One of the Easter eggs comes at 1:43 in the trailer as a group of soldiers are seen entering an antarctic base. On the left side we see printed "Outpost 32."
(Click the image to see a bigger version!)
This is a reference to John Carpenter's classic movie, The Thing. That Antarctic set movie took place at none other than Outpost 31, which fans will recall was burned down after that movie.
In addition, at the 1:50 mark in the trailer, a shot of a temple set can be seen.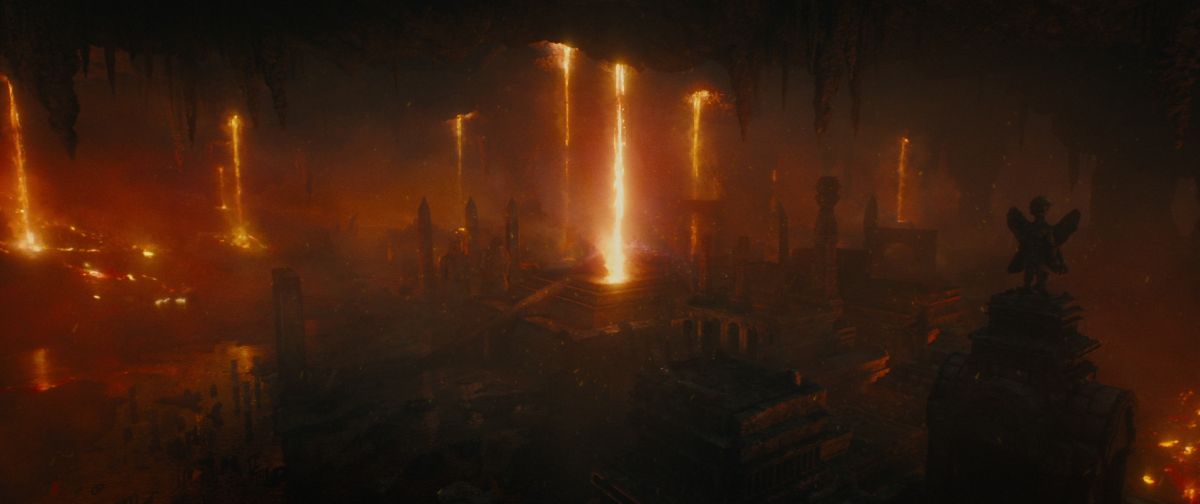 On the right side you may notice a particular looking statue…
Which is none other than Pazuzu from The Exorcist, a film that Dougherty has cited multiple times as one of his favorites.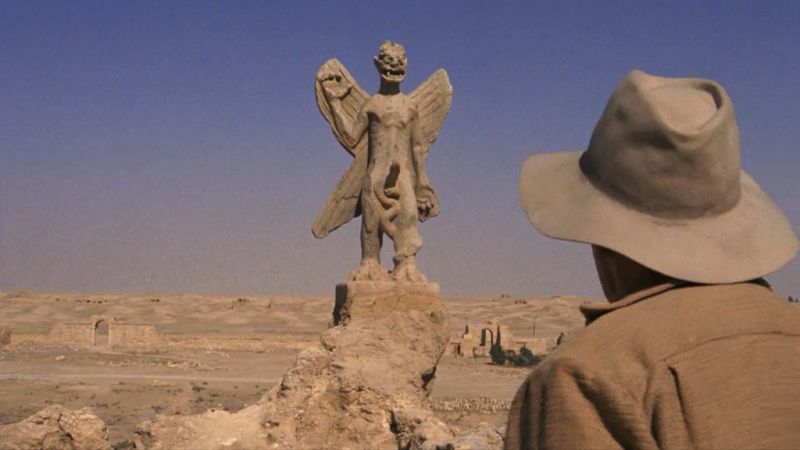 Are there any other references to classic horror within the Godzilla: King of the Monsters trailer that we missed? Sound off in the comments below!
The Godzilla sequel stars Vera Farmiga (Up in the Air, The Conjuring films), and Ken Watanabe (The Last Samurai) and Sally Hawkins (Blue Jasmine), both reprising their Godzilla roles, plus Kyle Chandler (The Wolf of Wall Street, Manchester by the Sea), Millie Bobby Brown (Stranger Things) in her feature film debut, Bradley Whitford (Get Out), Thomas Middleditch (Silicon Valley), Charles Dance (Game of Thrones), O'Shea Jackson Jr. (Straight Outta Compton), Aisha Hinds (Star Trek Into Darkness), and Zhang Ziyi (Memoirs of a Geisha, Crouching Tiger, Hidden Dragon).
The new story follows the heroic efforts of the crypto-zoological agency Monarch as its members face off against a battery of god-sized monsters, including the mighty Godzilla, who collides with Mothra, Rodan, and his ultimate nemesis, the three-headed King Ghidorah. When these ancient super-species—thought to be mere myths—rise again, they all vie for supremacy, leaving humanity's very existence hanging in the balance.
Dougherty directs from a script he wrote with Zach Shields. The film is being produced by Mary Parent, Alex Garcia, Brian Rogers and Thomas Tull, with Barry H. Waldman, Zach Shields, Yoshimitsu Banno and Kenji Okuhira serving as executive producers and Alexandra Mendes co-producing for Legendary.
A presentation of Warner Bros. Pictures and Legendary Pictures, the sequel is set to stomp into theaters on May 31, 2019, and will be distributed in 3D and 2D and in select IMAX theaters by Warner Bros. Pictures, a Warner Bros. Entertainment Company, except in Japan, where it will be distributed by Toho Co., Ltd.
Godzilla: King of the Monsters
Godzilla: King of the Monsters

Godzilla: King of the Monsters

Godzilla: King of the Monsters

Godzilla: King of the Monsters

Godzilla: King of the Monsters

Godzilla: King of the Monsters

Godzilla: King of the Monsters

Godzilla: King of the Monsters

Godzilla: King of the Monsters

Godzilla: King of the Monsters

Godzilla: King of the Monsters

Godzilla: King of the Monsters

Godzilla: King of the Monsters

Godzilla: King of the Monsters

Godzilla: King of the Monsters

Godzilla: King of the Monsters

Godzilla: King of the Monsters

Godzilla: King of the Monsters

Godzilla: King of the Monsters

Godzilla: King of the Monsters

Godzilla: King of the Monsters

GODZILLA: KING OF MONSTERS

Godzilla: King of the Monsters

Godzilla: King of the Monsters

Godzilla: King of the Monsters

Godzilla: King of the Monsters

Godzilla: King of the Monsters

Godzilla: King of the Monsters