IMAX has released another poster for Sony Pictures' upcoming action-adventure film adaptation of Uncharted. It features Tom Holland and Mark Wahlberg as they stepped into respective roles of Nathan Drake and Victor Sullivan. The film is slated to make its debut in U.S. theaters on February 18.
The Uncharted poster features artwork of the film's cargo plane sequence as Holland hangs off the side of a plane. It also teases the scope of the adventure as it shows several locations on the globe including Manhattan, Barcelona, Paris, Rome, Agra, Giza, and Singapore.
Check out the Uncharted IMAX trailer below: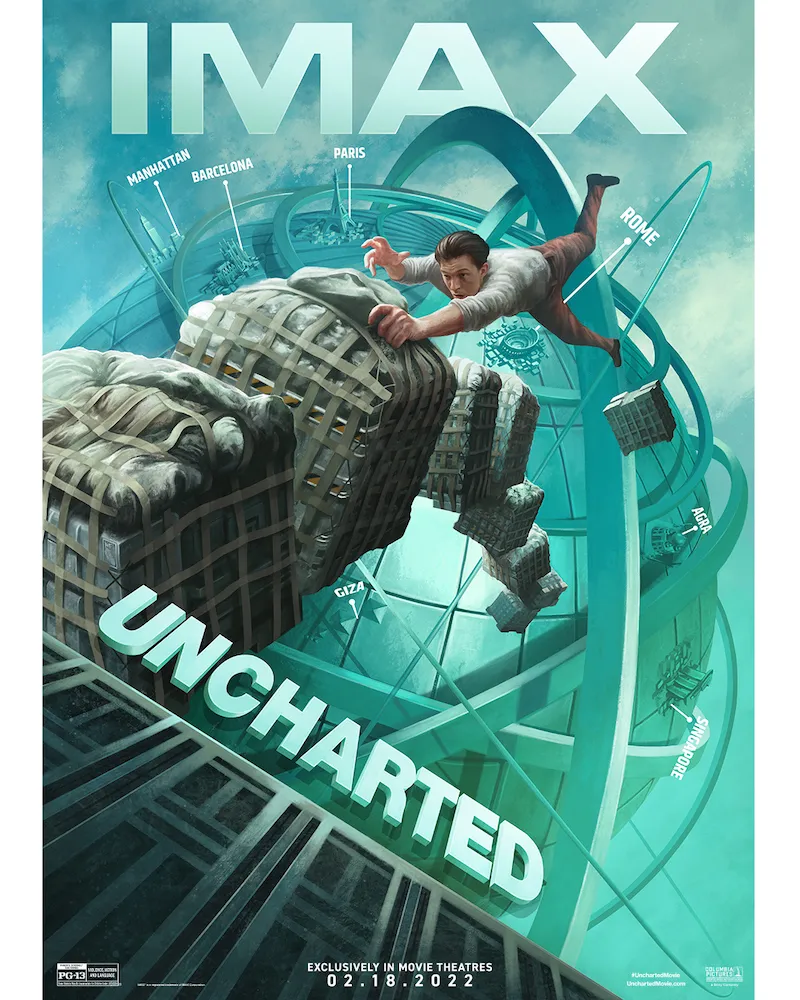 RELATED: Tom Holland Confirms Fred Astaire Role in Upcoming Sony Biopic
Based on Naughty Dog's best-selling video game, Uncharted stars Tom Holland (Spider-Man: No Way Home), Mark Wahlberg (Transformers films), Sophia Ali (The Wilds), Tati Gabrielle (Chilling Adventures of Sabrina), and Oscar nominee Antonio Banderas (The Mask of Zorro, Pain and Glory).
"Street-smart thief Nathan Drake is recruited by seasoned treasure hunter Victor "Sully" Sullivan to recover a fortune lost by Ferdinand Magellan 500 years ago," reads the synopsis. "What starts as a heist job for the duo becomes a globe-trotting, white-knuckle race to reach the prize before the ruthless Moncada, who believes he and his family are the rightful heirs. If Nate and Sully can decipher the clues and solve one of the world's oldest mysteries, they stand to find $5 billion in treasure and perhaps even Nate's long-lost brother…but only if they can learn to work together."
RELATED: Kevin Feige Confirms Next Spider-Man Movie Is in Early Development
The live-action adventure film is directed by Ruben Fleischer from a screenplay written by Rafe Lee Judkins, Art Marcum, and Matt Holloway, based on the story by Judkins, Jon Hanley Rosenberg, and Mark D. Walker.
Uncharted is produced by Charles Roven, Avi Arad, Alex Gartner, and Ari Arad, with Holland, Fleischer, Marcum, Holloway, Robert J. Dohrmann, David Bernad, Asad Qizilbash, Carter Swan, Neil Druckmann, and Evan Wells.