To celebrate Lionsgate's 25th Anniversary 4K release of Ghost in the Shell, ComingSoon.net had the opportunity to speak with the steelbook creator Orlando Arocena, aka MexiFunk. You can order your copy here (the steelbook is only available at Best Buy) and check out the interview and the steelbook art below!
RELATED: Exclusive Red Shoes and the Seven Dwarfs Clip From the New Animated Adventure
The national release features fan-favorite commemorative artwork from pop illustrator Martin Ansin. A small run of the poster was initially printed on iridescent foil and given to the attendance of a special 25th Anniversary screening of Ghost in the Shell during MondoCon.
The steelbook, created by Orlando Arocena, came about after the studio approached Arocena to create the art for the steelbook and discovered that he is one of the biggest Ghost in the Shell fans out there. He initially built Major Kusanagi's exoskeleton for Lionsgate to use on the steelbook but felt, in order to pay homage to the film, he'd create a second piece of art with more of her outer shell that could slide on and off via a semi-transparent slipcover.
RELATED: Lionsgate Acquires Kevin Coughlin & Ryan Grassby's Mother Land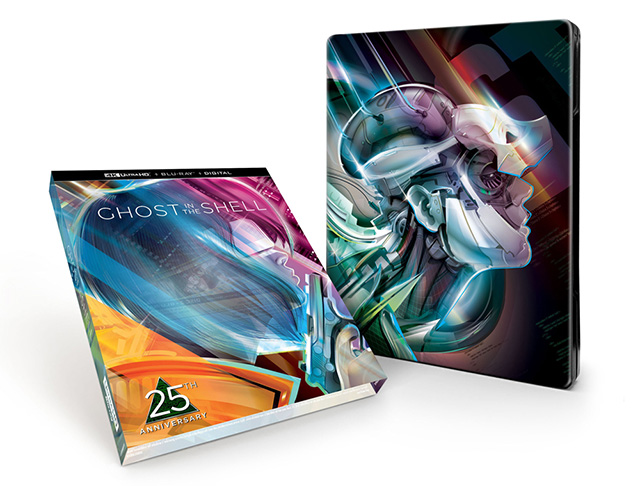 ComingSoon.net: What was your first experience with Ghost in the Shell? Whether it was the comics, TV series, movies, toys, anything!
Orlando Arocena: My first experience with Ghost in the Shell was actually back in the '90s. I was studying Art and Communication Design at Pratt Institute- Brooklyn Campus. I was already a huuuuuge fan of Masamune Shirow's magna and story plots. I fell in love with his previous Black Magic Mario M-66 (Anime and Manga) and also the classic pop culture favorite – Appleseed!!! So when Dark Horse released Ghost in the Shell in 1989, I immediately had to run and hunt it down! Then, when the anime was later released in 1996, I literally had to be the first in line to see it on the big screen!
CS: How do you think the first GitS is special in the realm of anime?
Arocena: The first Ghost in the Shell is special in the world of anime because it actually does a great job of combining the traditional hand-produced (drawn and painted) cels with a bit of computer graphics and animation. All of those green-digital cutaways during the creation story of the Major – although not as extravagant as what we have today, it was still (for that time) pretty impressive to see within a traditionally-produced animation. Plus – and, yes, I'm a total fan boying now- the creator Masamune Shirow, was also experimenting with the computer and programs like Photoshop and a few 3D programs on the side, and slowly trying to build upon his existing drawing style by integrating it with the computer. SO freaking INSPIRATIONAL!!!! As for the plot, the character developments, the suspense, and the imaginative depth of it, you can definitely tell Shirow was a huge fan of Science Fiction and the realms of the Political. I would have loved to have Shirow team up with Tom Clancy!!!!!!
CS: When you're doing a piece for a film like this are you trying to fit as much iconography and imagery as possible or is it more important to find one image that represents the story at large?
Arocena: Before being invited to collaborate with the Lionsgate Marketing/Creative team, I had quite a series of Ghost in the Shell tribute illustrations out there, which made it a bit difficult to conjure up a new visual take on this story. But I was happy that the team was also open for me to explore and offer up a unique way to tell a bit more about the Major's story by making the packaging be an extension of that. I wanted to give something really cool to this anniversary Steelbook, so I pitched that we give the slip cover some functionality and create a semi-transparent depiction of the Major with the hyper-colored cityscape behind her and have part of the actual cybernetic depiction of her on the steel case beneath it, peek through. Making the combination of slip cover plus Steelbook be a literal representation of Ghost in the Shell.
CS: How long did it take you to make your piece from conception to completion?
Arocena: I remember getting the request from Lionsgate, immediately read the brief, had a quick phone call with the team, and then, two days later, I submitted a PDF presentation consisting of over four colored vector sketches. I hardly ever do pencils. Having been a Creative Director in the "Advertising World" in my past life, I understand how precious a project timeline can be. So I try to take advantage of it and give the client first round sketches that are digital and in color so that we don't spend a week or two on just analyzing Black and White pencil sketches. From that initial group submitted, the cover was already in there and was at probably a 75% done composition. What took a bit of time was developing how the additional protective slip cover illustration would best function and open the visual narrative for the anniversary.
CS: Were there any licensing requirements/restrictions that you had to overcome in order to get your design approved?
Arocena: Well the obvious… I couldn't show the Major in her "bath day suit" like the evolution sequence from the movie. HAHAHA!
CS: Does the fact that the movie is a cartoon give you an edge in that you're translating something that's already illustrative, as opposed to a live-action movie?
Arocena: Not really. Although, I think the big challenge for me was to be very cognizant and reverent of the history and admiration Ghost in the Shell has throughout the world. Also, making sure that through the collaboration we would create a token that would resonate with fans and collectors, resulting in being part of the property's history.
CS: Is there a dream movie or property that you have yet to do art for?
Arocena: Oh Hellzzzzzz Yeah!!! I mean, yes, I totally still have a few "dream movie projects" and I hope I might be lucky enough to one day create and make them a reality for movie aficionados and collectors. But for right now, I can't think of a better way to kick off my first collaboration with Lionsgate than with the 25th Anniversary Ghost in the Shell Steelbook! Totally a Bucket List moment for me!!
CS: Looking at your process videos is amazing. There are so many complex moving parts to it. Is vector art easier or more difficult than traditional illustration for you?
Arocena: Let's put it like this… Adobe Illustrator, ever since 1997, has challenged me, pushing my creative voice where very few have wanted to play. When they all went Photoshop, I took my knocks and bruises creating commercial branded logos while pursuing my creativity with Adobe Illustrator. It definitely is not as forgivable as photoshop, but it is just another tool within my creative arsenal of tools. In short, Adobe Illustrator is my favorite video game, where the Big Boss to beat will always be me.