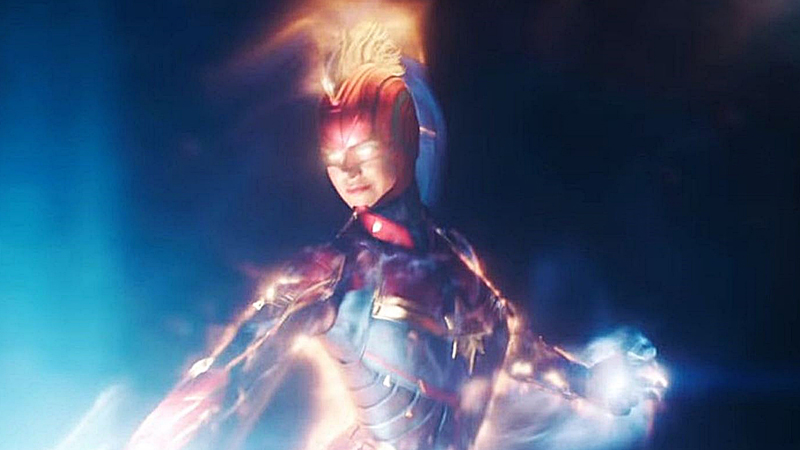 Walt Disney Pictures and Marvel Studios' Captain Marvel has officially crossed the $1 billion mark at the global box office. The film has brought in $358 million at the domestic box office with another $645 million internationally.
Captain Marvel is now the seventh highest grossing Marvel Studios movie and the seventh in the series to cross this specific threshold, joining Avengers: Infinity War, Marvel's The Avengers, Avengers: Age of Ultron, Black Panther, Iron Man 3 and Captain America: Civil War. The entire MCU has now grossed $18.53 billion worldwide since 2008's Iron Man.
Captain Marvel follows Carol Danvers (Brie Larson) as she becomes one of the universe's most powerful heroes when Earth is caught in the middle of a galactic war between two alien races. Set more than a decade prior to the events in 2008's Iron Man, Captain Marvel is an all-new adventure from a previously unseen period in the history of the Marvel Cinematic Universe.
The film also stars Samuel L. Jackson, Lashana Lynch, Gemma Chan, Algenis Perez Soto, Rune Temte, McKenna Grace, with Annette Bening, and Jude Law. Reprising their roles from Marvel's Guardians of the Galaxy are Djimon Hounsou and Lee Pace, and returning once again to a Marvel Studios film will be Gregg as Agent Phil Coulson.
Marvel Studios' Captain Marvel is directed by the writing/directing team of Anna Boden and Ryan Fleck, whose credits include Mississippi Grind and Half Nelson. An all-star collective of accomplished writers penned the screenplay, including Meg LeFauve (Inside Out), Nicole Perlman (Guardians of the Galaxy), Geneva Robertson-Dworet (Tomb Raider), Liz Flahive & Carly Mensch (GLOW) and Anna Boden & Ryan Fleck.
Captain Marvel
Captain Marvel

Captain Marvel

Captain Marvel

Captain Marvel

Captain Marvel

Captain Marvel

Captain Marvel

Captain Marvel

Captain Marvel

Captain Marvel

Captain Marvel

Marvel1

Captain Marvel

Captain Marvel

Captain Marvel

Captain Marvel

Captain Marvel

Captain Marvel

Marvel Studios' CAPTAIN MARVELCarol Danvers/Captain Marvel (Brie Larson)Photo: Chuck Zlotnick©Marvel Studios 2019

Marvel Studios' CAPTAIN MARVELCarol Danvers/Captain Marvel (Brie Larson)Photo: Chuck Zlotnick©Marvel Studios 2019

Marvel Studios' CAPTAIN MARVELAgent Keller (Ben Mendelsohn) Photo: Film Frame©Marvel Studios 2019

Marvel Studios' CAPTAIN MARVELAgent Keller (Ben Mendelsohn) Photo: Film Frame©Marvel Studios 2019

Marvel Studios' CAPTAIN MARVELStarforcePhoto: Film Frame©Marvel Studios 2019

Marvel Studios' CAPTAIN MARVELStarforcePhoto: Film Frame©Marvel Studios 2019

Marvel Studios' CAPTAIN MARVELGoose Photo: Film Frame©Marvel Studios 2019

Marvel Studios' CAPTAIN MARVELGoose Photo: Film Frame©Marvel Studios 2019

Marvel Studios' CAPTAIN MARVELCaptain Marvel (Brie Larson) Photo: Film Frame©Marvel Studios 2019

Marvel Studios' CAPTAIN MARVELCaptain Marvel (Brie Larson) Photo: Film Frame©Marvel Studios 2019

Marvel Studios' CAPTAIN MARVELL to R: Maria Rambeau (Lashana Lynch) and Captain Marvel (Brie Larson) Photo: Film Frame©Marvel Studios 2019

Marvel Studios' CAPTAIN MARVELL to R: Maria Rambeau (Lashana Lynch) and Captain Marvel (Brie Larson) Photo: Film Frame©Marvel Studios 2019

Marvel Studios' CAPTAIN MARVELCaptain Marvel (Brie Larson) Photo: Film Frame©Marvel Studios 2019

Marvel Studios' CAPTAIN MARVELCaptain Marvel (Brie Larson) Photo: Film Frame©Marvel Studios 2019

Marvel Studios' CAPTAIN MARVELCaptain Marvel (Brie Larson) Photo: Film Frame©Marvel Studios 2019

Marvel Studios' CAPTAIN MARVELCaptain Marvel (Brie Larson) Photo: Film Frame©Marvel Studios 2019

Marvel Studios' CAPTAIN MARVELCaptain Marvel (Brie Larson) Photo: Film Frame©Marvel Studios 2019

Marvel Studios' CAPTAIN MARVELCaptain Marvel (Brie Larson) Photo: Film Frame©Marvel Studios 2019

Marvel Studios' CAPTAIN MARVELRonan (Lee Pace) Photo: Film Frame©Marvel Studios 2019

Marvel Studios' CAPTAIN MARVELRonan (Lee Pace) Photo: Film Frame©Marvel Studios 2019

Marvel Studios' CAPTAIN MARVELL to R: Att-Lass (Algenis Perez Soto), Captain Marvel (Brie Larson) and Minn-Erva (Gemma Chan)Photo: Film Frame©Marvel Studios 2019

Marvel Studios' CAPTAIN MARVELL to R: Att-Lass (Algenis Perez Soto), Captain Marvel (Brie Larson) and Minn-Erva (Gemma Chan)Photo: Film Frame©Marvel Studios 2019

Marvel Studios' CAPTAIN MARVELCaptain Marvel (Brie Larson) Photo: Film Frame©Marvel Studios 2019

Marvel Studios' CAPTAIN MARVELCaptain Marvel (Brie Larson) Photo: Film Frame©Marvel Studios 2019

Captainmarvel5c1d276720ad0

Captain Marvel

Captain Marvel

Captain Marvel

Marvel Studios' CAPTAIN MARVELCarol Danvers/Captain Marvel (Brie Larson)Photo: Chuck Zlotnick©Marvel Studios 2019

Marvel Studios' CAPTAIN MARVELCarol Danvers/Captain Marvel (Brie Larson)Photo: Chuck Zlotnick©Marvel Studios 2019

Marvel Studios' CAPTAIN MARVELLeft: Talos (Ben Mendelsohn)Photo: Chuck Zlotnick©Marvel Studios 2019

Marvel Studios' CAPTAIN MARVELLeft: Talos (Ben Mendelsohn)Photo: Chuck Zlotnick©Marvel Studios 2019

Marvel Studios' CAPTAIN MARVELCarol Danvers/Captain Marvel (Brie Larson)Photo: Chuck Zlotnick©Marvel Studios 2019

Marvel Studios' CAPTAIN MARVELCarol Danvers/Captain Marvel (Brie Larson)Photo: Chuck Zlotnick©Marvel Studios 2019

Marvel Studios' CAPTAIN MARVELMaria Rambeau (Lashana Lynch)Photo: Chuck Zlotnick©Marvel Studios 2019

Marvel Studios' CAPTAIN MARVELMaria Rambeau (Lashana Lynch)Photo: Chuck Zlotnick©Marvel Studios 2019

Marvel Studios' CAPTAIN MARVELCarol Danvers/Captain Marvel (Brie Larson)Photo: Chuck Zlotnick©Marvel Studios 2019

Marvel Studios' CAPTAIN MARVELCarol Danvers/Captain Marvel (Brie Larson)Photo: Chuck Zlotnick©Marvel Studios 2019

Marvel Studios' CAPTAIN MARVELL to R: Leader of Starforce (Jude Law) and Carol Danvers/Captain Marvel (Brie Larson)Photo: Chuck Zlotnick©Marvel Studios 2019

Marvel Studios' CAPTAIN MARVELL to R: Leader of Starforce (Jude Law) and Carol Danvers/Captain Marvel (Brie Larson)Photo: Chuck Zlotnick©Marvel Studios 2019

Marvel Studios' CAPTAIN MARVELNick Fury (Samuel L. Jackson) Photo: Chuck Zlotnick©Marvel Studios 2019

Marvel Studios' CAPTAIN MARVELNick Fury (Samuel L. Jackson) Photo: Chuck Zlotnick©Marvel Studios 2019

Marvel Studios' CAPTAIN MARVELL to R: Leader of Starforce (Jude Law), Ronan (Lee Pace), Korath (Djimon Hounsou), Att-Lass (Algenis Perez Soto), Carol Danvers/Captain Marvel (Brie Larson), Bron-Char (Rune Temte) and Minn-Erva (Gemma Chan)Photo: Chuck Zlotnick©Marvel Studios 2019

Marvel Studios' CAPTAIN MARVELL to R: Leader of Starforce (Jude Law), Ronan (Lee Pace), Korath (Djimon Hounsou), Att-Lass (Algenis Perez Soto), Carol Danvers/Captain Marvel (Brie Larson), Bron-Char (Rune Temte) and Minn-Erva (Gemma Chan)Photo: Chuck Zlotnick©Marvel Studios 2019

Marvel Studios' CAPTAIN MARVELL to R: Director Ryan Fleck, Ben Mendelsohn, Director Anna BodenPhoto: Chuck Zlotnick©Marvel Studios 2019

Marvel Studios' CAPTAIN MARVELL to R: Director Ryan Fleck, Ben Mendelsohn, Director Anna BodenPhoto: Chuck Zlotnick©Marvel Studios 2019

Captainmarvel5ba0ff4127e27

null

Captain Marvel

Captain Marvel

Marvel Studios' CAPTAIN MARVELBrie Larson (left) gets hands-on help from Brigadier General Jeannie Leavitt, 57th Wing Commander (right), on a recent trip to Nellis Air Force Base in Nevada to research her character, Carol Danvers aka Captain Marvel, for Marvel Studios' "Captain Marvel."Photo: Brad Baruh©Marvel Studios 2019

Captain Marvel

Captain Marvel