John Ford is an essential director. His career spanned five decades, his body of work tracing all the way back to the silent era. He directed his first feature film The Tornado in 1917 at the age of 22. He went on to define the American western genre with critically-acclaimed pieces like The Searchers, Stagecoach and The Man Who Shot Liberty Valance. His framing is breathtaking, his long takes awe-inspiring. Such things would go on to inspire a number of directors—especially those in the American New Wave like George Lucas and Francis Ford Coppola (whose namesake is not John Ford's older brother, Francis Ford). He was hailed in his day and he is hailed now—his films continue to inspire new generations of filmmakers. He is not just one of the great American filmmakers, but one of the great American storytellers. They are, of course, of his era. Their content may sometimes film out of date—his portrayals of Native Americans can leave some feeling uneasy, and understandably so—though they are nonetheless beautifully shot and paced films. Of his 150 or so films he made in his career, some stand above the rest, and here they are.
The Searchers
(1956)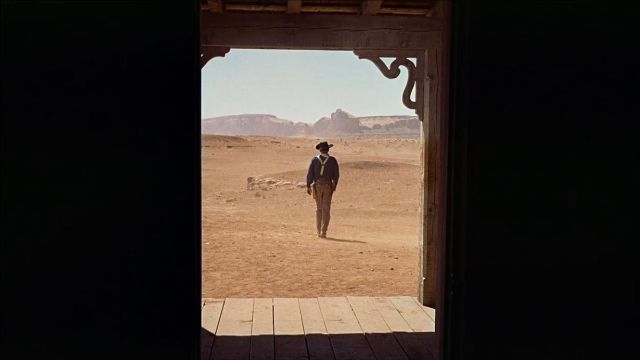 The Searchers is widely regarded as one of the best films of all time. John Wayne plays Ethan Edwards, an aging former Confederate soldier. He returns to his family's homestead to find most of his family murdered and his two nieces (one played by Natalie Wood) have been kidnapped. The perpetrators set his home ablaze. Naturally, he sets out on a years-long trip to find the two girls and those who did harm to his family.
Purchase now on Amazon for $19.99.
Stagecoach
(1939)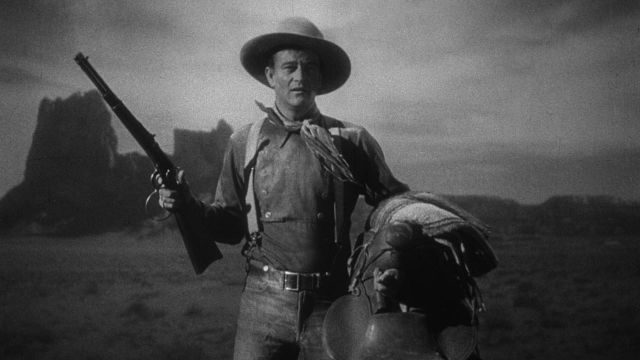 Though quite a bit earlier than The Searchers in his career, John Wayne plays a central role here too, as Ford enjoyed cycling a somewhat short list of actors throughout his years in the film industry. Wayne plays Henry "the Ringo Kid" who finds himself among a group of strangers with varying sordid pasts. The film chronicles their ride together in the eponymous stagecoach through dangerous Apache Native American land. Many fans of cinema and industry insiders throughout the decades have lauded Stagecoach, Orson Welles (director of Citizen Kane) in particular.
Purchase now on Amazon for $23.91.
The Man Who Shot Liberty Valance
(1962)
The Man Who Shot Liberty Valance tells of the intersecting lives of rancher Tom Doniphon (John Wayne) and attorney Ransom Stoddard (James Stewart, another favorite actor of Ford's). Their paths cross when Doniphon finds Stoddard left for dead. The two men, though quite different—especially in their skill sets—foster a meaningful friendship out in the old west. It is another widely beloved piece.
Purchase now on Amazon for $7.89.
The Grapes of Wrath
(1940)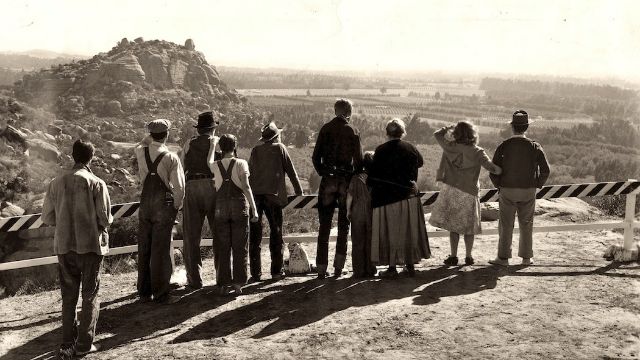 John Ford's adaptation, like John Steinbeck's novel itself, recounts the family Joad—namely recently released convict Tom Joad (Henry Fonda), as well as their local preacher who has lost his faith, Jim Casy (John Carradine). The Great Depression causes them to lose their farm. They are forced to embark upon the tough journey west from their farm in the Dust Bowl to California in search of better opportunities. It is an emotionally affecting film—perhaps Ford's most affecting.
Purchase now on Amazon for $11.99.
The Quiet Man
(1952)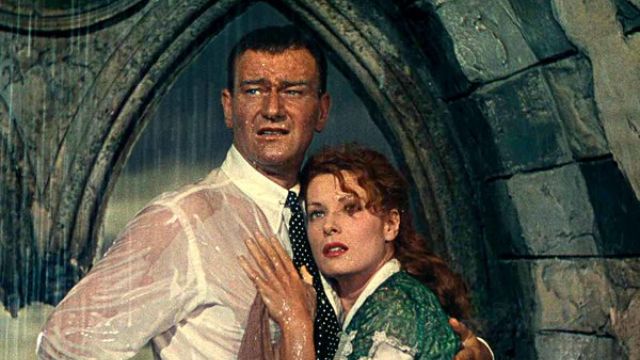 Set in the interwar period, Irish-American Sean Thornton (Wayne) travels back to his native Ireland to farm his family's land. Once there, he falls in love with Mary Kate Danaher (Maureen O'Hara), the sister of the man who currently tends the land. The two men have an adversarial relationship which puts tension on that of Sean and Mary Kate. Because it was really filmed in Ireland the result is a beautiful, vibrantly-colored film.
Purchase now on Amazon for $13.74.
My Darling Clementine
(1946)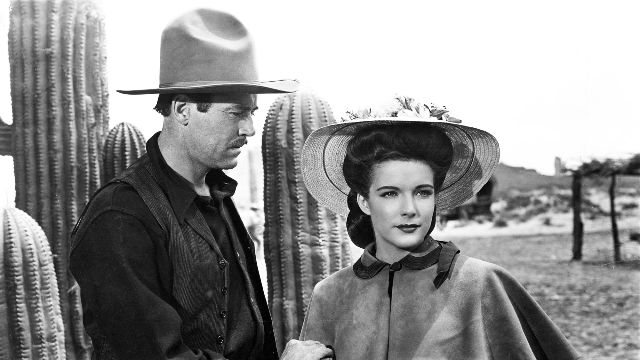 The brothers Earp: Wyatt (Fonda), Virgil, Morgan and James go to the lawless town of Tombstone. When James is killed, Wyatt swears revenge and takes up the mantle of town marshal to do so. It is often touted by critics as an integral film; a defining piece of the American western genre.
Purchase now on Amazon for $17.97.
Young Mr. Lincoln
(1939)
This biographical film details the early years of President Abraham Lincoln's life. It shows Lincoln, played by Fonda, in his early adulthood as a storekeeper and then fledgling—but brilliant—attorney. The audience follows him through various trials and tribulations in both his personal and professional lives. Young Lincoln is arguably Henry Fonda's best performances.
Purchase now on Amazon for $25.99.
How Green Was My Valley
(1941)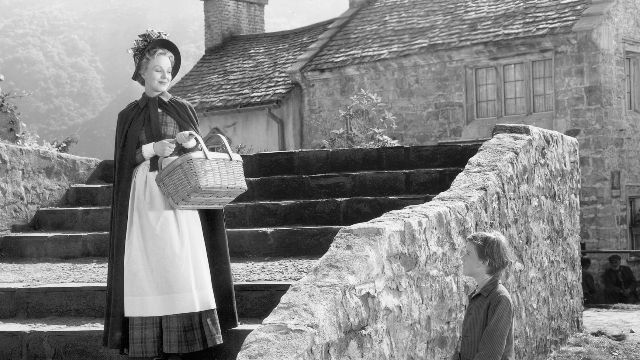 How Green Was My Valley is based on the novel of the same name by Richard Llewellyn. The film details the Morgans, a mining family in 19th century Wales. It is a bleak, depressing look at a working-class family in a time before labor rights. It is also a truly great film—but it is hard to say whether it deserved the Academy Award for Best Picture over Welles's seminal film Citizen Kane.
Purchase now on Amazon for $16.91.
Fort Apache
(1948)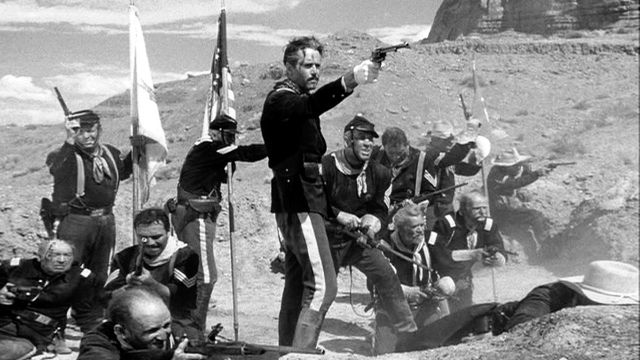 Fort Apache is the first in what is known as Ford's Cavalry Trilogy, followed by She Wore a Yellow Ribbon in 1949 and Rio Grande in 1950. Captain Kirby York (Wayne) and Colonel Owen Thursday (Fonda) butt heads when the latter is given command of Fort Apache, which was expected to go to the former. The true colors of the two men—both decorated Civil War veterans—show when they are confronted with a situation involving local Native Americans. Along with its many accolades, Fort Apache is praised by contemporary critics for its sympathetic portrayal of the indigenous Americans.
Purchase now on Amazon for $9.99.
She Wore a Yellow Ribbon
(1949)

Though She Wore a Yellow Ribbon is the second in what is considered a trilogy, Wayne returns to the screen in an entirely different role that the previous film. The unifying factor of the trilogy is the respective central characters' roles as cavalrymen. Wayne plays Nathan Brittles, a U.S. Cavalry Captain very near his retirement. However before he hangs up his hat, he must both deal with the fallout of General Custer's defeat at the Battle of Little Bighorn and escort his superior officer's family away from the volatile situation. The film won the Academy Award for Best Cinematography for a color film, back when black and white film had their own distinct category.
Purchase now on Amazon for $17.99.
We are a participant in the Amazon Services LLC Associates Program, an affiliate advertising program designed to provide a means to earn fees by linking to Amazon.com and affiliated sites.