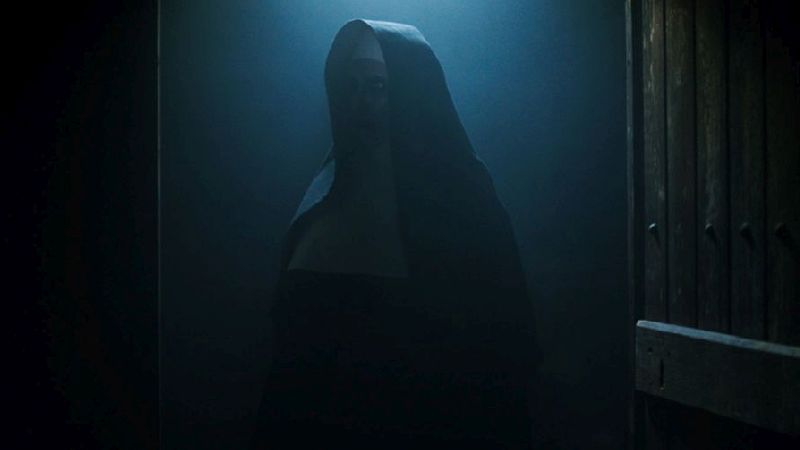 In a year full of highly anticipated horror films, The Nun is at the top of most horror fans' lists. Based on characters from James Wan's The Conjuring 2, The Nun tells the story of the a nun's suicide and her order's unholy secret. A priest and a novitiate are sent by the Vatican to investigate the death, and they confront a malevolent force in the form of The Nun that terrorized audiences in the 2016 sequel. Taissa Farmiga plays the novitiate, Sister Irene, and Demian Bichir plays the priest, Father Burke.
It seems fitting that they are shooting The Nun in Bucharest, Romania – the home of Count Dracula. We didn't get a chance to visit Dracula's castle while in the beautiful city (and we were told they did shoot in a real castle) but the studio was alive with stray dogs who would gladly give their affection in exchange for a bit of sandwich.
Today's filming takes place in the tomb room. Sister Irene and Father Burke have arrived to speak to the nuns of the order. A tomb door mysteriously slides open on its own, causing Burke to quip, "Seems like that is as much of an invitation as we are going to get." He gives Irene a rosary, and she continues her journey, alone. Bichir explains that in this scene, only Irene is allowed into the abbey – women only. Burke and Irene had a "really crazy night" they did not expect. "I knew that I would encounter some strange situations, but not as heavy as we experienced last night."
"I think it's the classic tale of good battling evil, and trying to overcome it, which we probably need more than ever in our current climate," says director Corin Hardy. "In terms of the story of The Nun, seeing where she came from and what she is, Father Burke, Sister Irene, and Frenchie all have issues they need to deal with and overcome. Guilt plays a big part in Burke and doubt plays a big part in Irene, and weakness and temptation plays a big part in Frenchie's character. Those weaknesses will either be their downfall or they'll conquer them. The story plays out with the battle of good versus evil, and evil is winning. Good has to figure out how to get one up on it so ultimately it's a story that has the longest journey to reach the conclusion."
"She's had all sorts of visions, and I don't think they're all positive," Farmiga says of Irene. "That's one of the questions Irene wants to answer; it's one of her life's questions. I think that's one of the reasons she was so open to go on this journey with Father Burke: she was seeking answers. She has had these visions since she was a girl. She thought she was crazy; her dad thought she was lying. Then the church found out about her visions and welcomed her into the church. Even though the church welcomed Irene, I don't know if she believes her visions were holy…"
Bichir says that Burke's demons have marked him. "I've dealt with demons before and it marks you, whether you are a priest or any other type of human being. I think that's one of the things I love about the story: it relates to all of us very easily. We all carry those demons in many different ways and some of us choose to deal with them and face them and some of us just put it in a drawer in your heart or mind. That's probably not a good idea because they will hunt you down later on. Father Burke carries those particular burdens so it's not an easy life for him, but it's the life he's been called for. He accepted it from day one and he knows that's pretty much his mission on this planet. He will probably die fighting demons."
The Nun is part of The Conjuring universe, which stars Patrick Wilson and Taissa's older sister, Vera, as famed paranormal investigators Ed and Lorraine Warren. Despite the fact that sisters play two different roles in the shared universe, Taissa promises there is no connection between her and Vera's characters. "My manager sent me the script and I was actually having dinner with Vera. I was like, 'That's funny, an audition for a Conjuring spinoff!' She thought that was hilarious. I remember Vera talking about The Conjuring movie years ago, and she had such a wonderful time on it. People really love it, really respond to that elevated horror. I think one of the things that is great about Corin is that he wanted to make sure that the audience really connects to the characters, the human emotion and grounding."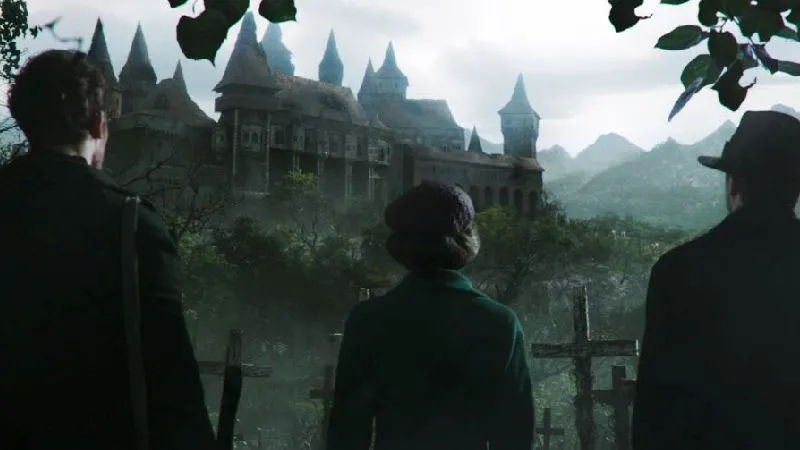 That's not to say that there won't be any scares. Gary Dauberman, who wrote the script, promises plenty of frights. "You get to think of new scares, beyond the creaky door, the creaky floorboards, stuff like that. You can become more inventive with some of the scares because it's just stuff you usually don't get to play around with."
The Nun is director Corin Hardy's first major studio film, and he says that everyone has been very supportive of him and made it a comfortable experience. A fan of The Conjuring universe, Hardy says that "James Wan's name is now connected to a level of quality and execution in the horror genre which I respect a lot. It kind of harkens back to the golden era of horror. When I read [the script], I was really excited because it opens up the world of The Conjuring Universe in a way that we haven't seen yet. There's perhaps more of a sense of adventure about it. A lot of movies so far have involved an evil coming to a house and the people having to cope with that. This one involves the protagonist going off on an adventure to stop the evil. When I read it, it kind of reminded me of three of my favorite films: an Indiana Jones film crossed with The Exorcist and The Evil Dead."
Hardy promises that they are doing their best to use in-camera practical effects. "We use very little CGI," he promises. "I grew up with Ray Harryhausen and monster movies. Nightmare on Elm Street and Alien. I became obsessed with the illusion of creating practical effects and make-up because I loved creating things and bringing them to life." He is proud of a shot in which they don't use any CGI at all, "exactly as they did in the 1970s." Hardy also believes that, when something is done right, it causes a connection that allows the audience to become more emotionally involved.
The Nun will arrive in theaters on September 7.
The Nun
The Nun

The Nun

The Nun

The Nun

The Nun

The Nun

The Nun

The Nun

The Nun

The Nun

The Nun

The Nun

THE NUN

THE NUN

THE NUN

The Nun

The Nun