Just in time for the film's theatrical and digital debut, ComingSoon.net got the opportunity to chat with two-time Golden Globe nominee David Oyelowo (The Midnight Sky) to discuss his role in the fantasy-based family drama Come Away.
RELATED: CS Video: Come Away Interview With Director Brenda Chapman
ComingSoon.net: This is an interesting take on the iconic fantasy characters packaged in a moving story, but what about the project really drew you to want to be a part of it? 
David Oyelowo: It was because of that interesting take on it, because of the very unexpected conflation of Alice from Alice in Wonderland, Peter from Peter Pan as brother and sister and is using that that imaginative situation of them being siblings and is the jump off of an origin story for both the worlds of Wonderland at Neverland. It just seemed so creative, and such a fresh way to delve into these familiar and iconic fairy tales.
CS: So then what was it like for you getting to the heart of your character? 
Oyelowo: The fact that I personally have four kids and I know all too well how imperfect a science it is, raising children, and my character in the film is very flawed, but also someone who loves his kids dearly. When we see not just a fantasy and the fairy tale, but also the real challenges this family goes through, myself as their father and Angelina Jolie as their mother, I'm dealing with a very challenging moment in our family's life and how our children's imaginations and have helped pull us all out of that.
CS: What was it like building that rapport with both the younger actors as well as Angelina for the film? 
Oyelowo: It was effortless than I anticipated. I mean, Jordan, Keira and Reece, who play our kids in the film, have those same qualities that their characters did, which is probably why they got cast in the first place. But there's those characteristics of a lust for life and fun, really imaginative kids are really personable as well. They just made everything feel light and made everything feel fun. You know, myself and Angie really rode that wave and I think that really comes across in the film.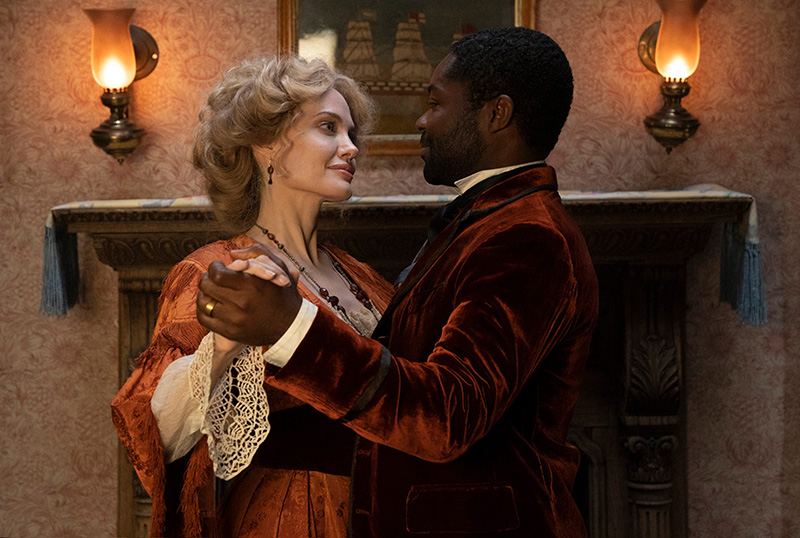 CS: What would you say, then, were some of your biggest creative challenges bringing your character to life on screen?
Oyelowo: I think one of the biggest creative challenges for the film in general, but also me specifically, is that the film tries to walk a very fine line between being a film for kids that highlights their imagination and their journey and a film where grownups are seen going through very challenging things. Tonally, that's something that is that is quite a tough needle to thread, but we really wanted to make a family film that could appeal to both kids and their parents and their grandparents. So, you know, I've constantly had to be mindful of the fact that yes, I was speaking to grownups, but also kids, all at the same time. Brenda Chapman, who directed that film, of course, was the main person to keep an eye on that, but I had to do so as well, in terms of my portrayal.
CS: One thing I love about your character is they are a sculptor of model ships, so I'm curious if you had any sort of experience with building models like that prior to the film? 
Oyelowo: Not model building, I did go to art school and I did do sculpture as one of my majors, so, you know, working with my hands to create something intricate and hopefully beautiful is something that I am familiar with. I was given a crash course in the in the boat building, which is even even more intricate and fine, in terms of its workmanship than I had experienced before.
CS: There's a number of powerful moments for you in the film, but what was your favorite scene to get to perform? 
Oyelowo: Oh, gosh, yeah, I agree with you that there were a lot that I love. But I have to say my favorite scenes were any scenes where I got to be with the kids. You know, I just learned so much from them, when it comes to letting go because they have no guile, because they are relatively inexperienced, they didn't bring any of that baggage. As as an adult actor, I've been doing it for a while. So honestly, any opportunity I had to act with them was a delight.
CS: Since you mention learning from them in the acting process, is there anything you'd say you learned from them you could carry over into your own parenting? 
Oyelowo: You know, nothing that I already know. One of the greatest things that you can have as a skill as a parent, I think, is to put your own preoccupations to the side when it comes to nurturing your children. My character in the film, you know, has a habit that is challenging for his family. We are all prone to and can be guilty of selfishness at any given moment, and I know for myself as an actor, an occupation that has self obsession as an unfortunate occupational hazard, I have to constantly remember and remind myself to to put attention on myself aside, in order to make sure that my children's well being is always being catered for.
CS: That's a very humble outlook on it, I like it. So we've seen you do period pieces before, but what was it like slipping into the time period we see in this film?
Oyelowo: One of the things I love about this film is this is not the normal demographic you get to see telling this story, in terms of me, in terms of Keira, in terms of Jordan and in terms of Reece. The truth of the matter is, at this time in England's history, there were couples like myself and Angelina Jolie, not a ton of them, but they did exist. Just to see that highlighted in a film like this, where race is not part of the narrative, I just think is an incredibly fresh way to work your way into these stories. That was, that was something that I really loved, that we managed to do in an organic way.
CS: I agree, it does come across very organically on screen. Well with the film finally coming out, how are you feeling leading up to the release here in the US before heading to the UK?
Oyelowo: I feel good about it, you know, that the film is more resonant, more poignant, I think more relatable now than even when we initially made it, which was before the pandemic. I think every family, no matter your financial or social economical situation has had to entertain the idea of loss and what that looks like and feels like for a family and that is one of the things that our film is about is overcoming that. We love fun and imagination, and I think that now, even more so than when we made it, it's a film that I think is gonna resonate with families here and and all over the world.
CS: To look away from the film for just a moment, this past September we got to see your feature directorial debut, The Water Man, premiere at Toronto and I'm curious, has there been any talks about a wide release anytime soon?
Oyelowo: Oh, my goodness, we are literally in the middle of negotiations as we speak. In the case of these things, you don't want to speak too soon, but we are in the midst of putting together what we hope will be an exciting, worldwide release and I'm just so I'm so elated that we have exciting offers on the table and that the world will also get to see that film as well.
In this imaginative origin story of two of the most beloved characters in literature – Peter Pan and Alice in Wonderland – eight-year-old Alice, her mischievous brother Peter and their brilliant older sibling David let their imaginations run wild one blissful summer in the English countryside. Encouraged by their parents Jack and Rose, the kids' make-believe tea parties, sword fights and pirate ship adventures come to an abrupt end when tragedy strikes. Peter, eager to prove himself a hero to his grief-stricken and financially-struggling parents, journeys with Alice to London, where they try to sell a treasured heirloom to the sinister pawnshop owner known as C.J. Returning home, Alice seeks temporary refuge in a wondrous rabbit hole while Peter permanently escapes reality by entering a magical realm as leader of the "Lost Boys."
RELATED: Disney Taps Yara Shahidi for Tinker Bell in Live-Action Peter Pan
Come Away will be led by newcomers Jordan A. Nash and Keira Chansa along with Academy Award winner Angelina Jolie (Maleficent), and Golden Globe nominee David Oyelowo. It will also feature Anna Chancellor, Clarke Peters, Gugu Mbatha-Raw, Michael Caine, David Gyasi, and Reece Yates.
The fantasy film marks Brenda Chapman's first live-action feature after being known for her works in animated films such as The Prince of Egypt and Brave. The latter earned an Oscar for Best Animated Feature, making Chapman the first female director to win in that category.
Come Away is written by Marissa Kate Goodhill with Leesa Kahn, Andrea Keir, Oyelowo and James Spring serving as producers. The film had its world premiere earlier this year at the 2020 Sundance Film Festival and is now in select theaters and on digital platforms!