ComingSoon.net got the opportunity to chat with star Tuppence Middleton (Sense8, Possessor) to discuss her role in the heartwarming British music biographical comedy Fisherman's Friends, which is now available on digital platforms! Click here to rent or purchase the well-received film centered on the Cornish singing group!
RELATED: CS Interview: James Purefoy on Fisherman's Friends & Possible Sequel!
When Middleton first got the script for the film, she found that the biggest draw for wanting to star in the film was the "community spirit" present throughout the story that "really reminded me of the village that I grew up in" the west country of England.
"It wasn't dissimilar to the sort of upbringing that I had, really, you know, everyone knows everyone in the village, and it was like one big family," Middleton recalled. "They even have very similar accents to the place that I am from. So it felt like kind of home reading it, really, and I haven't seen anything about that part of the world on the screen for a long time, and I felt like it was a really good time to have a film that makes you feel good, because there's so much hardship and conflict going on in the world at the moment that sometimes you just want to escape that. When I read that script, I felt like for two hours I was like transported. And I felt like I was by the seaside and that's what I needed at that point."
In taking on her character of Alwyn, Middleton found her two biggest creative challenges to be portraying a single mother, as she doesn't have children and "didn't know what that experience was like," and mastering her character's accent, while also calling it one of the "least stressful" film shoots of her career.
"You have to create that intimacy with, in this case, Meadow, who played my daughter Tamsyn, which really wasn't difficult because she was such a lovely girl and so polite and talented and sweet and very, very lovable, so it was very easy to feel protective over her and to kind of create that bond," Middleton warmly explained. "But there was also, you know, technically there was also the accent to master, and we all had to come from the same place geographically, so we all kind of worked with the same voice coach for that. But to be honest, I would say on this, there was many more just joyful things than there were difficulties, to be honest, because it was kind of like, almost like a holiday atmosphere filming it, because we were living in that village by the seaside. You know, every day I walked to work, which took me about two minutes up a beautiful little hill by the sea. And then, on the way back from work, we would all pass the local pub and went in and had a drink with the real fishermen who would sing songs in the pub, like they do in the film. And it wasn't for our benefit, just how life is like down there. So it was kind of a really peaceful experience, shooting it. We were filming in May and it was really hot. It's not usually very hot in May in the UK, it tends to come a bit later in the year, but we happened to have this unseasonably hot month. It was just before the tourists came in, basically, because there were huge amounts of people that traveled down to this village every summer, which is usually between kind of June and August. So we got in there just before the streets were completely chaotic and you couldn't move or find a seat or get into the local pub. But so it felt like we had the village to ourselves, it was just us and the locals, which was lovely because you get a sense of what life is really like off season, and what it's like to live and grow up there. So it was wonderful and we got to spend a lot of time with the real fishermen's friend's band and we got to see them sing out by the seaside, just outside the pub. And it was great that they still do that, you know, they're still performing and bringing in these really big crowds that are kind of loyal fans and have been for years."
Prior to getting the script to the film, the 33-year-old actress recalled that she wasn't familiar with the titular group or their story and that the first thing she did after reading the script was to "go onto YouTube and watch about 100 videos of them singing."
"I was just like, enthralled, I thought they were amazing, and I thought it was incredible that they were keeping this tradition alive," Middleton expressed. "I hadn't heard of them, it was kind of crazy because they'd had this amazing set at Glastonbury. They'd topped the charts in the UK. And I don't know how they managed to slip through my awareness, but I was so happy to finally discover them because now I'm definitely one of their biggest fans."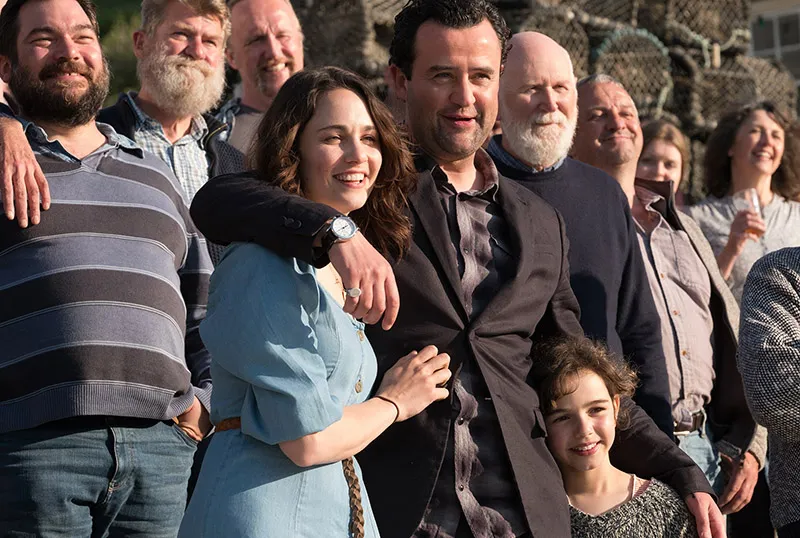 When it came to building the rapport with the rest of her ensemble cast, Middleton called it great, stating that "everyone just really got on" well together and called the production "one of those really lovely experiences where everyone just had a shared sense of humor" and worked well together.
"What was lovely about James Purefoy playing my dad was that he's from a very similar part of England to where my family's from, so we kind of grew up in the same area around Somerset," Middleton explained. "So we both have family that have that same accent that is very similar to the one that we're doing in the film. So there's immediately that shorthand that you know what it is to grow up in that kind of a village and you almost know who these characters are already. So that's where when you only have a few days to kind of create that sort of a bond, you know, if you're playing someone's daughter. So that was a really nice sort of fast track for us."
The film had been a box office success in the UK following its theatrical release last March and in looking at it finally coming to the US, Middleton expressed she was "really excited" American audiences were getting to see the film as "it's probably a side to the UK that you don't often get to see."
"I think that if you're a Brit watching it, then you immediately recognize these people and this kind of setting, where I think that a lot of Americans wouldn't have that experience of having visited an English town like that or that seaside village in Cornwall," Middleton opined. "It's like a very specific area of the world, and I think it's so quintessentially British, that I think I'd imagine that in the same way as watching something like Downton, that Americans have a reaction to something which just feels like almost a little bit alien to them, maybe. I mean, maybe I'm wrong in saying that, but I think that it's nice to show this part of the world to the States because yeah, it's a really kind of very British, very traditional kind of community, and yeah. I hope that it inspires people to come visit those little towns."
Earlier this year also initially brought word that a sequel was reportedly in the works for the film, with star Purefoy also confirming to us that one is in development, but with it being early on into development cycle Middleton revealed she hasn't "heard much about it" and noted that with the global pandemic seeing productions "grounding to a halt," that may be why she hasn't heard word on it.
"I mean, I had such a good time doing it and I don't know, I haven't heard anything about like, storylines or anything, so I don't know if I would be involved," Middleton said. "But yeah, all I know is that I have a lovely time doing the first one, and I was grateful to be a part of it."
Fisherman's Friends is just one of a few major titles American audiences will get to see the Sense8 alum in this year, with others including the David Fincher-helmed Mank and the Sundance body horror hit Possessor from Brandon Cronenberg, son of iconic director David, which was recently acquired by NEON for a wide release. In looking at the recent announcement, Middleton expressed excitement and happiness for the writer/director, stating that "he worked so hard on that film" and feeling "he has such a unique vision" that deserves the wide attention from audiences and critics.
"I'm not surprised because I think he has such an interesting voice and people are going to want to see a lot more from him," Middleton stated. "I was really thrilled to hear that, and Andrea and Chris are so brilliant in it that it's just exciting that more people get to see their performances. But it's definitely quite a wild trip, and I think yeah, I think people are going to like it. It's definitely not—it's very different than Fishermen's Friends [laughs]."
RELATED: Exclusive Dirt Music Clip Featuring Garrett Hedlund & Kelly Macdonald
A fast-living, cynical London music executive (Daniel Mays) heads to a remote Cornish village on a stag weekend where he's pranked by his boss (Noel Clarke) into trying to sign a group of shanty singing fishermen (led by James Purefoy). He becomes the ultimate "fish out of water" as he struggles to gain the respect or enthusiasm of the unlikely boy band and their families (including Tuppence Middleton) who value friendship and community over fame and fortune. As he's drawn deeper into the traditional way of life he's forced to reevaluate his own integrity and ultimately question what success really means.
The movie stars Daniel Mays (1917), Purefoy, David Hayman (Blinded by the Light), Dave Johns (Blithe Spirit), Sam Swainsbury (Fearless), Tuppence Middleton (Sense8), Maggie Steed (Paddington 2), Vahid Gold, Christian Brassington (Poldark) and Noel Clarke (Bulletproof).
Fisherman's Friends was directed by Chris Foggin (Kids in Love) from a script by Meg Leonard (Finding Your Feet, Blithe Spirit) and Nick Moorcroft (Blithe Spirit).