ComingSoon.net got the opportunity to chat with Josh Whitehouse (The Knight Before Christmas) to discuss his first time portraying an American character for the upcoming musical remake of the 1983 cult classic Valley Girl, now streaming on Digital and available to order here!
RELATED: Valley Girl Trailer: Jessica Rothe Stars in MGM's Musical Remake
Though he found the idea of portraying an American exciting, he was "the first guy to say that the classic, you shouldn't be remaking it" while also mentioning that the first time he saw the original was right after reading the new script and found he "loved the original so much."
"Normally I wouldn't have given it a second opinion, but this script and this version of the film, it has a whole different dimension to it," Whitehouse explained. "It's a musical, and that already adds a huge new element of life to the movie which wasn't in the original, and then it's also told from the memory of Julie as she's talking to her daughter in present day. That allows so much to be interpreted differently, because she might have forgotten some things. I think there's a moment in the movie where her daughter's saying to her, 'Wait, you were dancing and singing on the tables in the mall?' and she's like, 'Well that's what I remember.' I think there's just something about this version, first and foremost, has a lot different going for it than the original, and also there's the chance for me to play an American for the first time, that was the first time I'd had that opportunity, which was exciting to me. The chance to get to be in a musical was exciting to me, and also the chance to get to play a musician was exciting, because I've been a musician my whole life. There were a lot of reasons why I was very excited to play Randy."
Despite being a musician, Whitehouse is best known to American audiences for his work as an actor, from his role in the third and fourth seasons of BBC's Poldark to Netflix's Christmas romantic comedy The Knight Before Christmas alongside Vanessa Hudgens (Bad Boys for Life). Though his work as a punk character in the film meant he didn't have as much dance choreography as the valley population, he did find it interesting learning to find new ways to sing than he previously knew.
"A lot of my musical scenes were more energy-driven and performing the feelings and Randy tends to find himself walking along the sidewalk while he's singing or climbing up on to the rooftop and smashing bottles or he's performing on stage with his band," Whitehouse described. "I didn't necessarily do so much of the specific choreography, but it was still a lot of fun to get to work with Mandy Moore. I learned such a lot through learning to deliver songs through an emotional place, as if you're speaking or talking and letting the song come out rather than performing a song as a song, which is what I'm more used to. I think a big challenge for this movie in particular was the fact that we were performing musical numbers and trying to bridge the gap between performing songs and acting songs. It was a really interesting experience for me."
The other major challenge for Whitehouse came in having to learn how to believably portray an American twentysomething in the '80s, having not "had drama school training," but that with the help of the vocal and dialect coach, he felt he was able to really nail that aspect of his performance.
"When I came on the project I was working with a guy called Garett, who really helped me with getting some of that groundwork in, and also helped with my singing and general dialect coaching," Whitehouse said. "Being an English guy on the set surrounded by Americans playing Americans was a bit intimidating for my first time, but I feel like I learned an awful lot from it and it gave me a whole new world of confidence in a sense."
RELATED: Exclusive: Jessica Rothe Discusses Hopes for Happy Death Day 3
Being from across the pond also meant that he hadn't had the chance to explore much of the states, especially the film's California metropolis, which he felt "so lucky to have the opportunity to film in," especially given the current situation of the world.
"Certainly as an Englishman who hasn't done that many jobs at this stage in my career, it was very exciting getting to come over here and be playing a lead role in an American feature and not only getting to shoot in LA, but explore iconic spots and areas," Whitehouse brightly mentioned. "Not only that but it was also set in the '80s, which gave it some real magic as well. Honestly one of my favorite spots was up on the hill in Hollywood where the punks hang out. Maybe that's not the most iconic of all, but the view up there was just incredible and being a part of the punk world and the energy that was on the set up there was epic. But also going down to the dive bars deep in Hollywood for that part of the theme was so much fun."
With the film's extensive soundtrack of covers of jukebox hits from the neon-fueled decade, Whitehouse got to perform a number of fan-favorite songs throughout, but found there was one Billboard charting song he fell in love with getting to sing.
"I think my favorite song to perform was "You Might Think" by The Cars," Whitehouse said. "First of all, I really love the song, but second of all that song in particular during filming, so much happens on the screen. We start out in someone's bathroom and then I'm sliding down the rooftop and jumping off and dancing across cars and driving through Hollywood. There's a lot of action in that, so it was a big challenge, but was also one of my favorite tunes."
Whitehouse found building the rapport with Rothe to be "really easy," finding that she's a "very open, friendly, kind person" and looking back fondly on the time the two spent together developing their characters' relationship as well as their own friendship.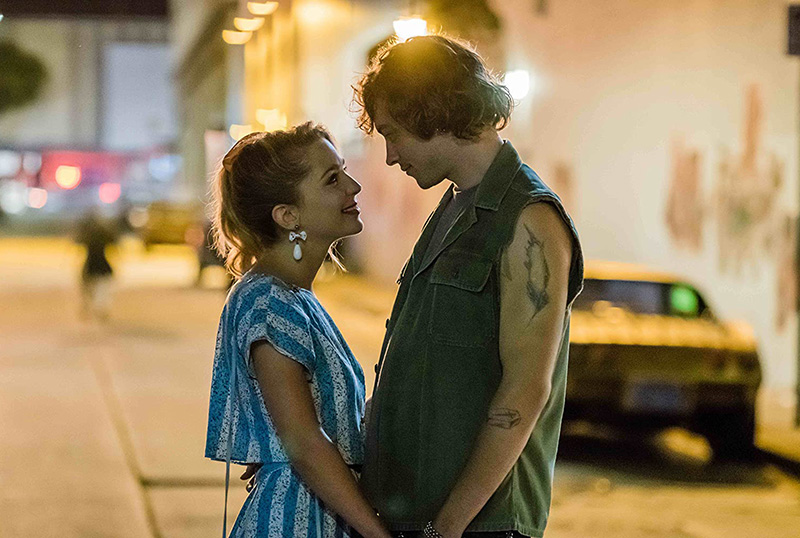 "She came to set with passion and grace and a smile on her face and she was always prepared," Whitehouse said. "We spent some time together before we started filming, went out to dinner and stuff like that, and we just got to know each other and became friends very quickly. It was really easy to create the connection on screen."
Along with the Valley Girl remake, Whitehouse was poised to see another major career boost in the states with a key role in Bloodmoon, a prequel series to HBO's adaptation of the George R. R. Martin fantasy novel series Game of Thrones, in which Whitehouse would star alongside lead Naomi Watts (Vice). After production on the pilot was finished, the network announced it would not be moving forward with the series but instead on a separate prequel, House of the Dragon, which Whitehouse described as being "a bit of a blow" and "a bit of a shock," as the tone on set felt as though the series "was going ahead."
"But at the end of the day, I feel like everything happens for a reason and I was really honored to have even been considered for such a huge production," Whitehouse recalled. "Even getting the phone call telling me that I landed the job was a huge moment for me. I'm not sure exactly sure why it didn't happen, but I know that they developed a few prequels and one or two of them were being dropped and one would be moving forward. On the downside it wasn't getting made, but on the upside I'm really honored to have been considered for it and I get to work on a new show, I'm working on Daisy Jones and the Six, which I'm really excited about, I get to play another musician, which is fun."
Julie (Jessica Rothe) is the ultimate '80s Valley Girl. A creative free spirit; Julie's time is spent with her best friends shopping at the Galleria mall and making plans for senior prom. That is, until she falls hard for Randy (Joshua Whitehouse), a Sunset Strip punk rocker, who challenges everything the Valley and Julie stand for. Despite push-back from friends and family, Julie must break out of the safety of her world to follow her heart and discover what it really means to be a Valley Girl.
Set to a rock 'n roll '80s soundtrack produced by legendary Harvey Mason, Jr. with dance numbers by choreographer Mandy Moore, Valley Girl is a musical adaptation of the classic 1983 hit film that changed American teenage life forever.
RELATED: The High Note Trailer: Dakota Johnson Leads Ensemble Music Comedy
The film stars Jessica Rothe (Happy Death Day, La La Land) as Julie Richman, Josh Whitehouse (The Knight Before Christmas) as Randy, Chloe Bennet (Agents of S.H.I.E.L.D) as Karen, Logan Paul (The Thinning) as Mickey, Jessie Ennis (Mystic Quest: Raven's Banquet) as Stacey, Ashleigh Murray (Riverdale) as Loryn, and Mae Whitman (Scott Pilgrim vs. The World). It will also feature Clueless alum Alicia Silverstone as the adult version of Julie along with Mario Revolori, Rob Huebel, Judy Greer, Camila Morrone, Peyton List and Danny Ramirez.
Valley Girl remake is directed by Emmy winner Rachel Lee Goldenberg (A Deadly Adoption, Between Two Ferns) from a screenplay written by Amy Talkington and story by Andrew Lane and Wayne Crawford. It is produced by Matt Smith and Steven J. Wolfe.
We are a participant in the Amazon Services LLC Associates Program, an affiliate advertising program designed to provide a means to earn fees by linking to Amazon.com and affiliated sites.
Valley Girl
Valley Girl

Valley Girl

Valley Girl

Valley Girl

Valley Girl

Valley Girl

Valley Girl