The Will Smith-starring action thriller Gemini Man is finally out on digital services and will be arriving on Blu-ray, DVD, and 4K Ultra HD on January 14, and ComingSoon.net got the opportunity to chat with producer Jerry Bruckheimer (Bad Boys for Life) about the long journey the project took from its initial inception in the late '90s to hitting the big screen earlier this year.
RELATED: CS Interview: Ang Lee Talks This Weekend's Gemini Man
Gemini Man follows the story of an older, elite assassin named Henry Brogan (Will Smith) who is trying to retire. In the film, he's suddenly targeted and pursued by a mysterious young operative that seemingly can predict his every move. Directed by Ang Lee, Gemini Man is produced by renowned producers Jerry Bruckheimer and David Ellison along with Smith, James Lassiter, Dana Goldberg, and Don Granger.
The film stars Will Smith (I Am Legend) in dual roles; Clive Owen (Closer, Children of Men) who is the lead villain/ the head of a cloning program; Mary Elizabeth Winstead (Birds of Prey) as an operative working for the same agency as Smith's character; and Benedict Wong (MCU, Deadly Class).
The project initially was in development in 1997 with Tony Scott (Enemy of the State) set to direct and Don Murphy (Transformers) attached to produce at Disney and circling dozens of A-list actors, everyone from veterans Harrison Ford (Star Wars), Robert de Niro (The Irishman) and Michael Douglas (Ant-Man and the Wasp) to up-and-comers Chris O'Donnell (Scent of a Woman), Denzel Washington (Crimson Tide) and Jason Statham (Snatch). But after realizing the technology wasn't quite ready for the project, Disney gave up on the project and Skydance Media acquired the rights in 2016 to Darren Lemke (Shazam!)'s script with Bruckheimer also producing.
One of the technological advancements Ang Lee used when shooting the film was to do it in 4K and 120 frames, which Bruckheimer described as "showing every blemish, so it makes it three times as hard to do what he did with Junior, had he shot it in the normal way" at 24 frames. While the goal was to release the film in as many theaters as possible at the high-frame-rate, that's another area where the project was still just ahead of the times in its technology, with Bruckheimer stating that "we certainly got quite a few 60-frame theaters, which is pretty close."
"It's a natural evolution, and what happens as more filmmakers see this and want to try it, it'll kind of force the theaters to do it," he said. "The theaters are about filling seats and if they think they can fill more seats by having the projection equipment that can accommodate 120 frames or even 60, they're going to do it."
Pick up your copy of Gemini Man here
While thoughts were at one point to have Clint Eastwood (Richard Jewell) to star in the role fighting against his younger self, once Smith signed on, Lee did a page one rewrite to update the age gap to be a little smaller than it would have been with the Oscar winner. Bruckheimer described the change as "not really hard," as the smaller gap allowed for the actor to do more physical stuff, given "there's some pretty, pretty huge fights in there."
As we head into a new decade, Bruckheimer is seeing the return of two of his most iconic franchises to the big screen, with the long-awaited threequel Bad Boys for Life hitting theaters in January and the Tom Cruise-starring Top Gun: Maverick flying into theaters in June. The original films in both series he produced with producing partner Don Simpson, who passed away in 1996, and Bruckheimer believes "he'd be thrilled" to see these franchises come back and that he himself is excited about their returns.
"It's like visiting an old friend," he said. "It's great to get back to working with Tom again after all these years. Last time we worked together was Days of Thunder and to be back with Will and Martin, they're such a great pairing. They're good friends and they had such a fun time shooting the movie and being on screen together. It was a real joy, it's like going to summer camp all over again."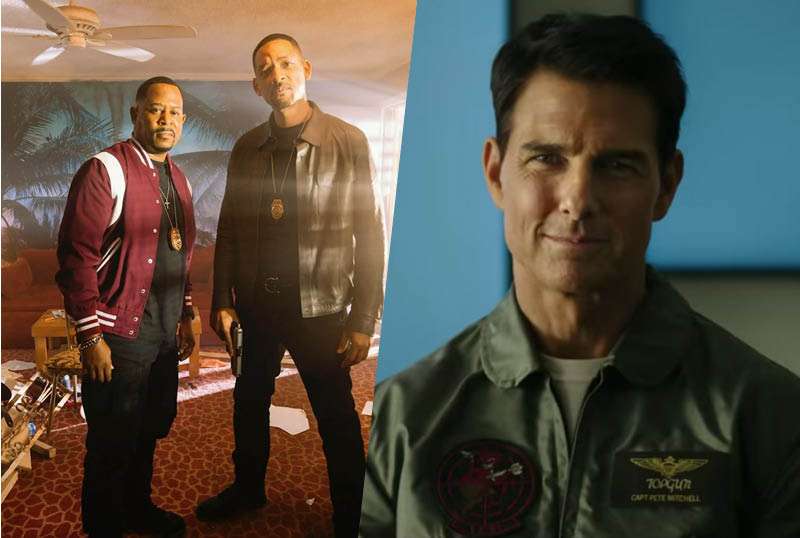 Having worked with Cruise a few times prior and knowing the actor's love for doing his own stunts and keeping things practical, Bruckheimer knows he should be worried about the 57-year-old actor still taking on the risks, but says that "Tom is such a perfectionist, he wouldn't be in there if he didn't think he could handle it."
"He's trained," Bruckheimer said. "You've never seen a person work diligently about taking care of himself and making sure everything is perfect. He worked with some of the greatest naval aviators that work with him. The first time he wanted to do it, we put Tom up in a 14, and he was the only one that could handle it. We put the other actors up there and they all threw up and we couldn't use one frame of it. So this time, we spent three months training the actors to do it.
In addition to producing plenty of big-budget action projects, Bruckheimer is known for working with directors who got their start in the world of advertising and music videos, from Tony Scott (Top Gun) to Adrian Lyne (Flashdance) to Michael Bay (6 Underground).
"I believe that visually, I have to give something really interesting to an audience, something that, whether a commercial or a trailer, is they don't know it's unique looking, but it is," he said. "People who are trained in the visual arts, like a lot of the commercial directors, who started in film school or they're artists or they have a very strong visual sense. It's moving pictures and let's make it as interesting looking as possible, so it sets it apart when you're watching the commercial or the trailers for it."
RELATED: New Bad Boys for Life Poster Goes Heavy on the Pastels
One of the franchises that saw a drop following the exit of Bruckheimer as a producer in Beverly Hills Cop, for which he produced the first two of the Eddie Murphy-starring trilogy. A fourth film is currently in the works with Murphy returning in the lead role and directors Adil El Arbi and Bilall Fallah (Bad Boys for Life) attached to direct and production set to commence following completion of production on Murphy's other legacy sequel Coming 2 America. After years of trying to bring the action-comedy franchise back to life, Bruckheimer believes they've found the right path for getting the series back to its quality roots.
"It's all in the story and the storytelling because the actual character is a great character, and now Eddie's coming out with Dolemite is My Name and you could see he's never lost the great talent he has," Bruckheimer said. "He's even better, so I think we'll have fun developing the story and working with him. He's wanted to do it for years, it's just we could never get the studio to do it, with the studio changing management, so everybody had a different point of view of what the movie should be."
(Photo Credit: Backgrid Images)
We are a participant in the Amazon Services LLC Associates Program, an affiliate advertising program designed to provide a means to earn fees by linking to Amazon.com and affiliated sites.
Gemini Man
Gemini Man

Gemini Man

Gemini Man