ComingSoon.net got the opportunity to chat with Fast & Furious franchise narrative architect Chris Morgan to discuss the hit spin-off of the action blockbuster series, Hobbs & Shaw, just in time for it hitting shelves on Blu-ray and DVD. From on-the-fly rewrites to friendly jabs at HBO's Game of Thrones, Morgan gave us an insight into how the buddy comedy spin-off came to life!
RELATED: CS Video: Director David Leitch & Crew Discuss Hobbs & Shaw
In addition to Dwayne Johnson and Jason Statham, Vanessa Kirby (The Crown), Eiza Gonzalez (Baby Driver), Eddie Marsan and Idris Elba (The Dark Tower, Avengers: Infinity War) also star.
Directed by Deadpool 2's David Leitch, the film will follow Dwayne Johnson's Diplomatic Security Service agent Luke Hobbs and Jason Statham's assassin Deckard Shaw. The spin-off features a script from Chris Morgan, who has worked on the franchise since Tokyo Drift in 2006.
Ever since hulking lawman Hobbs (Johnson), a loyal agent of America's Diplomatic Security Service, and lawless outcast Shaw (Statham), a former British military elite operative, first faced off in 2015's Furious 7, the duo have swapped smack talk and body blows as they've tried to take each other down. But when cyber-genetically enhanced anarchist Brixton (Idris Elba) gains control of an insidious bio-threat that could alter humanity forever — and bests a brilliant and fearless rogue MI6 agent (The Crown's Vanessa Kirby), who just happens to be Shaw's sister — these two sworn enemies will have to partner up to bring down the only guy who might be badder than themselves.
Hobbs & Shaw blasts open a new door in the Fast universe as it hurtles action across the globe, from Los Angeles to London and from the toxic wasteland of Chernobyl to the lush beauty of Samoa.
Johnson produces alongside Dany Garcia and Hiram Garcia through Seven Bucks Productions. Statham, Neal H. Moritz for Original Film and Chris Morgan for his eponymous production company also produce, with executive producers Kelly McCormick, Steve Chasman, Amanda Lewis, Ainsley Davies and Ethan Smith.
RELATED: Hobbs and Shaw: Jason Statham on the Tone of Fast and Furious Spin-Off
ComingSoon.net: So I've got to ask, how do you really feel about that Game of Thrones finale?
Chris Morgan: That's funny. I actually, I think Game of Thrones is genuinely the greatest television show ever made. I'm so hooked on it from beginning to end. I loved it. I think with [Ryan Reynolds'] Locke character and the loving digs with it, we were just having fun. It was something that was happening at the time we were shooting, so we just decided to kind of throw that in there. But yeah, I love it all the way through.
CS: So you mentioned Locke. How did his character and Kevin Hart's character really come about? Did you envision them in those roles while writing it or did that come once Dwayne and David Leitch signed onto the movie?
Morgan: Actually a little of both. You know, we had written the film and knew we had spots for the characters. With Dwayne, having worked on a bunch of movies with Hart, we always are in sync early on about what we're trying to do and we knew we were going to try and get Kevin in there. And then, it just kind of developed as the movie developed and we found the right spot for him. With Ryan, David had just finished working with him on Deadpool 2, and he had been talking about the film and maybe finding a way to come in and what the roles were. We just developed it with him together, so we knew that that might be a possibility. And then, as it got real, we worked in sync and made it something fun.
CS: So with those two on set, especially Ryan, they're very known for their improv. Did they go off-script quite often, did you notice in the final cut? Or did they actually stick to a lot of the humor you guys had written, you and Drew Pearce?
Morgan: They are total pros. So they do all of the above, right? We write a version of it and then share it with them, get their thoughts. Sometimes they'll do a pass on it and we'll get it back and we'll do something with it. When they come in, they'll run through all of it. As things come up, they will just start improving like crazy. We have so much footage that we didn't use of improvs that is hysterical, but different takes and kind of tonally you kinda can't cut all the stuff into one version or one scene, or it would become way too long. But man, it was so funny.
Those were the best days on set, when people are just feeling it and you're just having fun and the whole crew is laughing. That's when you remember, despite the hours and despite the pressures, [where] you have to get this much stuff done during this day, [and] if you lose this section, you won't be able to pick it up later, how are we going to fix that if we don't. There's all those kinds of management headaches of movie-making, and those sequences are the days where you just forget about all of that and everyone's just having fun.
CS: So it sounds like you were on set a lot then during production?
Morgan: Every minute. Every single minute. But that's the job, as a writer, but more so as a producer, you are there to kind of guarantee that the translation of the script to screen is what the studio is paying for and what the fans want and tonally is representative of Fast. And yeah, you've got to be there to help out.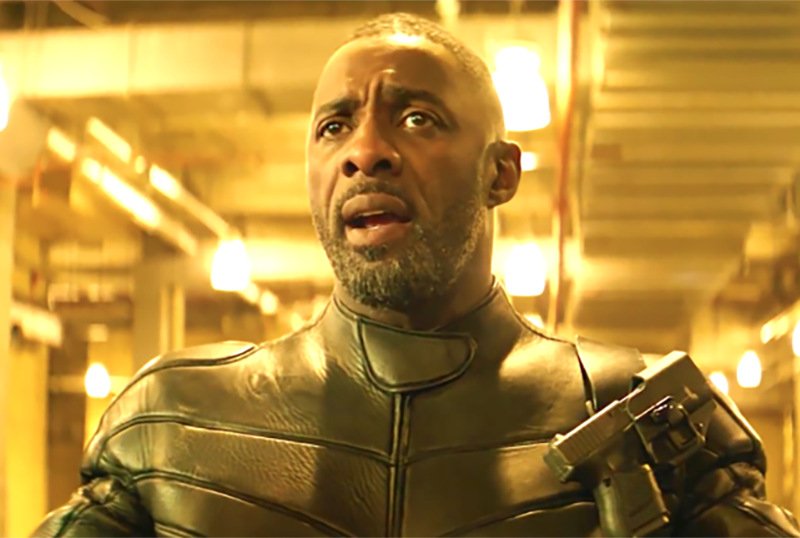 CS: So how would you describe that feeling on set of watching the cast, the director, the action all kinda come together?
Morgan: For me, it's a dream come true. I worked at a video store for like 10 years, I love films, I love stories. I love television as well, but I was kind of raised on like '80s action movies and I spent a large portion, like most people, of my teenage years in movie theaters. So to be able to be on the set of something that you're proud of and working with people that are literally the most talented in the world and some of the most fun people in the world, and then to get what you need to get done and on top of it, because everyone's so professional and you've made up the time, to have the freedom to then just you know vamp and have fun.
It's very funny because a lot of times people will buy a concert ticket and they're so excited to go to the concert and they're there and they're seeing their favorite band live and they're a part of that experience and you're feeling it. That goes into your memory book as a highlight of some sort, you know? [This was like] one of the best concerts I've ever been to, a high moment in my life. Working on these movies is that on a daily basis.
CS: So you mentioned that you grew up on a lot of '80s action movies, and there is kind of a buddy cop feel from the '80s in this. What did you have in mind to kind of set yourself apart or to set this one apart from most other buddy comedies?
Morgan: Well, I'd say in terms of setting things apart, the first thing I should probably say is that for David Leitch, it was so important when we were developing the movie to make sure this movie was definitely grounded in the world of Fast and Furious, but he really wanted it to have a tone that made it feel like it's not just the same thing. It's the Fast and Furious world, but it's a little heightened, it's a buddy action comedy, there's more comedy in this than you would normally find in a Fast and Furious movie. You know, it's a little poppier in terms of the look and the feel, so those were like a couple of important things to get its own specific tone.
Then, I would say in terms of what makes it different than a classic kind of buddy action movie, two things. One is we get a chance to really get into who these guys are. We know a lot about them from the earlier installments of the films,  we know how they go on a mission and how they react and how they fight and who they like and don't like. But we really don't know where does Hobbs come from? Why is he the way he is? Where does Shaw come from? So one of the different things I think is we got to explore a little bit more of our buddy cops' backgrounds than you'd normally get a chance to do. We got to explore Dwayne's kind of Samoan ancestry, and we get to see more of Jason's character's family. So we get to play a little bit more with their backstories, and then, we also get to add an element of sci-fi into our buddy cop movie with Idris Elba being this sort of high tech future tech super-soldier. I think that's probably another element that feels a little bit different.
CS: Yeah, that was really crazy to see. I almost thought he was going to be impossible to beat. How did you kind of craft that character?
Morgan: Well, the reason we went with the tech is pretty specific, which is for the audience, they see Hobbs like a charging bull just kind of mow his way through a lot of opponents. They've seen Shaw do the same, different styles, but be able to do the same. So when you have them go up against one opponent, that opponent needs to be so bad, so effective, so talented, not only a great intellect but also just in terms of physicality. He has to beat them down individually so that the only hope of them solving the problem of the movie is for them to actually swallow their pride and work together with the last person in the world they want to, which is each other. So we gave Idris his superpower with tech a little bit, just so he could completely beat those two guys down that you've seen be so strong for so many films.
CS: So how did Idris come into the role? Did you envision him in the role when writing it or did you have someone else in mind?
Morgan: For sure, for Idris, yeah. He's a friend and he is literally one of the most talented actors in the world and he is a legitimate badass kickboxer. So we knew when we were designing someone for the guys to go up against it had to be him. So we just reached out and fortunately, he was excited about it and up for the challenge. You tailor for when you're getting ready to go forward with the film for your actors, so we were very lucky that he was available and excited.
CS: So with exploring the backgrounds on both Hobbs and Shaw in this movie, we kind of get a look deeper at their family, what was your biggest goal with balancing each one's families out? Because we obviously get to see the mom and sister on Shaw's side and then we get to see the huge family on Hobbs' side. What were your kind of thoughts when it came time to look into both of them?
Morgan: I think just to humanize them, you know? These two guys are these alpha male tough-guy hero characters that come off kind of as perfect and you want to ground them. I've talked a lot to Dwayne about this, you want to show that Hobbs is someone's child, is someone's brother. Hobbs hasn't always been the biggest, toughest guy. He used to get his ass beat when he was younger by his brothers, just to humanize that character to the audience, and also to make him a little more reflective of the people in the audience [was the goal]. I think you attach to characters and their journeys more when you can see a little bit of yourself in them. I think we just wanted to dig into his back story about where he comes from, why he is who he is. There's just all these unanswered questions earlier in the franchise that I just thought it was time to explore. And we finally in a spinoff have the space to do so.
CS: So you mentioned earlier in these franchise these guys coming in with Deckard Shaw, obviously, he came in as a villain in Fast 6 post-credits scene and then in 7. Was it always your intention or your thought to transition him towards more of a heroic role?
Morgan: Yeah, I think so. From the original design and the original conversations we had with Jason, the good news with these films, we've been very lucky in that we don't do one-off films. The audiences embrace them and they like kind of the soap opera-y saga of this crew and these adventures and this family. So when you tend to think when you're doing a movie you think beyond just what you're doing, you tend to think down the road. And what's the lesson these characters need to learn? Where is the endpoint for them? Where would we like to get them to? And so, those are always early conversations and ongoing and always evolving conversations. But yeah, as a writer, you always try to think ahead of that for sure.
Purchase your copy of Fast & Furious Presents Hobbs & Shaw here!
We are a participant in the Amazon Services LLC Associates Program, an affiliate advertising program designed to provide a means to earn fees by linking to Amazon.com and affiliated sites.
Hobbs & Shaw
Fast & Furious Presents: Hobbs & Shaw

Fast & Furious Presents: Hobbs & Shaw

Fast & Furious Presents: Hobbs & Shaw

Fast & Furious Presents: Hobbs & Shaw

Fast & Furious Presents: Hobbs & Shaw

Fast & Furious Presents: Hobbs & Shaw