As some may know, I am a big Hellboy fan – to the point that David Harbour previously agreed to officiate my wedding in the full make-up (before his schedule made it impossible). In November of 2017, when Harbour was still filming the movie, myself and a group of journalists flew to Bulgaria to see the set and interview the cast. While there, I managed to do something that I didn't set out to do, I taught the star of the movie something about the character he was playing; at least something from the comics.
One thing became obvious while watching David Harbour on set all day and in our talks about the film: He is STOKED to be playing Hellboy. Harbour has thought a lot about what it means to be playing the character in a new movie, both how it relates to the Guillermo Del Toro movies starring Ron Perlman and how it relates to the source material. He did his homework, and he knows what he's doing.
While speaking with him in our set interview, the subject turned to his meetings with creator Mike Mignola, whom he said he talked and texted with frequently in order to learn specific details about the character. Harbour revealed having pored over the comics, even creating a binder of images of Hellboy with different gestures he does, how he carries his body, ways that he holds his jaw, etc, so that he would have a framework for his own movements and gestures on the set. Some questions though, went unanswered.
"I sort of approached it from the outside in," Harbour said. "Which is something I kind of rarely do, but it was very broadening as an artist for me, because now you have a framework and now you have to go back in and you have to find these things, where they're justified sort of in a person's psyche."
This led to one of Harbour's specific areas of interest about Hellboy.
"So one of the big questions I had was when did he start shaving his horns? Like how old was he? At what point was he with Broom and he was like, 'You know what? I'm going to start chopping these things off and I'm going to start like, sanding them down because I'm embarrassed.' So that was a big question for me."
Another journalist chimed in to follow up there and ask if he brought this up to Mignola. Harbour said he did and that unfortunately Mike "didn't really have an answer."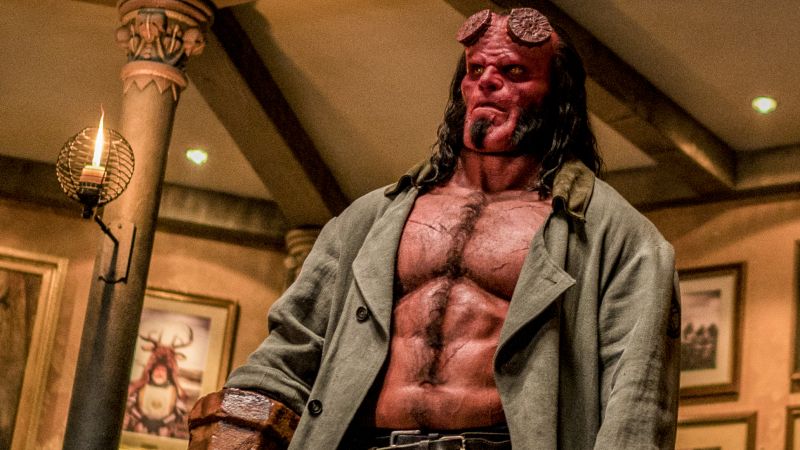 Naturally, as a fan that has devoured every book in the realm of the Hellboy universe, who kept his ears open for any sort of clue he could find on the set, this signaled a red alert in my head.
"It's in the books," I said.
Surprised, Harbour started asking me questions.
"Is it?"
"In BPRD 1948."
"Oh Jesus Christ. What does he say? How old was he?"
"He's like three."
In truth, Hellboy starts sawing off his horns after he tries putting on the air force cap worn by one of the men on the base where he was raised. The cap doesn't fit on his head and gets squished between his horns, causing the airman to laugh, and embarrassing Hellboy to the point that he steals a saw and slices off his horns. It's a sad moment for a young half-Demon.
Harbour revealed, "I have him doing it a little later, but you don't see it in the movie. It's just in my head."
He punctuated our exchange: "Goddamn. Amazing."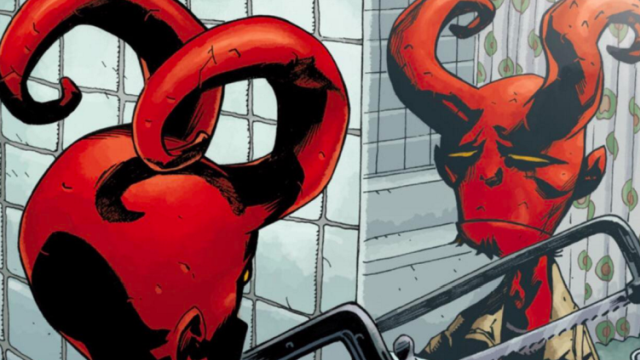 I can't fault Harbour for not knowing; the event he wanted to know about happens in a book that's not even explicitly about Hellboy. He plays a minor part in it, basically the C-story which just fills in holes about his life as a young boy. Plus, the film will primarily focus on grown Hellboy, of which there is a variety of stories and comics to pull from.
I've done countless set visits for cool movies, things like Guardians of the Galaxy, War for the Planet of the Apes, Avengers: Infinity War, Shazam!, but truthfully Hellboy was the most special. Hellboy is a character that means the world to me. He's defined by following his own path and rejecting the thing that everyone told him he was supposed to do. That's not even accounting for the genius writing and art throughout all the stories, and the variety of other characters there.
There's also the above, that 30 seconds where the interview format dissolved and David Harbour found a person that he could learn something from. It was a surreal moment for me as a fan; not in a Comic Book Guy from The Simpsons, "I can't believe he didn't know about this one moment from this one book" kind of way, but in a "The guy that is literally playing my favorite character in a movie is asking ME questions about the character" way.
I won't presuppose that this moment had any change on Harbour's ideas for the character, but it was meaningful to me. If it led to him picking up yet another comic book for research, that's all any fan could want, sharing the wealth of the thing they love.
David, if you have any more specific questions, you know where to find me.
Hellboy opens in theaters on April 12, you can buy tickets by clicking here!
Hellboy (2019)
Hellboy (2019)

Hellboy (2019)

Sasha Lane as 'Alice Monoghan', David Harbour as 'Hellboy', and Director Neil Marshall in HELLBOY. Photo Credit: Mark Rogers.

Hellboy (2019)

David Harbour as 'Hellboy' and Sasha Lane as 'Alice Monoghan' in HELLBOY. Photo Credit: Mark Rogers.

Hellboy (2019)

HB_D56-9738.ARW

Hellboy (2019)

David Harbour on the set of HELLBOY. Photo Credit: Mark Rogers.

Hellboy

Hellboy

Hellboy

Hellboy

Hellboy

Hellboy

Hellboy

Hellboy2

Hellboy Steelbook 2

Hellboy Steelbook

Hellboy

Hellboy

Hellboy

Hellboy

Hellboy

Hellboy

Hellboy

Hellboy

Hellboy

Hellboy

Hellboy

Hellboy

Hellboy

Hellboy

Hellboy

Hellboy

Hellboy

Hellboy

Hellboy

Hellboy

Hellboy

Hellboy

Hellboy

Hellboy

Hellboy

"Peace dinner" between Ron Perlman and David Harbour, moderated by Patton Oswalt.

Hellboy