In the entertainment world, there are many individuals that were sent to entertain us and were taken from the world way too soon. People like Kurt Cobain, Amy Winehouse, Heath Ledger, John Candy, John Belushi, Michael Jackson, and more were taken too quickly. They died too soon and were gone too young. Many of these artists succumbed to personal demons, mixed with self-medication. Drug overdoses and suicides claimed the lives of too many. There was pressure to always be "on," to always be "funny" or to always be our heroes. Sometimes, it was too much. Some of these people had a lot of pain behind their eyes, but they chose to laugh through the pain anyway, for our benefit
Chris Farley was one of these people. He was a Saturday Night Live standout before embarking on a film career that produced some of the funniest movies the world has ever seen. As a large man, Farley embraced his weight and used it to his advantage. His self-deprecation made all of us laugh, but the cost was a great one. Fame, money, and deep insecurity led Farley down a dark path that ended with his untimely death. That is not and should not be what he is remembered for though. Chris Farley should be remembered as the man who made us laugh, the man who made fun of himself and told us it was okay to laugh at the "fat man in a little coat." We laughed. And because of his body of work, we will continue to laugh. Chris Farley gave us everything he had with his performances and those performances are how we choose to remember him. These are the 5 Best Chris Farley Roles.
5) Beverly Hills Ninja (1997)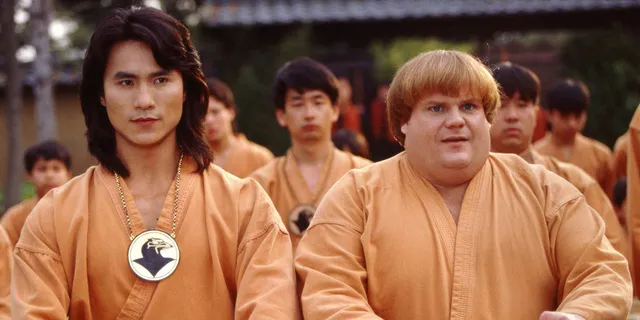 Did you know that you wanted to see Chris Farley in a Kung Fu movie? Nobody else did either, but that's exactly what audiences got in 1997 with the release of Beverly Hills Ninja. Farley starred as Haru, a bumbling (you're going to read that word a lot) yet good-natured young man who was adopted by a secret society of Japanese ninjas who trained and raised him as their own. Despite his heart and earnestness, Haru isn't a very good ninja. He is still tasked with rescuing a young woman from California though. Haru goes on a journey towards Western Civilization in order to save the girl and find himself. Despite some mishaps, he ends up doing both. Beverly Hills Ninja somehow gets you emotionally invested in young Haru's journey. This is mostly due to Farley's own earnestness that he brought to every role he played.
4) "Angry Bus Driver" – Billy Madison (1995)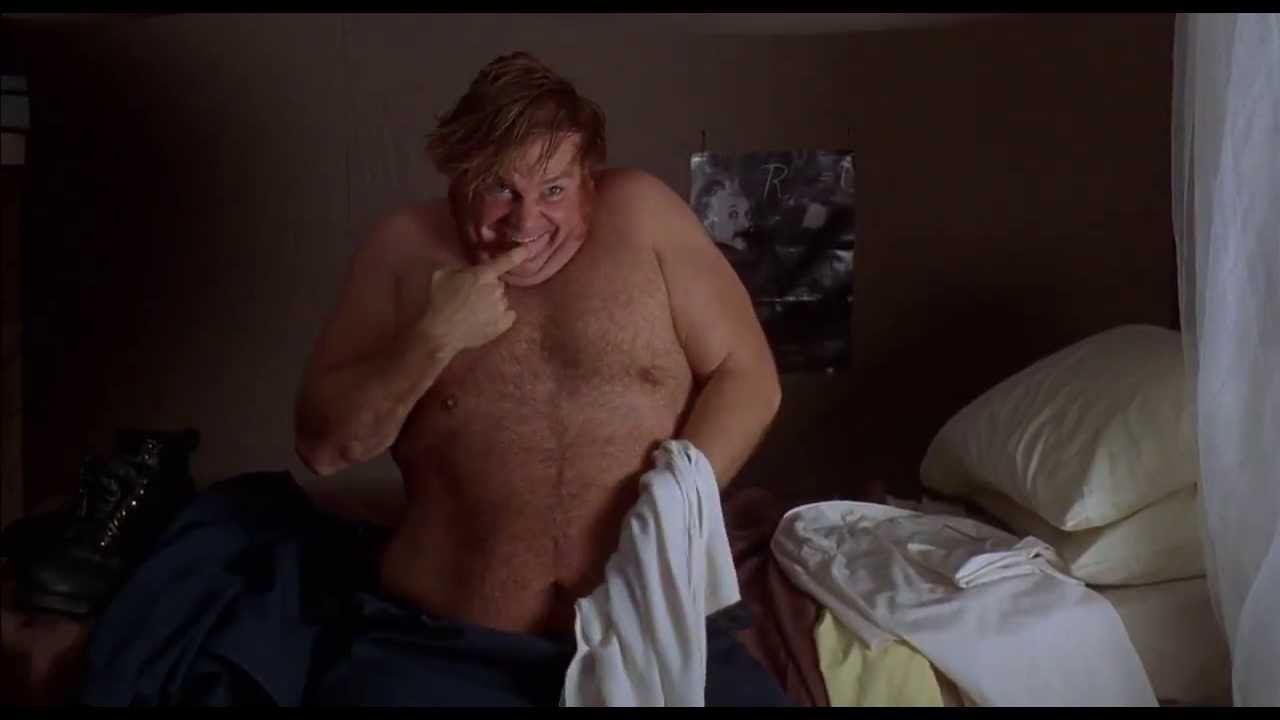 Though he didn't have much screen time in the 1995 film Billy Madison, Chris Farley absolutely stole the show with his performance as the "Angry Bus Driver." This was, arguably, Adam Sandler's best movie ever. Farley is one of the biggest reasons why. In addition to being extremely neurotic whilst driving a bus full of school children, the Bus Driver also has a few hilarious moments with the titular Billy Madison. Whether he's recalling stories in which he hooked up with Veronica Vaughn (no, he didn't), eating the lunches of all the school children, or helping Madison with his History homework via a striptease (it makes sense in context), Farley absolutely makes the most of his screen time in one of the 90's best comedies.
3) Mike Donnelly – Black Sheep (1996)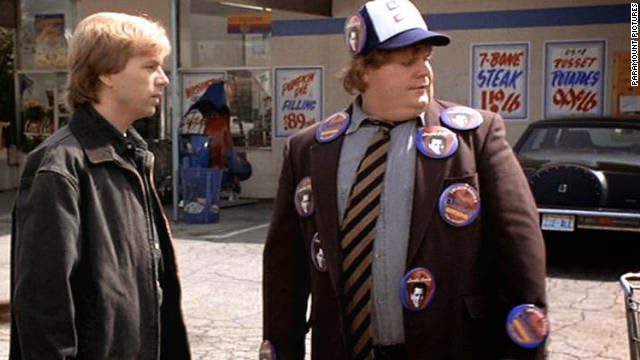 Reuniting the comedic pair from Tommy Boy, Black Sheep stars Farley and David Spade as two men hoping to get Mike's brother, Al, elected to be Governor of Washington state. Despite his best intentions and love for his brother, Mike acts as more of an embarrassment than anything. Mike is sort of the Black Sheep of the family (get it?) but he cares about his brother and wants to help him become Governor, while also uncovering a political scandal involving Al's opponent. Black Sheep isn't as good as Tommy Boy, but it was a fairly successful follow-up and it was always nice to see Farley and David Spade on screen together. The two had incredible chemistry that, sadly, only Farley's death disrupted.
2)  Bartholomew Hunt – Almost Heroes (1998)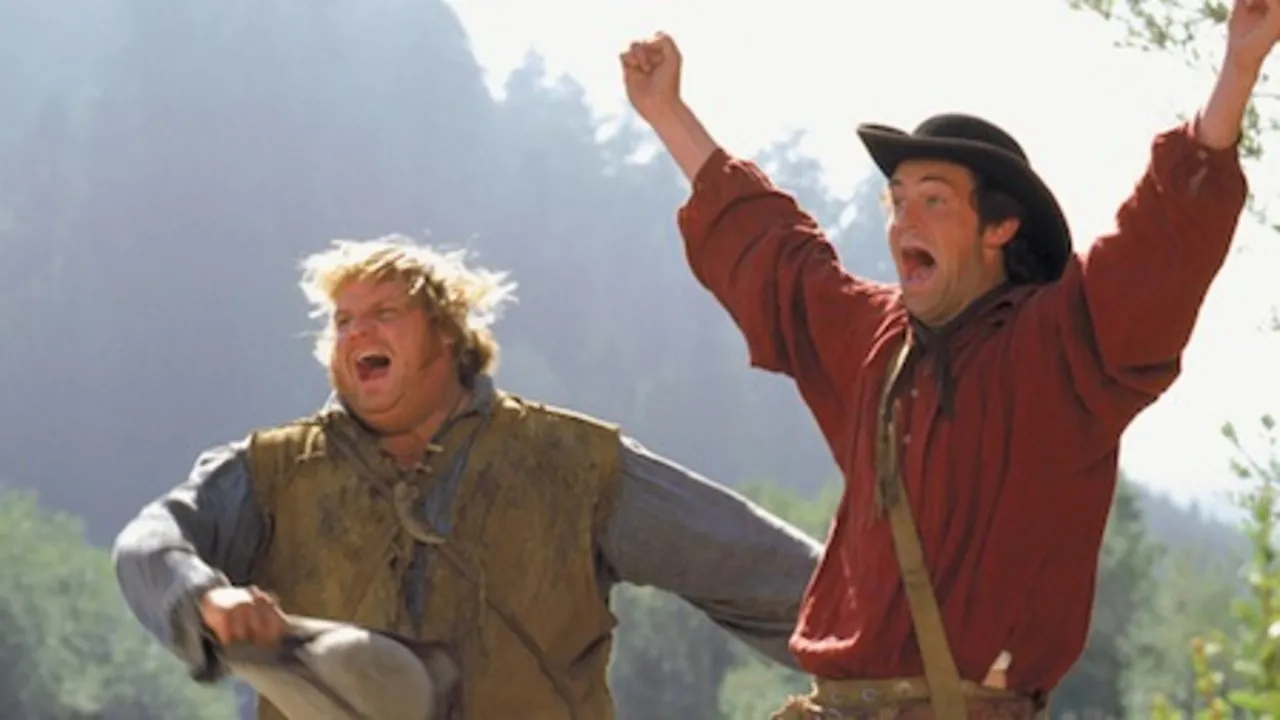 Did you know that there was another expedition to explore the Pacific Northwest, besides Lewis and Clark? Well, there was and it was led by Chris Farley and Matthew Perry. The two played Bartholomew Hunt and Leslie Edwards, respectively. The chemistry between the two almost rivaled that of Farley and Spade. Edwards recruited Hunt to guide him and a group of fellow-explorers to the Pacific Ocean, competing directly against Lewis and Clark. While critics panned the film, many highlighted Farley's involvement and said he was the best part of the movie. This was a fitting tribute, as it was his last major film role before his death. Almost Heroes was satire in the best possible ways, taking historical facts and twisting them into a joke. Perry did a great job and reminded audiences that there was more to him than just being Chandler Bing from Friends. Farley, for his part, hit all the typical beats and had some great physical comedy in this film. Almost Heroes may not be Chris Farley's best movie, but it was it almost was.
1) Tommy Callahan- Tommy Boy (1995)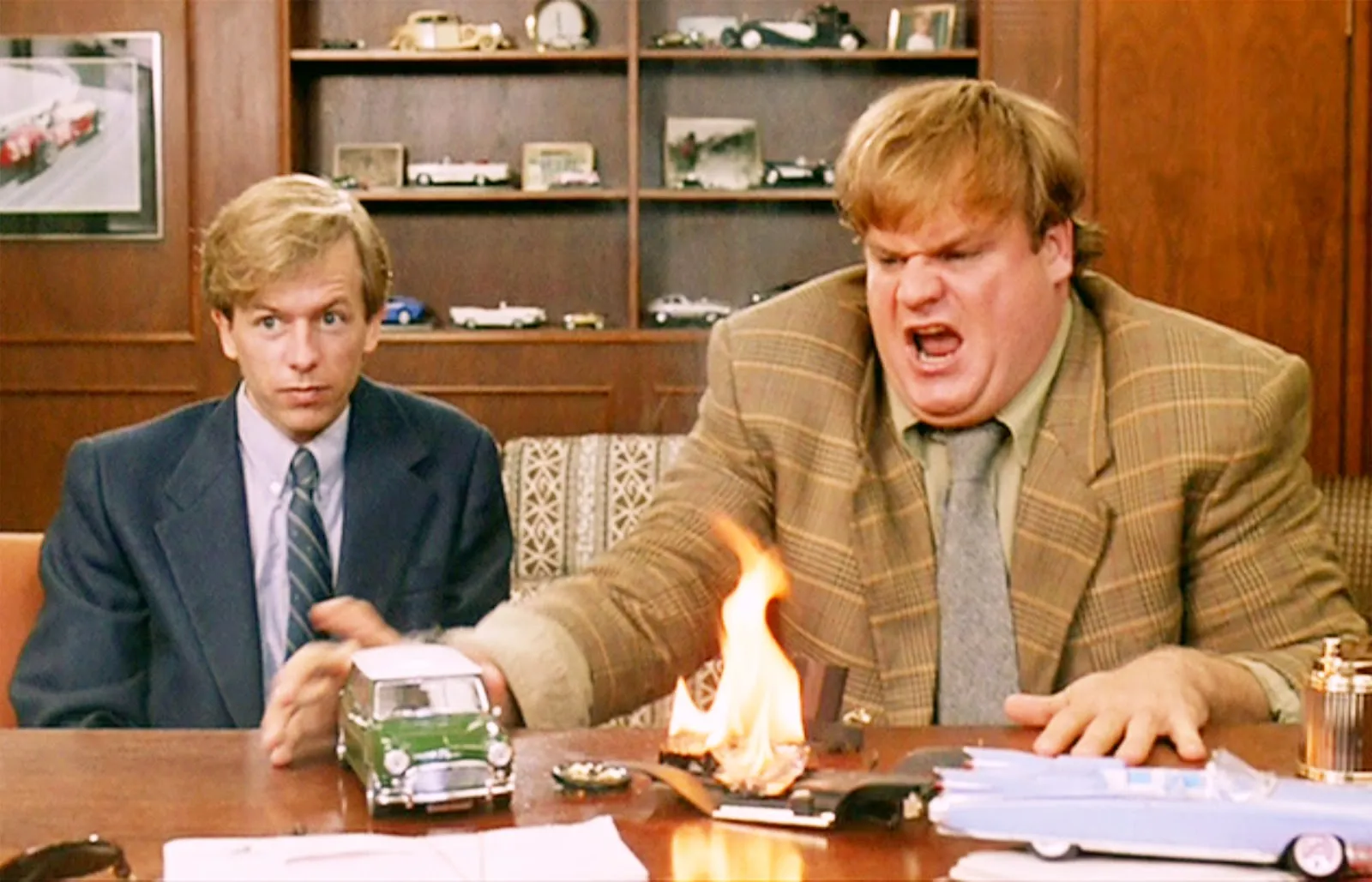 How could the number one entry on this list be anything other than Tommy Boy? Tommy Boy was a classic film that hit all the right spots for audiences. It was a buddy comedy starring Farley and David Spade and it was the film that launched Farley into the stratosphere. Tommy Boy told the story of the underachieving, bumbling but good-natured (we're done now) son of Big Tom Callahan (played by Brian Dennehy). When Big Tom passes away suddenly on his wedding day (much to the delight of his gold-digging widow and her fake son/real boyfriend) it's up to Tommy and his childhood frienemy Richard (played by Spade), to save the family business and stop Tommy's new step-mom from taking a huge buyout from a rival company.
Tommy Boy is the film most people remember Chris Farley for. It's the way most of us remember him by because it showcased all of the best things about him. He was funny and overbearing at times, but he had an incredible heart and was just trying to do the best he could. For fans of Farley, that's all we could have ever asked for.