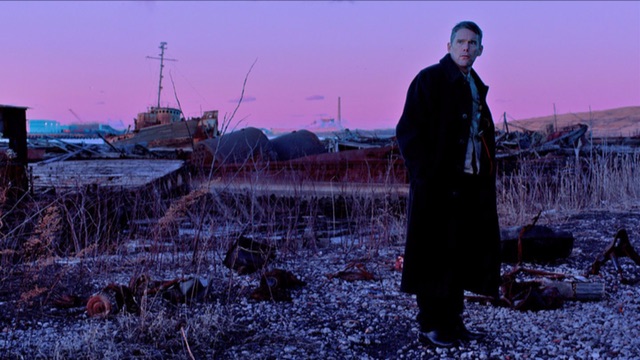 Ethan Hawke is masterful actor. The way he speaks about his craft in interviews, one can easily see how dedicated and proud he is of his work. Aside from being an actor, he has also written three novels and directed a handful of films. No two ways about it Hawke is dedicated to storytelling, whether it be on screen, behind the camera or at the bookstore. Though he has never won an Academy Award, he has been nominated four times. Twice for his acting—Boyhood and Training Day—as well as twice for his writing—he and co-star Julie Delpy helped write Before Sunset and Before Midnight with director Richard Linklater. He is a unique talent indeed. Here are his seven best films to date.
First Reformed
(2017)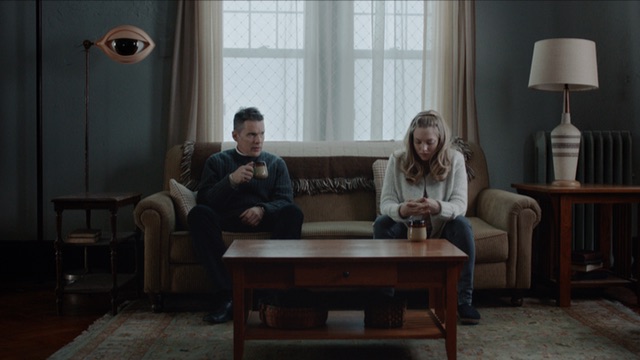 First Reformed is a beautiful, emotional film from Paul Schrader. Schrader worships at the altar of transcendental film and this piece is no exception. Inspired by the works of Robert Bresson and Ingmar Bergman, Schrader imagines a modern reverend of an old, old church torn apart by grief and anxiety. Hawke plays the aforementioned holy man, Reverend Ernst Toller. His church's attendance is dwindling and his health is in steep decline. Then, he has a world-shattering conversation with the depressed husband of one of his church's members. Amanda Seyfried, Cedric the Entertainer and Philip Ettinger round out the incredible cast. It is a haunting, beautiful film. One of the best of the past decade.
Boyhood
(2014)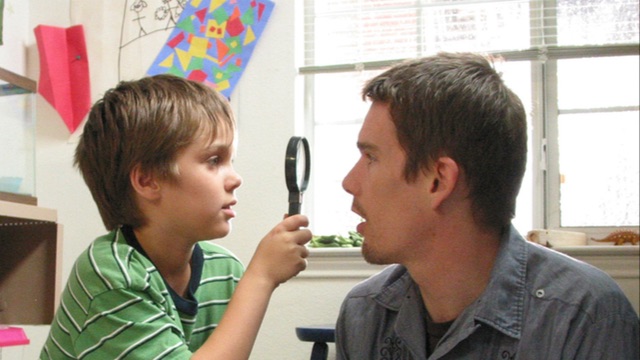 Boyhood was a stunning undertaking by Richard Linklater and his core cast which included Hawke, as well as Ellar Coltrane, Lorelei Linklater and Patricia Arquette. The film was shot from 2001 to 2013 to give the impression of truly passing time. It centers on Coltrane's character Mason, the eponymous boy, who grows from age 6 to 18 in the film. He grows up alongside his sister Samantha (L. Linklater) in the dual homes of their divorced parents, Mason Sr. (Hawke) and Olivia (Arquette). Together, they live their lives in a loose storytelling fashion that better portrays the mood of coming up—or raising a child—in the early 21st century rather than gives any particular message. The film was widely lauded, and deservedly so.
Before Sunrise
(1995)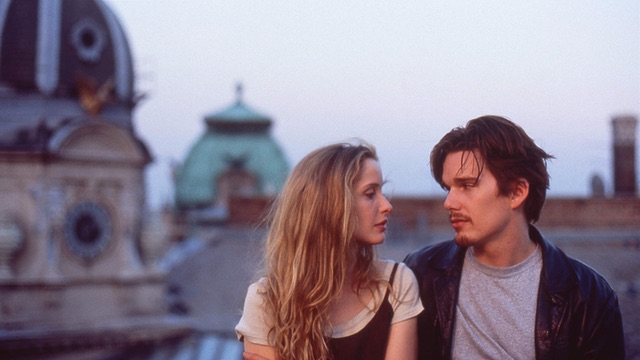 Before Sunrise is the first of a wonderful trilogy of thoughtful, romantic films from Richard Linklater. Hawke plays Jesse, an American who meets a French woman named Celine (Julie Delpy) on a train from Budapest to Vienna. When they reach Vienna, they leave the train together together and wander the city before Jesse disembarks toward his home in the United States the next morning. They speak openly to one another about the failings of previous relationships and how they make sense of the world in general to better understand one another. It is not an action-packed film by any stretch of the imagination, but it is a fascinating, minimalist piece.
Before Sunset
(2004)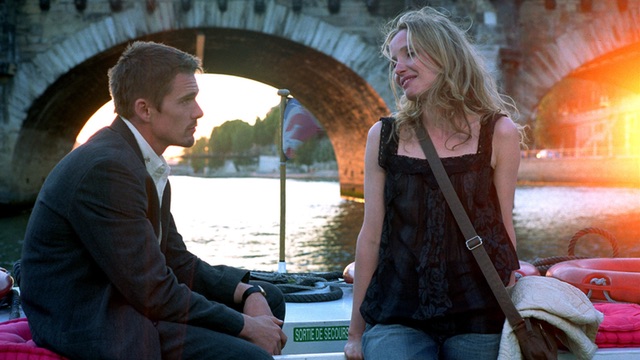 In Before Sunset, Hawke's Jesse and Delpy's Celine meet once again. In the time since, Jesse has written a novel based on his brief experience with Celine in Vienna all those years ago. The book has become something of sensation and he takes a European tour to discuss it. When he arrives in Paris for a presentation, he finds Celine in attendance. After its conclusion, they pick up where they left off. Now nine years older—both in real life and the film itself—they are different people than they were before. It is a beautiful meditation on how as a product of life, change and love are forced to interact with one another.
Before Midnight
(2013)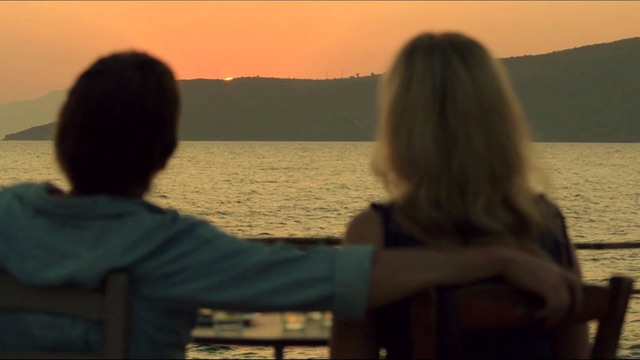 Nine years have once again passed since the previous Before film. The lives of Celine and Jesse have once again changed significantly as they did before. Because the passage of time is an unending march like waves crashing on a shore over and over and over again. The two find themselves vacationing in Greece, discussing their lives for a third and final time in this beautiful and affecting series of films.
Gattaca
(1997)
Gattaca comes from the mind of Andrew Niccol. Niccol imagines a world where a human being is valued based on their genes. In short, there are the haves and the have-nots, but they are referred to as "valids" and "in-valids." Hawke plays Vincent Freeman, one of the in-valids. That is, until he finds a way to impersonate a valid named named Eugene Morrow (Jude Law), which gets him nearer than ever before to achieving his dream of leaving Earth and exploring the final frontier. The film is thoughtful science fiction with a beautiful, minimalist design.
Training Day
(2001)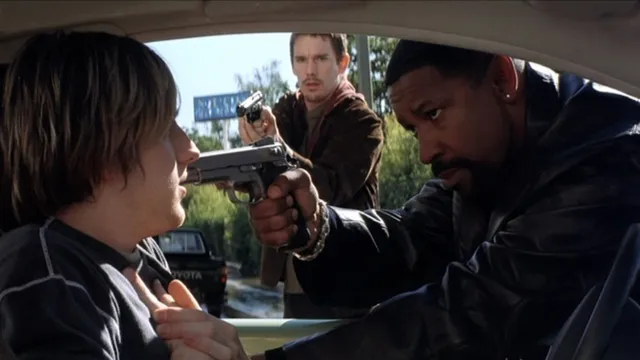 Training Day is easily one of Hawke's best-known films. Directed by Antoine Fuqua and written by David Ayer, the film follows a seasoned police officer Alonzo Harris (Denzel Washington) as he shows an ambitious young cop named Jake Hoyt (Hawke) the ropes of the LAPD narcotics unit. Jake, however, may be in over his head as Alonzo shows him many, many things that aren't in the police manual. Both actors were praised—especially at the Academy Awards—for their respective roles in the tense, cynical film.