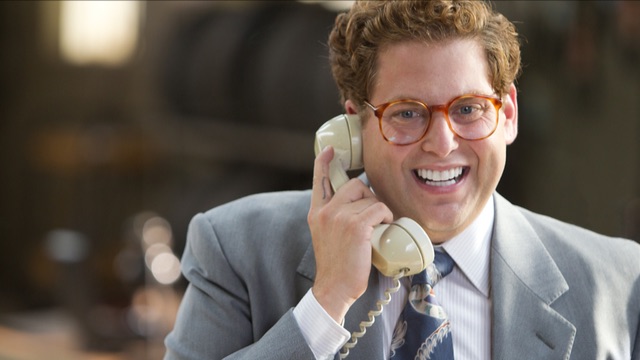 Jonah Hill has had an interesting—if not surprising—trajectory as an actor. His feature film debut was David O. Russell's I Heart Huckabees in 2004, followed closely by a small bit part in Judd Apatow's classic comedy The 40 Year Old Virgin, which in many ways helped launch the career of Steve Carell. Soon enough, he was a fixture of Apatow-directed and -produced films, including a starring role in Superbad and smaller but nonetheless hilarious parts in Knocked Up, Forgetting Sarah Marshall, Funny People and more. In the years since, he has worked with other prominent filmmakers including Martin Scorsese, Bennett Miller, Quentin Tarantino, Todd Phillips, the Coen brothers and Phil Lord and Chris Miller. He has been lauded for many of these roles by audiences and critics alike, and deservedly so. Here are his ten best films to date.
Superbad
(2007)
Superbad is one of the best comedies of its decade. Based loosely on screenwriters Seth Rogen and Evan Goldberg's own high school experiences, Hill and Michael Cera play best friends Seth and Evan, respectively. The two hope to impress their love interests Jules (Emma Stone) and Becca (Martha MacIsaac) by bringing alcohol to a house party. What appears at first to be a simple task is made complicated when their friend Fogell (Christopher Mintz-Plasse), who is their fake ID hookup, gets caught up in a liquor store robbery. The duo spend the rest of their evening trying to find a new source of booze, because they cannot show up to the party empty-handed. Even today, Hill and Cera's performances are riotously funny.
The Wolf of Wall Street
(2013)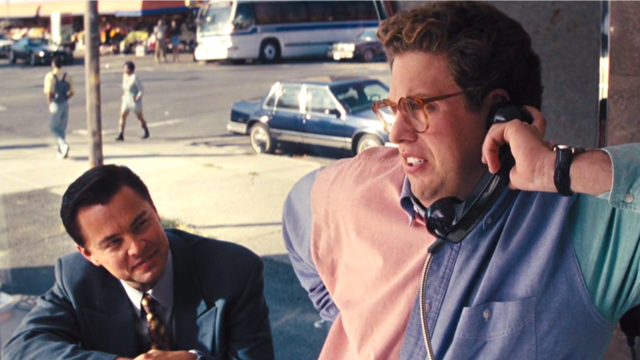 Martin Scorsese's dramatization of the life of fraudulent stockbroker Jordan Belfort would be incomplete without Jonah Hill. Playing opposite Leonardo DiCaprio's Belfort, Hill fills the role of Donnie Azoff. Belfort and Azoff start a brokerage firm named Stratton Oakmont which helps them rake in illegal millions. The film was controversial upon release largely because of the explicit content in depicts, but both Hill and Dicaprio's performances were—rightfully—lauded, as well as Scorsese's work behind the camera. Some argued it was his best since Goodfellas more than two decades prior.
Forgetting Sarah Marshall
(2008)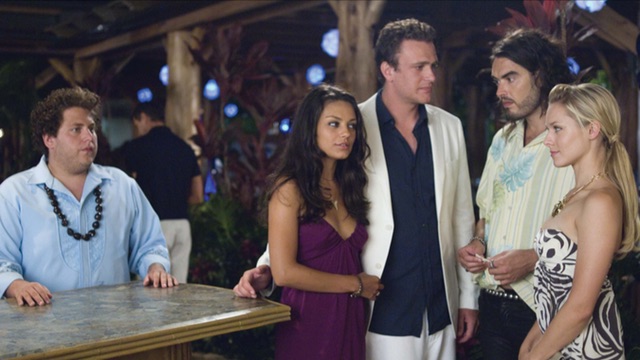 Forgetting Sarah Marshall has proven to be the pinnacle of Jason Segel's career to date, as both writer and star of the film. Segel plays a television composer named Peter Bretter who tries to escape the misery of his breakup with famous actress Sarah Marshall (Kristen Bell) by taking a trip to Hawaii. When he arrives, he finds that Sarah and her new boyfriend, rockstar Aldous Snow (Russell Brand) are staying in the same hotel. At first pitying him for his unfortunate situation, Rachel (Mila Kunis), the hotel's concierge, begins hanging out with Peter. Hill plays one of the many minor characters who make the film so funny, as well as Bill Hader, Maria Thayer, Paul Rudd and Jack McBrayer.
This is the End
(2013)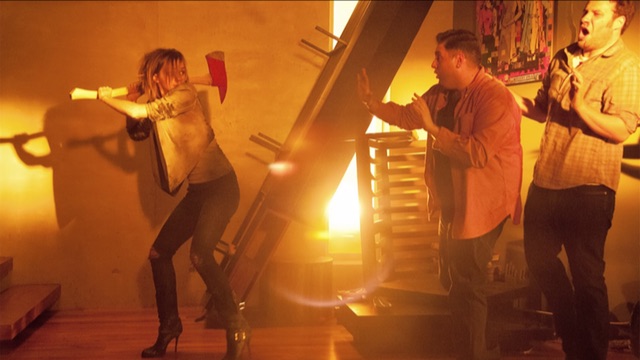 This is the End is a wholly unique film. Seth Rogen and Evan Goldberg team up once again to imagine a world where Rogen, Hill, Jay Baruchel, James Franco, Danny McBride and Craig Robinson—each playing a comedically heightened version of themselves—try to survive the Apocalypse as described in the Book of Revelation. The film is both raunchy and hilarious, in large part because of the central cast but also due to the myriad of actors in minor roles also playing themselves. Among the supporting cast are Emma Watson, Michael Cera, Kevin Hart, Paul Rudd and more.
Hail, Caesar!
(2016)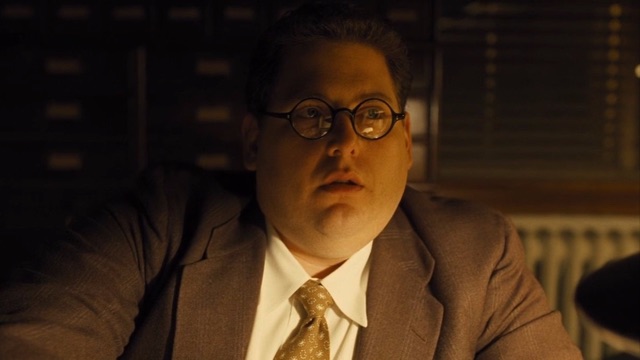 The Coen brothers put together a very funny ensemble for their film Hail, Caesar! Josh Brolin plays postwar Hollywood "fixer" Eddie Mannix as he goes about his occupation, trying to keep quiet the various scandals his studio's stars get themselves into. Among them is Baird Whitlock (George Clooney), who has been kidnapped, and DeAnna Moran (Scarlett Johansson), who is pregnant and unmarried. Hill plays Joseph Silverman, a financial agent for the studio who becomes an unconventional solution to one of Mannix's many, many problems. If not the Coens' best, it is nonetheless highly entertaining.
The 40 Year Old Virgin
(2004)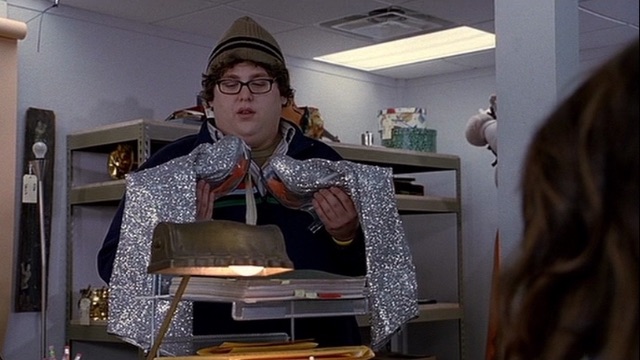 In Judd Apatow's The 40 Year Old Virgin Steve Carell plays the titular middle-aged virgin Andy Stitzer in a breakout role. Hill gives a small, hilariously deadpan performance as a confused shopper at the strange store of Trish Piedmont (Catherine Keener), a woman who Andy would like to date. Even today, The 40 Year Old Virgin is often touted as Apatow at his absolute best.
Moneyball
(2011)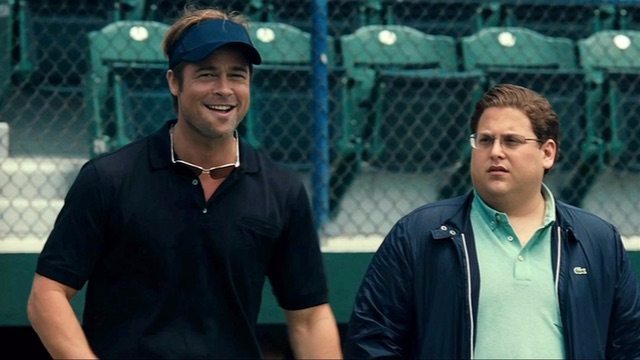 Moneyball dramatizes the story of the 2002 Oakland Athletics. The film, directed by Bennett Miller and written by Aaron Sorkin shows the baseball team with a hamstrung budget entering the new season. As a result, General Manager Billy Beane must get creative with his recruitment strategies. He hires Yale economics grad Peter Brand (Hill) as his Assistant General Manager and together they employ a new manner of evaluating players called sabermetrics in the hope that it will lead the Athletics to the World Series.
Django Unchained
(2012)
Quentin Tarantino brings his over saturated spaghetti western sensibilities to the Antebellum south with Django Unchained. Jamie Foxx plays the titular freed slave who—with the help of Christoph Waltz's German Dr. King Schultz—infiltrates the brutal plantation upon which is his wife Hilda (Kerry Washington) is being held. Leonardo DiCaprio gives one of his most memorable performances to date as the plantation master Calvin J. Candie. Hill plays a small bit part as one of the leaders of a Klan raid that falls apart before it begins because no one can see out of their masks.
21 Jump Street
(2012)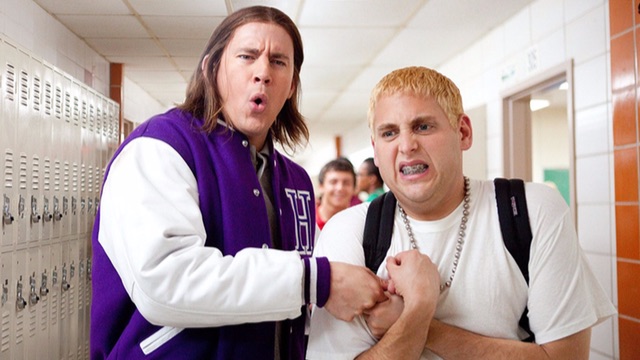 As well as starring in the film, Hill co-wrote 21 Jump Street, a comedic take on the late 1980s crime drama series of the same name. Hill and Channing Tatum play former high school foes Morton Schmidt and Greg Jenko, respectively. The two are now partners in the local police department. When they are assigned to work undercover at a high school to bring a synthetic drug ring to light, however, they find the power dynamics of students have shifted significantly since they were in class. The film also features a great supporting performance from Brie Larson, one of a few which would lead to her substantial prominence today.
22 Jump Street
(2014)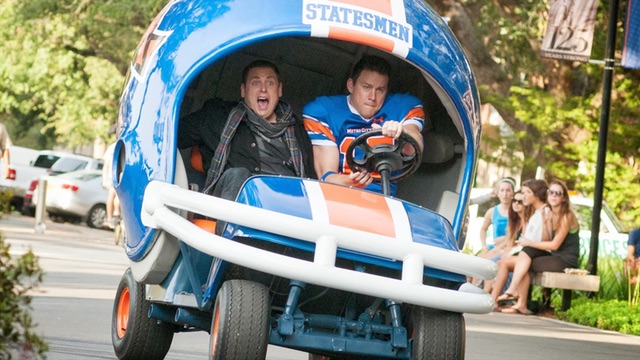 In a sort of meta-gag on the nature of sequels, the follow-up to 21 Jump Street sees Hill and Tatum's Schmidt and Jenko go undercover at a local college, once again hoping to infiltrate a drug ring there. With in Ice Cube, Peter Stormare and Amber Stevens West in funny supporting roles, 22 Jump Street, like its predecessor, is a wholly entertaining ride