Throughout the Christmas season, there is an innumerable amount of Christmas movies to be watched, preferably under warm blankets with cups of hot cocoa nearby. Movies such as A Christmas Story, Elf, Christmas Vacation, and It's a Wonderful Life are put on a month-long rotation, while channels like Hallmark offer up a slew of similarly-titled Christmas movies starring actors from the 90's finding love. The holidays are meant to be spent surrounded by family, in front of a fireplace with classic Christmas movies playing in the background. But, what on earth should you watch if you actually can't stand your family but still want to be festive? You don't give a sh*t about how many times a bell rings; you just want something on in the background while you get hella-drunk off of eggnog. Well, hypothetical reader, you have come to the right place. We can all finally agree that Die Hard is a Christmas movie, but what about these 5 films? Do they count as Christmas movies or should we watch them in that weird/awkward area between Christmas and New Year's Eve? You be the judge.
5) Step Brothers (2008)
What it's About: Brendan and Dale (played by Will Ferrell and John C. Reilly, respectively) are both forty-years-old and still living at home with their parents. When Brendan's mom meets and falls in love with Dale's dad, the two are forced to co-exist as stepbrothers.
Why it Counts for Christmas: Towards the end of the film, Brendan, Dale and their family are celebrating Christmas together. After a particularly eventful night of sleep-walking/sleep-destroying presents, Brendan and Dale's parents announce that they are getting a divorce…and that it's all Brendan and Dale's fault. Now, Brendan and Dale have even more of a reason to hate each other, but both must put aside their differences and grow up if they want to put their dysfunctional family back together. Besides the obvious Christmas timeline, Step Brothers counts as a Christmas movie because it shows how even the most broken, most dysfunctional families still need each other. Plus, it features Will Ferrell, who has become a household name around Christmas time thanks to his role in Elf.
Purchase now on Amazon for $9.99.
4)  Just Friends (2005)
What It's About: Just Friends is a story about Chris Brenner (Ryan Reynolds), a formerly overweight high school student who was desperately in love with his best friend, Jamie Palomino (Amy Smart). After an especially embarrassing encounter during a graduation party, Chris leaves town, vowing never to return. Ten years pass and Chris has become everything he imagined himself to be, all those years ago. He is rich, attractive, famous and, finally, confident. Circumstance or happenstance force Chris to return to his hometown, to finally face his past and woo Jamie, all while cow-towing to the musical artist his record company is trying to sign.
Why it Counts for Christmas: Christmas is the backdrop of the entire movie! Chris and his crazy musician/former lover arrive back in Chris' hometown just in time for Christmas Eve and the big day itself. Various Christmas shenanigans ensue, including an especially hilarious scene involving the complete destruction of a Christmas nativity scene. Just Friends also taught the audience a very powerful message about self-worth. If you're ever in a place to tell the person you love just how much you love them, throw caution to the wind and do it. At Chris' mom put it, "just be yourself."
Purchase now on Amazon for $9.99.
3) Kiss Kiss, Bang Bang (2005)
What It's About: This nourish comedy from director Shane Black and starring Robert Downey Jr. is about an aloof petty thief who becomes entangled in a murder mystery involving the sister of a former, and possibly current, flame. Said murder mystery involves a love from the past, a Hollywood director, and a private investigator named Gay Perry, played by Val Kilmer in possibly his best role not named Doc Holliday. It's a funny, irreverent, honest look at Hollywood and the scandals that surround it. RDJ is just as charming in this film as he is in any Marvel movie and the supporting cast does a phenomenal job as well.
Why it Counts for Christmas: The majority of the film takes place at Christmas time, but it's in LA so there's very little snow. There are lots of lights though! Plus, it was when RDJ's character was stealing a Christmas present for his niece, that he became entangled in the whole bloody affair. If it wasn't for Christmas, nothing would have happened and this movie would have been boring AF.
Purchase now on Amazon for $13.99.
2) Rent (2005)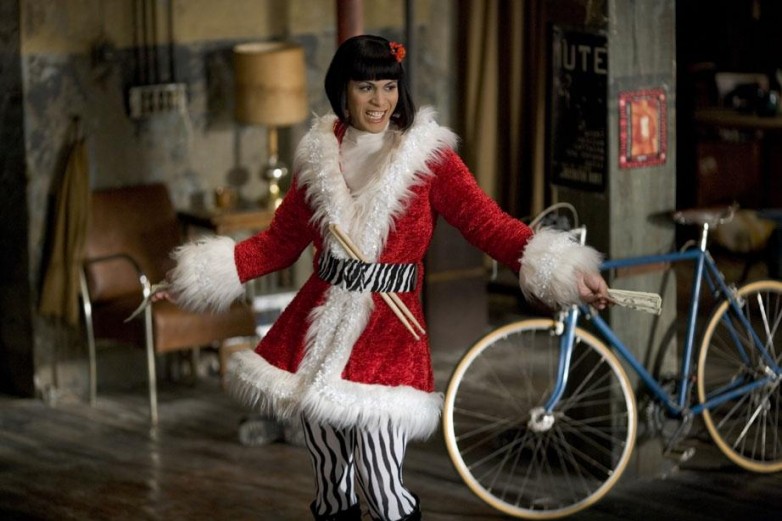 What it's About: Five hundred, twenty-five thousand, six hundred minutes. Five hundred, twenty-five thousand moments so dear. Five hundred, twenty-five thousand, six hundred minutes. How do you measure, measure a year? We're not quite sure, but the year that passes in Rent begins and ends at Christmas. When the film first opens, it's Christmas Eve and rent is due for our heroes, Mark and Roger. From that point on, we follow the lives of Roger, Mark, Mimi, Maureen, Joanne, Collins and, of course, Angel. Most of these characters are living with (not dying from) AIDS and they all know, save possibly Roger, that there is no day but today for all of them. They must live in the moment, they must seize the day and they must love as much as they possibly can.
Why it Counts for Christmas: Christmas bookends the film. It's Christmas Eve when the movie starts, and it's Christmas Eve when the movie ends. In between that year, the audience is given a gift of music, hope, and love — which are undoubtedly the most important aspects of Christmas. So how do you measure a year? How do you measure Christmas? You measure in love.
Purchase now on Amazon for $12.99.
1) Batman Returns (1992)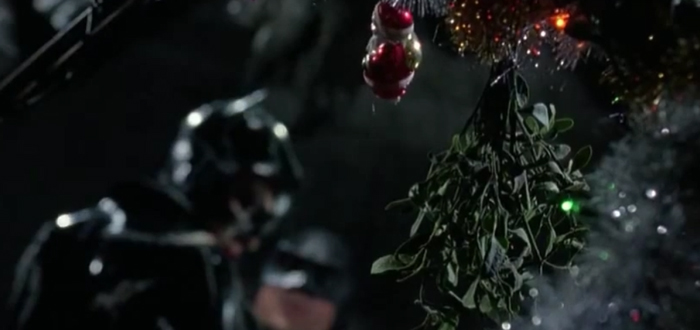 What It's About: "Mistletoe can be deadly if you eat it." "A kiss can be even deadlier if you mean it." So lies the story of Batman Returns. Returns featured the return of Tim Burton to the reigns of Batman and he did not disappoint. Well, unless you were one of the kids whose parents didn't let you watch it because it was "too dark." Those kids were probably disappointed. The rest of us saw Batman Returns for what it truly was — a macabre, fun, alternative look at Gotham City during Christmas time. This time, Batman was up against the nefarious combination of The Penguin and Catwoman, not to mention the devious Max Shreck. He does so with Christmas trees lighting up Gotham City in the background, which only further illuminate the shadow of the bat.
Why it Counts for Christmas: Duh! We just said it. The whole movie takes place around Christmas time. There are Christmas trees and lights and snow and, above all, mistletoe. There are Christmas parties and tree lighting ceremonies and everything else the holiday encompasses. In fact, the last line of the movie is Bruce Wayne telling Alfred "Merry Christmas and good will towards man…and woman." That's Christmas enough for us!
Purchase now on Amazon for $12.99.
We are a participant in the Amazon Services LLC Associates Program, an affiliate advertising program designed to provide a means to earn fees by linking to Amazon.com and affiliated sites.