Blake Lively is simply one of the most electrifying actresses working today.  She exploded onto the scene through her portrayal as Serena throughout the 5 season stretch of Gossip Girl.  Lively had a few early roles in delightful films such as The Sisterhood and the Traveling Pants and Accepted.  However, none of them gave any indication of what her career would turn out to be.  These days, she is one of the most reliable and versatile actresses in Hollywood.  She definitely has come a long way from the thankless role as eye-candy in her husband's Green Lantern debacle.  Next year, she takes on the role of Stephanie Patrick in The Rhythm Section.  It is based on the novel by Mark Burnell and can easily spawn an espionage franchise for her.  Until then, let us look back at the five best performances from Blake Lively.
Krista Coughlin in The Town (2010)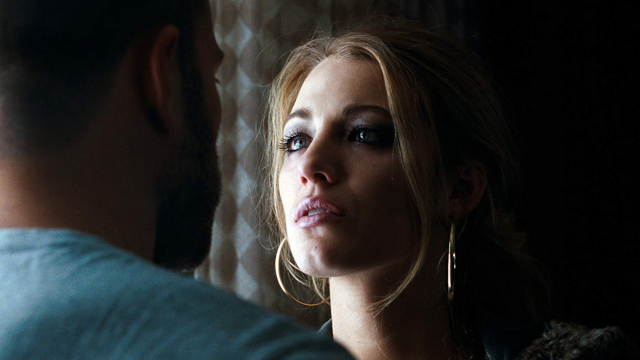 Blake Lively's role in Ben Affleck's wonderful 2010 heist thriller, The Town, is small but powerful.  She plays Krista, the alcoholic single-mother sister if Jeremy Renner's Jem. The film spends a lot of time exhibiting the unhinged, dangerous persona that Jem possesses. In the short scenes Lively has, she certainly shows that she shares Jem's volatile genetics. Also, Krista is a casual lover of Ben Affleck's Doug. So, when his eye gets caught by his heist victim Claire, she is understandably devastated. Krista does have a pivotal role in the penultimate scene, but that is not why this tole makes the list. Blake Lively's role of Krista simply showed us all that she can act with the bigwigs. She holds her own against a quite extraordinary cast and no one really knew she had it in her before The Town.
Purchase now on Amazon for $14.99.
Adeline Bowman in The Age of Adaline (2015)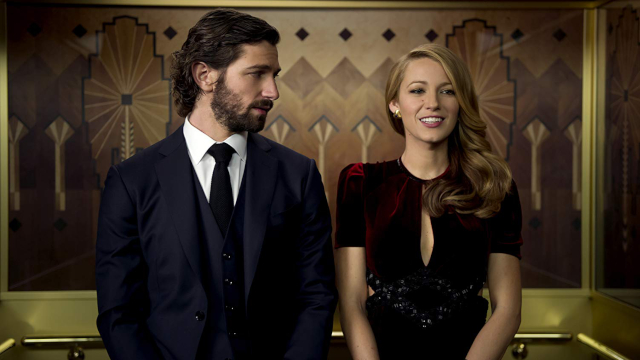 If you are going to make a romantic fantasy about a perfect beauty who does not age, what better actress to use than Blake Lively?  The Age of Adaline is a perfectly sweet film that tells the story of a woman who has been alive for 107 years.  When she was 29, she crashed into a frozen lake, died, but was revived by a lightning strike. Soon after her revival, Adaline realizes that she does not age. One could imagine what kind of problems this can provide as the decades tick by.  
Blake Lively's performance in this film is very heartfelt.  Adaline is a woman who, because of her extraordinary circumstances, understands that she can't live a real life. Which means she can't have relationships. Her interactions with Michiel Huisman's Ellis is certainly nice. However, her confrontation with Harrison Ford who remembers her from forty years before is really at the heart of the film. Romantic fantasy like The Age of Adaline is tough to pull off, but the fantastic Blake Lively is perfect.
Purchase now on Amazon for $4.99.
Ophelia in Savages (2012)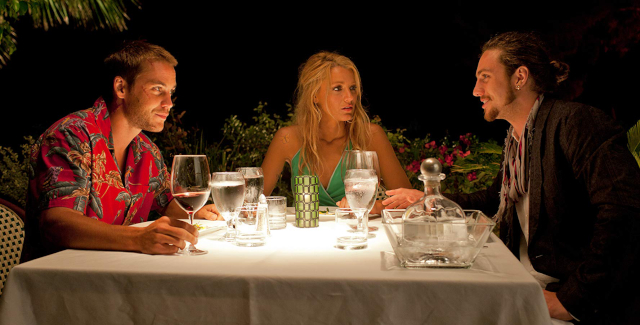 Oliver Stone's 2012 thriller Savages is a visceral, kinetic, breathless movie. It was a refreshingly soapbox-less film from the man who defined soapbox-y movies. It follows Chon & Ben (Taylor Kitsch & Aaron Taylor-Johnson. Chon is an ex-special forces soldier who smuggled marijuana seeds back from Afghanistan. Ben is a Berkeley graduate who is a brilliant botanist and businessman. This combination makes the duo very rich. Until they catch the attention of a Mexican drug lord. Blake Lively plays Ophelia. The perfect woman who is in a three-way relationship with the two best friends. She isn't just a sexual figure (though she is certainly that as well) who drives a stake between to friends. She is in love with Chon and Ben, and they are equally in love with her. So when the cartel kidnaps her, you really feel the friends' desperation to get her back. What's more, she isn't just a victim. She has the confidence and courage to meet Salma Hayek's drug lord head on.
Purchase now on Amazon for $8.99.
Nancy Adams in The Shallows (2016)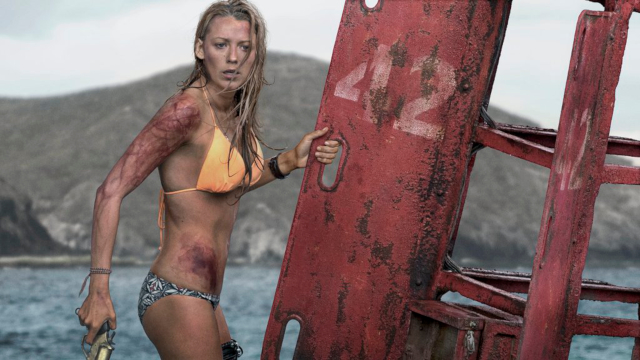 Barring a bit of wonky special effects, The Shallows is a terrifying exercise surround a shark that we haven't seen since the original Jaws. The premise is simple enough. Nancy is a med student whose mother has died recently. To honor her mother, she heads to a beach in Baja with a GoPro in tow to go surfing. After a day of surfing with a few locals, she happens upon a rotting whale corpse. Upon idiotically investigating it, a great white shark viciously attacks her leg. Now Nancy is trapped on a small coral outcropping with no chance to make it to shore. For such a simple story, it is amazing how many different things director Jaume Collet-Serra comes up with to propel forward the narrative. Sure, the film starts off exploiting Lively's body and face, but that ends as soon as it begins. Blake Lively is so great at emulating pain, fear, desperation, frustration, and hopelessness. It is nearly unbearable to go through this dilemma with Nancy. Without fear of hyperbole, Blake Lively's performance in this film is on par with James Franco's in 127 Hours.
Purchase now on Amazon for $7.99.
Emily Nelson in A Simple Favor (2018)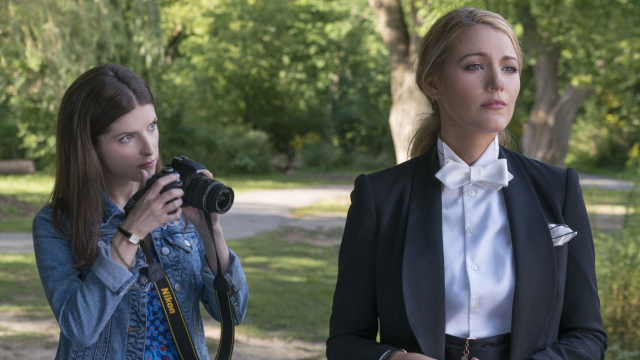 What Blake lively pulls off in A Simple Favor is unlike anything she had done before.  Say what you will about director Paul Feig, but the man knows how to write and direct women. The story involves Stephanie (an equally good Anna Kendrick) and how she is the most goody-two-shoes mother imaginable. A widow, she spends her days obsessing about her kids and running her vlog. One day, she notices the astonishingly beautiful and stylish Emily. Apparently, their children are great friends and want a play-date. Emily insists that Stephanie come over and drink with her. The women become friends. At least until Emily disappears. The rest of the film is left to be discovered. However, the enigmatic way Blake Lively portrays Emily is so perfect. Even her voice is seductively odd. There is a sense of menace, a sense of maturity, and a sense of brilliance behind Emily that Lively has never even come close to exuding. If Blake Lively has stuff like this in her arsenal, it will not be long until she will start racking up awards gold.
Purchase now on Amazon for $5.99.
We are a participant in the Amazon Services LLC Associates Program, an affiliate advertising program designed to provide a means to earn fees by linking to Amazon.com and affiliated sites.