John Carpenter is a master of horror and science fiction. He was one of the most prominent American voices in both genres for decades. His frequent collaborations with actor Kurt Russell produced some of the best work of both of their respective careers — most notably the 1982 film The Thing. Carpenter is probably best known, however, for creating the Halloween film which introduced audiences to the haunting Michael Myers and inspired ten sequels and remakes so far, with more likely on the way. Indeed, he is an important and unique character which helps color the world of modern American film. Though he has not made a film in a number of years, here's hoping he may grace the director's chair with his presence again. Either way, here are ten of his best films to date.
The Thing
(1982)
The Thing cements Carpenter as one of the best American filmmakers in the science-fiction horror genre. The tense film features an incredible score by Ennio Morricone and great performances from Kurt Russell, Keith David, and Wilford Brimley as some of the increasingly-paranoid American researchers on the Antarctic base where the "thing" is unleashed. It, along with Halloween launched Carpenter into a new stratum — and anyone who has seen either film can understand why.
They Live
(1988)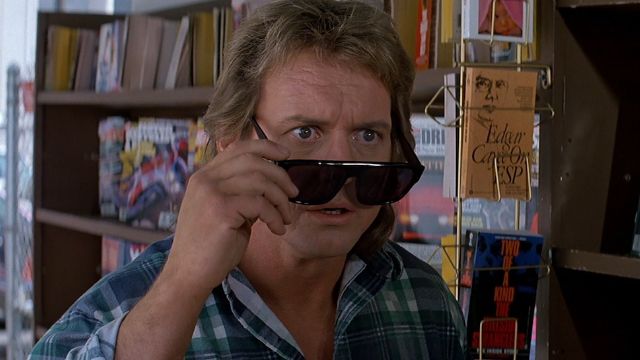 In Carpenter's They Live, Canadian wrestler-slash-actor "Rowdy" Roddy Piper plays drifter protagonist John Nada. Based on a short story by Ray Nelson titled "Eight O'Clock in the Morning," Nada finds a special pair of sunglasses which shows him the underlying truth of the world: media is secretly manipulating society via subliminal message to get people to buy and consume more products. As a result of this revelation, Nada seeks to change things. It is a strange sort of B-movie with a fascinating message.
Big Trouble in Little China
(1986)
Big Trouble in Little China is but one of many collaborations between Carpenter and Kurt Russell. Russell plays a wise-cracking truck driver named Jack Burton who finds himself thrust into a supernatural battle in the shady underground of San Francisco's Chinatown. He and his friend Wang Chi (Dennis Dun) must rescue the latter's fiancee before a bizarre fate befalls her. It is campy as all get out, an incredibly fun ride.
Halloween
(1978)
Only one of Carpenter's films has inspired ten sequels, reboots and the like: Halloween. Carpenter created the disturbing antagonist Michael Myers — with his late, great co-screenwriter Debra Hill — by painting a Captain James T. Kirk mask white. It is an undeniable classic with a great early performance from Jamie Lee Curtis and an undeniable tense theme scored by Carpenter himself.
In the Mouth of Madness
(1994)
In the Mouth of Madness is frequently regarded as a sort of homage by Carpenter to the writings of H.P. Lovecraft. The title itself is a play on his novel At the Mountain of Madness. Hot off a central performance in Jurassic Park, Sam Neill plays insurance investigator John Trent. Trent is looking into the disappearance of a horror novelist (Jurgen Prochnow) and the related insurance claim made by his publisher (Charlton Heston). He is frequently haunted in his dreams by the imagery of the novelist's work. It is an underrated entry in Carpenter's body of work as well as Neill's.
Escape from New York
(1981)
Kurt Russell gives one of his career-best performances in Carpenter's campy dystopian film Escape from New York as special operative-turned-criminal Snake Plissken. In a future where the island of Manhattan has been turned into a prison city, Plissken is dispatched on penalty of death to rescue the U.S. president (Donald Pleasence) who is being held for ransom there. It is a darkly entertaining film with great supporting performances from the late Harry Dean Stanton and Lee Van Cleef.
Escape from L.A.
(1996)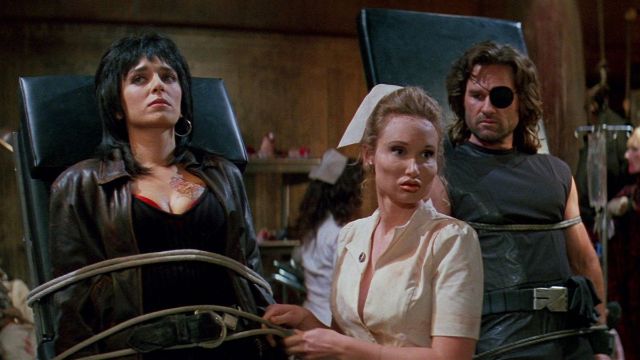 A decade and a half after the first film, Carpenter made a sequel to Escape from New York with Russell reprising his role as Snake Plissken. The film doubles down on the campiness of the previous film and ventures into downright outlandish territory. The president (Cliff Robertson)'s daughter has escaped to the land of Los Angeles, where he has exiled all deviants — Plissken is tasked with bringing her back under threat of death (once again). It is doubly goofy to the first film but equally entertaining.
The Fog
(1980)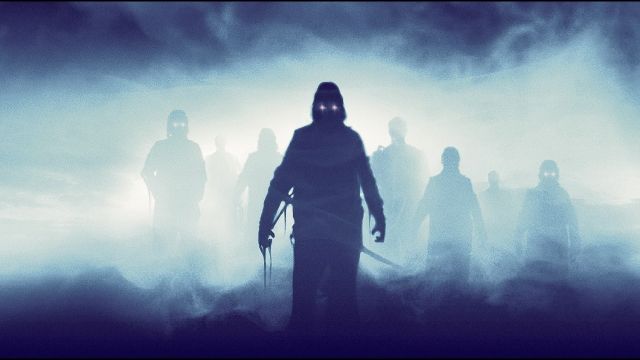 Carpenter and Jamie Lee Curtis' follow-up collaboration to Halloween does not get nearly as much burn, however, it is another entertaining horror film.  A mysterious fog rolls into a coastal town which brings to light some mysterious circumstances of the town's inception exactly 100 years earlier. For any fan of stylistic, campy horror, The Fog cannot be missed.
Prince of Darkness
(1987)
Along with The Thing and In the Mouth of Madness, Prince of Darkness rounds out what Carpenter refers to as his "Apocalypse trilogy." Though they aren't narratively connected, the three feature similar themes, including the loss of mental stability as a result of some exterior trauma. In Prince of Darkness, a priest (Donald Pleasence) finds a mysterious slime which a professor (Victor Wong) believes to be the essence of Lucifer, the Prince of Darkness himself. The slime begins to come in contact with the professor's students, changing their personalities and altering their behavior until one student is entirely consumed by the slime, becoming Satan in the flesh. It is a bizarre and frightening film, albeit not Carpenter's absolute best.
Christine
(1983)
Carpenter successfully brought Stephen King's iconic horror novel Christine to life. An unpopular teenager named Arnie (Keith Gordon) goes through bizarre personality changes after he acquires a 1958 Plymouth Fury. Things take a turn for the even worse when the car begins murdering people. Like the rest of Carpenter's work, the film is both a marvel of sound design and practical effects.
We are a participant in the Amazon Services LLC Associates Program, an affiliate advertising program designed to provide a means to earn fees by linking to Amazon.com and affiliated sites.