Paris. It's been called the city of lights and the city of love. There's just something about Paris that stirs the soul of the inner-romantic in all of us. Maybe it's the food or the art. It could be the music, the culture or the architecture. Maybe it's the history of the city and all of the artists and writers that it has produced. Regardless, Paris has developed a reputation as the most romantic city in the world. It's no wonder, then, that many filmmakers have used Paris as a backdrop for their films. It provides the perfect exposition for almost any story. Numerous tales of love, life and light have been told over the years and, as long as Paris stands, it will continue to be the muse for a myriad of creators. Writers like Ernest Hemingway and Scott Fitzgerald have spoken highly of the City of Lights and anybody who has ever been there agrees there's a certain magic in the air as soon as one enters an arrondissement.
5) Ratatouille (2007)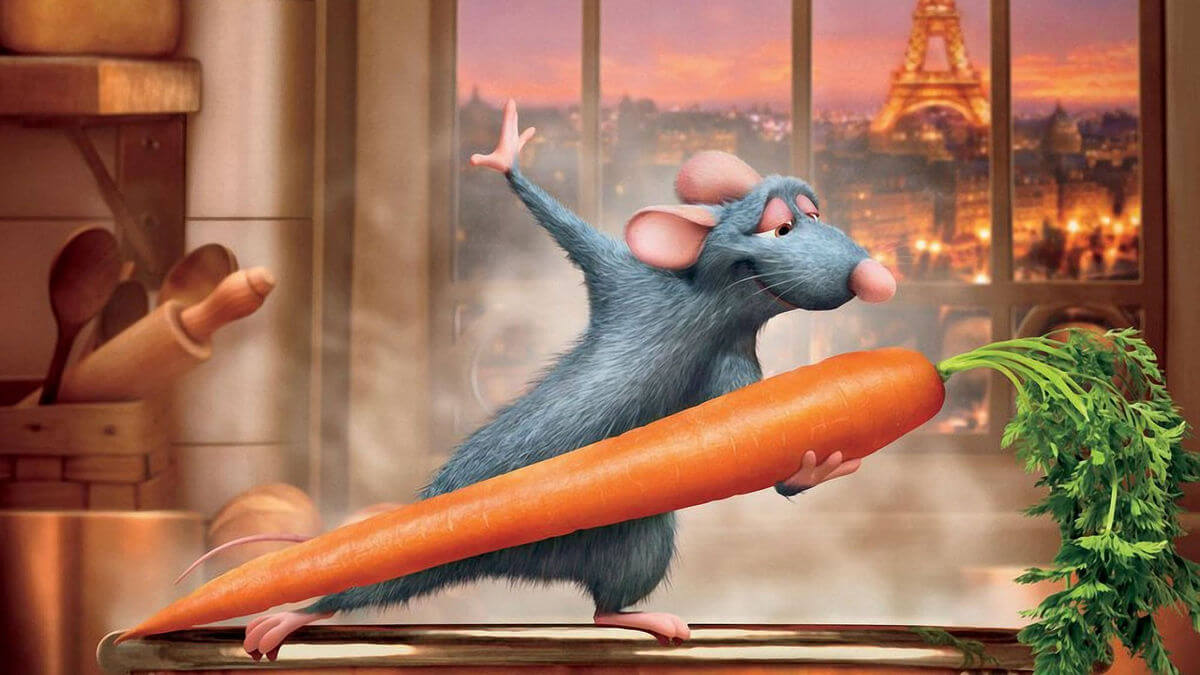 This Pixar film told a familiar story about somebody chasing their dreams all the way to Paris. In this case, that somebody was a rat named Remy who has dreamt about being a chef for his entire life. Despite his, ya know, genetic makeup, Remy eventually goes to Paris. Before long, Remy finds himself in a kitchen and he begins to cook. The problem is, again, Remy is a rat. Because of this, he must stay hidden in between making the food that he always wanted to create. The film ends as most of these types of films do, but what makes Ratatouille so great is that it doesn't focus on any type of love story. Instead, it's about a young man (or rat) chasing his dreams. That's almost more romantic than any love story.
4) Amelie (2001)
Some might say that it's the people of Paris who make it so magical. Paris is full of artists and writers and actors and chefs — all of whom make the city what it is. Amelie, the 2001 film from director Jean-Pierre Jeunet, tells the story of a young woman who dips in and out of various peoples' lives, orchestrating some of that very same magic that the city is named for. You will fall in love with Amelie, both the person and the film. Paris is known for a myriad of beautiful things, but after seeing this film, you will want to go solely with the hope of meeting somebody like Amelie. Paris aside, this film also shows how one person can completely change the worlds of those around her (or him).
3) An American in Paris (1951)
This is an oldie, but a goodie. An American in Paris stars Gene Kelly as an American ex-GI who decides to stay in Paris after the war because he wants to be a painter. While there, he meets and falls in love with a woman named Lise Bouvier. As the two sing and dance their way through the streets of Paris, Kelly's art catches the attention of an American heiress named Milo and this old-fashioned love triangle highlights just how romantic of a city Paris can be.
2) Paris, Je T'aime (2006)
If not for the next entry on our list, Paris, Je T'aime (Paris, I Love You) would be the greatest movie about the City of Lights. Paris, Je T'aime is not just a movie — it's a collection of short films from some of Hollywood's greatest directors. It tells 18 different stories, all of which showcase the beauty and magic of the greatest city in the world. From lost love to affairs, to the death of children, to first-time meet-cutes, Paris, Je T'aime is a fascinating look into why people are so enamored with this French city. If you watch one movie about Paris, make sure it is this one.
1) Midnight in Paris (2011)
Midnight in Paris was written and directed by Woody Allen, and it is a love letter to Paris, as well as all of the amazing talents that it has borne witness to. The film stars Owen Wilson as Gil Pender, a nostalgic man who longs for the days of Paris in the Past Tense. Gil dreams of living in Paris, circa 1920. He's an old soul that feels as though he would be happier living in the days of Hemingway, Stein, and Fitzgerald. Fortunately for Gil, the magic of Paris takes him to that time period, where he meets numerous writers and artists. He also meets and falls in love with a mysterious woman named Adriana (played by Marion Cotillard) and, suddenly, Gil starts to believe that maybe Paris in the '20s is exactly where he belongs.
We are a participant in the Amazon Services LLC Associates Program, an affiliate advertising program designed to provide a means to earn fees by linking to Amazon.com and affiliated sites.