Without many people noticing, Simon Pegg has quietly become one of the most successful, most reliable actors in Hollywood.  Firstly, he is one of the best in the business for mid-budget comedy, mostly when teamed up with Nick Frost. Secondly, he pops up and charms in Indie comedies that cinephiles have to work to find.  Thirdly, he shows up in some of the most successful franchises in history. Sure, his role in Star Wars: The Force Awakens is cgi and basically unrecognizable.  However, there is no mistaking his presence in the Mission Impossible and Star Trek series.  He even pops up as a crucial character actor here and there just as he did in Steven Spielberg's Ready Player One.  
Simon Pegg rarely, if ever, has a terrible film.  You can trust that his new comedy, whenever it is released, will be incredibly funny.  He is basically the modern day Jim Carrey or Adam Sandler. Though, the argument can be made that he is better, and more diverse actor than either of those icons.  Here are Simon Pegg's 10 best performances.
Shaun in Shaun of the Dead (2004)
Shaun of the Dead is essentially where everyone perked up and took notice of Edgar Wright, Simon Pegg, and Nick Frost.  They are a comedy trio like none else and their Cornetto Trilogy was uniquely wonderful. In their first film, they skewer the zombie horror genre.  Their central premise starts out by asking the question; would Simon Pegg, a worthless layabout named Shaun, even notice the zombie apocalypse if it were to happen? The film then proceeds to show us how Shaun and his best friend Ed (Frost)  would react to zombies, since they have essentially done nothing with their lives. Well…go to the pub, of course! All whilst spoofing the zombie film, Shaun of the Dead cleverly and stealthily slips right into one.  Not only that, but it becomes one of the greatest zombie films, as well as comedies, of the past 20 years.
William Burke in Burke & Hare (2010)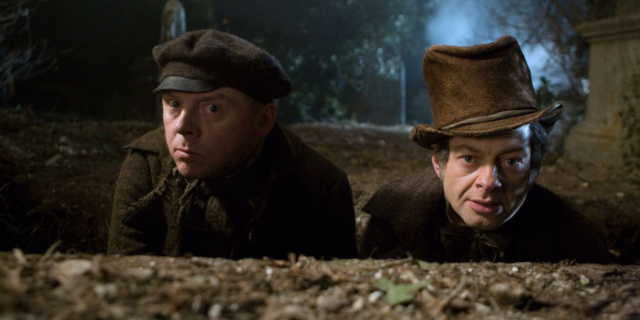 This film is the perfect example of Simon Pegg showing up in comedies that no one has ever heard about.  How could Burke & Hare come out without anyone noticing at all.  It stars Pegg, Andy Serkis, Isla Fisher, Tom Wilkinson, Tim Curry, Christopher Lee, Hugh Bonneville, and many others.  It has an incredible pedigree. John Landis even directed it for pete's sake!
Be that as it may, it is a clever, little, based-on-a-true-story romp through Nineteenth Century Edinburgh.  Simon Pegg is William Burke and Andy Serkis is William Hare. The pair discover quite a lucrative business selling cadavers to the local medical school.  Grave robbing is their primary source of supply, but what happens when you run out of buried corpses? The experience is the height of absurdity but it is completely, and totally, British humor.  The humor is dark and the darkness is hilarious.
Benji Dunn in the Mission: Impossible Franchise
The Mission: Impossible franchise is arguably the best quality action franchise out there.  Sure, the Marvel Cinematic Universe is incredibly successful and done with a lot of talent.  However, there is something special about the trials of Ethan Hunt, with the incredible direction and Tom Cruise doing all of his own practical stunts.  Simon Pegg has factored heavily into the franchise ever since J.J. Abrams took over. The first two films were incredibly serious and it hurt the films a bit.  With the inclusion of the brilliant, yet smarmy Benji, Mission: Impossible had its much needed comic relief.  However, he is not just a quirky side character.  As seen in 2018's Mission: Impossible – Fallout, Benji is a full-blown, capable agent, and the series is all the better for it.
Neil Clarke in Absolutely Anything (2015)
Did you know that there was a omnipotent comedy released in 2017 starring Simon Pegg and Kate Beckinsale?  Furthermore, are you aware that Terry Jones wrote and directed it based on a story by the late, brilliant Douglas Adams?  Not only that, but the rest of the surviving Monty Python members voice the cgi aliens that imbue the infinite cosmic power into Simon Pegg?
That is a formula for comic success.  
The aliens have chosen to give Pegg's Neil Clarke the power to do anything he wishes as an experiment.  If he performs well with such omnipotence, the alien beings will contact and have a relationship with Earth.  If he fails the experiment, Earth will be destroyed. It is exactly the kind of stuff you would expect from Pegg, Monty Python, and the man who brought us The Hitchhiker's Guide to the Galaxy.
Graeme Willy in Paul (2011)
There is certainly a narrative throughout Simon Pegg's career.  First, he is really good when he teams up with Nick Frost. Second, he is the rare comedian that can pull of science fiction comedy.  Pegg and Frost penned and starred in the 2011 sci-fi comedy Paul together. It tells the story of a couple of comic book geeks who have travelled across the US to meet their favorite sci-fi author at Comic-Con.  On the way, they take in the Area 51 tourist sights and run into an actual alien named Paul (voiced by Seth Rogen). What makes this film work is that Simon Pegg and Nick Frost have bundles of chemistry on screen with each other.  They could be in a movie showing them having lunch for 90 minutes and it would still be entertaining.
Nicholas Angel in Hot Fuzz (2007)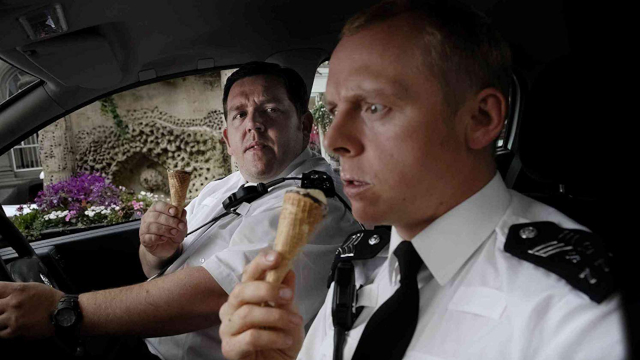 Just as Shaun of the Dead skewered and slipped into the zombie genre, Hot Fuzz does the same with the action comedy.  Miraculously, Simon Pegg proves that along with his comic chops, he has what it takes in the action purview as well.  We got a BIT of this sense in 2006's Mission: Impossible III when he debuted as Benji, but his Nicholas Angel is head and shoulders above that.  Sgt. Angel is the best cop on the Metropolitan Police Force. So good in fact that he has been sent out to the quaint town of Sandford.  He had been making his superiors look bad.
While in Sandford, he is given trivial tasks of catching swans and punishing kids spraying graffiti.  However, it soon becomes very aware that there is an inordinately large amount of accidents happening in Sandford.  When the secret of the town comes to light, the action sequences that follow are absolutely insane. Even better than Bad Boys II.
Jack in Man Up (2015)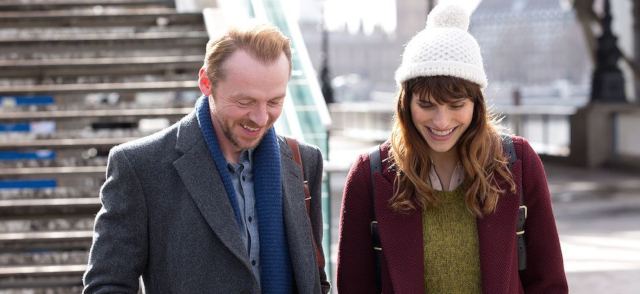 Once genre not represented elsewhere on this list is the straightforward romantic comedy.  Well, Simon Pegg has a great one of those under his belt as well. That film is Man Up, released in 2015.  The premise of the film is that Lake Bell's Nancy randomly rubs into Jack (Simon Pegg). Jack is apparently waiting for a blind date.  Through sheer boredom, Nancy pretends that she is the girl he was waiting for just to see where the night will take her.
What follows is a refreshing film that embraces all those British rom-com tropes done so well in Richard Curtis movies.  Sprinkle in a bit of Before Sunrise walk-and-talk dynamic and you get a fun concoction.  You wouldn't think Simon Pegg could pull off the romantic leading man.  Man Up proves that he certainly can.
Dennis in Run, Fatboy, Run (2007)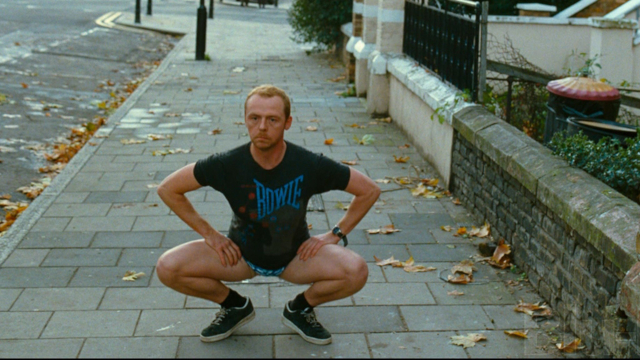 Run, Fatboy, Run is an INCREDIBLY weird film.  But that doesn't mean it is any less funny among Simon Pegg's filmography.  Pegg plays Dennis, a poor schlub that left his pregnant wife (Thandie Newton) at the altar several years prior.  Dennis is notorious for being unreliable and unable to finish what he started. However, he loves his son and still has feeling for his ex.
Recently, she hooked up with Whit (Hank Azaria), a man who has money, is great looking, and is a marathon runner.  Essentially, he is the polar opposite of Dennis. And what does a layabout like Dennis do to compete? Well, he starts training for the marathon himself.  It is goofy as can be, but Pegg's ridiculous performance shows bits of heart at all the right moments.
Scotty in the Star Trek Franchise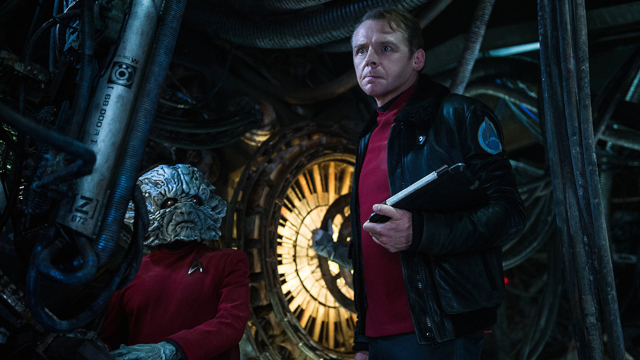 When J.J. Abrams rebooted the Star Trek franchise in 2009, he did so with an absolutely pitch perfect cast.  Star Trek has always been a semi-serious, light-hearted franchise.  So, when Simon Pegg was tapped to take on the famous role of Scotty, it was a perfect balance.  When the action and danger surrounding the rest of the crew begins to boil over, in comes trust Simon Pegg to inject all the levity that is needed.
Simon Pegg was tasked to write 2016's Star Trek Beyond.  That film didn't have as much depth as the previous two.  However, Pegg gave himself a lot more to do, essentially co-leading with Chris Pine.  It really exhibits how well Pegg can carry a movie if he needs to.
Gary King in The World's End (2013)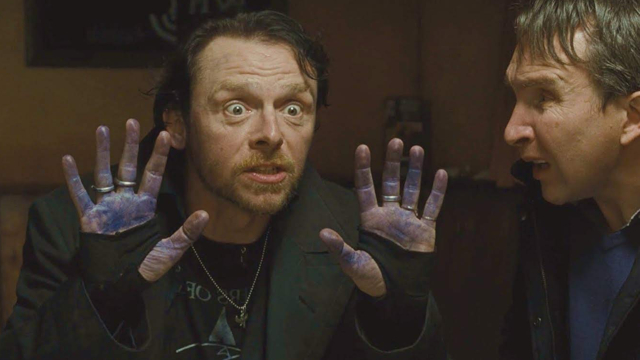 By most accounts, The World's End is the weakest entry in the Cornetto Trilogy.  That may be true, but Simon Pegg's performance as Gary King is certainly the best of the three roles.  The story follows a group of 5 men, who used to be the best of friends, returning to their hometown. Decades ago, the group attempted and failed the Golden Mile, an epic pub crawl.  Gary wanted the old pals to return and attempt it again to relive their glory days. However, something isn't quite the same in their quaint little town.
Focusing on Gary…he is a jerk.  He cares little about his old mates and only about the Golden Mile.  Pegg has never been more vulgar, more unhinged, or more complex. Sure, the comic antics are there.  Though, there is true poignancy when we all learn why Gary cares so much about the pub crawl. The moment he tells the "villain" to essentially f**k off is the best acting Simon Pegg has ever done.