What is there to say about Marilyn Monroe which has not already been said? Born Norma Jean Mortenson, she was a celebrity in the way that we understand them today — as famous for the storylines behind the scenes as the ones in front of the camera. Her marriages to other public figures — baseball star Joe DiMaggio and playwright Arthur Miller—and her alleged affairs with a number of men including President John F. Kennedy were the stuff for which tabloids were invented.
The model-turned-actress was massively successful in her brief career, though mostly for the benefit of the studios she worked for rather than herself. The studio system chewed her up — like it did so many actors — but she has also been touted as instrumental to forcing change by founding her own production company, Marilyn Monroe Productions. Since her tragically premature death, much has been written about Monroe in the realms of feminism and gender studies as well as film. She was a titan of the 20th Century and her legacy continues to permeate popular culture. 
Some Like It Hot (1959)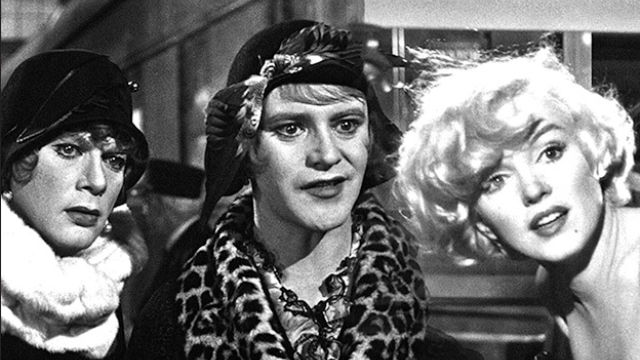 Two Prohibition-era jazz musicians (Tony Curtis and Jack Lemmon) become unwitting witnesses to some unsavory Chicago mobster behavior and fear for their life as a result. To escape their dreary fates, the duo disguises themselves as women and join an all-female band who are headed to Miami. Antics ensue as the two become enamored by the group's lead vocalist (Monroe). Some Like It Hot is not only one of Monroe's best, but also among the best of director Billy Wilder, especially in the realm of comedy.
Purchase now on Amazon for $27.99.
The Seven Year Itch (1955)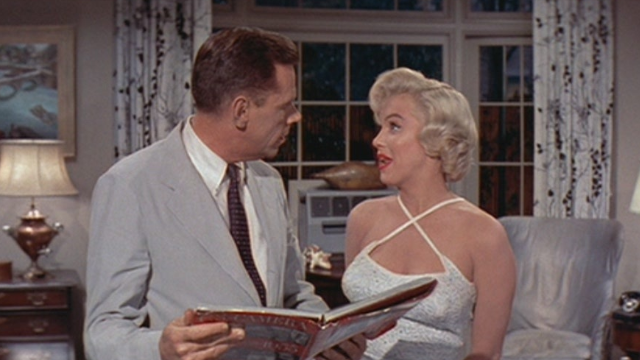 A faithfully-married man (Tom Ewell) begins going through a midlife crisis after a number of years married to his wife (Evelyn Keyes). He begins having wild fantasies about his new beautiful neighbor (Monroe) though she is almost entirely disinterested in him. The Seven Year Itch is another classic farce sprung from the mind of the seminal Wilder.
Purchase now on Amazon for $14.99.
Gentlemen Prefer Blondes (1953)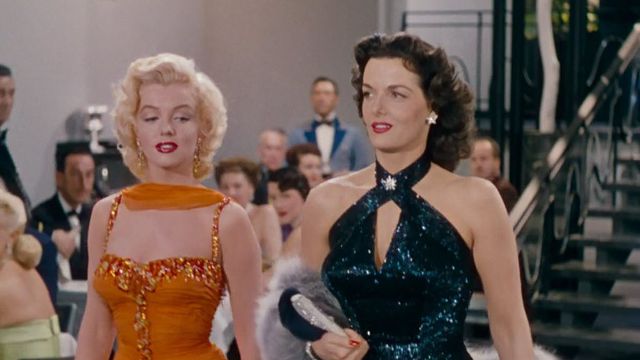 In the musical Gentlemen Prefer Blondes — directed by Howard Hawks — a diamond-loving showgirl who is engaged to a wealthy heir (Monroe). She and her best friend who has a taste for handsome, muscular men (Jane Russell) have an antics-filled trip across the Atlantic Ocean. It a fun, zany ride.
Purchase now on Amazon for $5.99.
All About Eve (1950)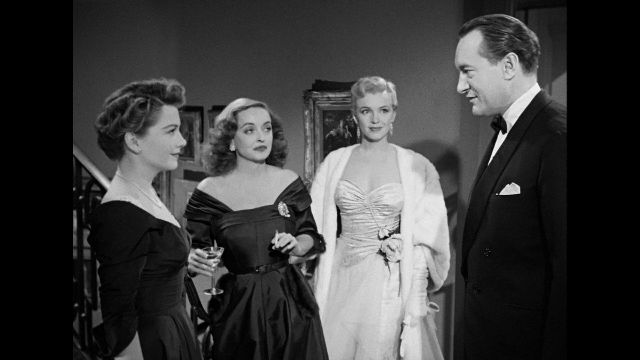 In Joseph L. Mankiewicz's magnum opus, a woman named Eve (Anne Baxter) dreams of stardom. She works her way into the inner circle of her idol (Bette Davis) in the hope that she may, through unflinching self-interest, wrest the fame from her. Monroe plays a minor part — one of her earliest roles — in the widely-regarded film.
How to Marry a Millionaire (1953)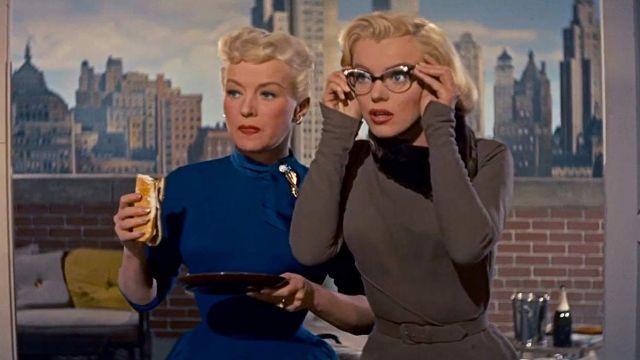 In the enjoyably saccharine film How to Marry a Millionaire, three women (Monroe, Betty Grable, and Lauren Bacall) hope to do exactly that: marry a millionaire. To do so, they try to rub elbows with the New York City elite. However, their plans go awry when the possibility of true love comes knocking at their respective doors.
The Asphalt Jungle (1950)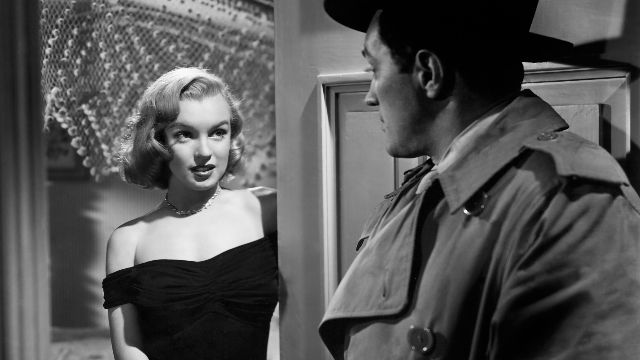 The Asphalt Jungle is a heist film directed by John Huston, a master of the noir genre. A recently-paroled thief (Sam Jaffe) recruits a team of other highly-skilled crooks (Sterling Hayden, Anthony Caruso, and James Whitmore) to help him rob a jewelry store. Like All About Eve, Monroe is featured in a small role.
The Misfits (1961)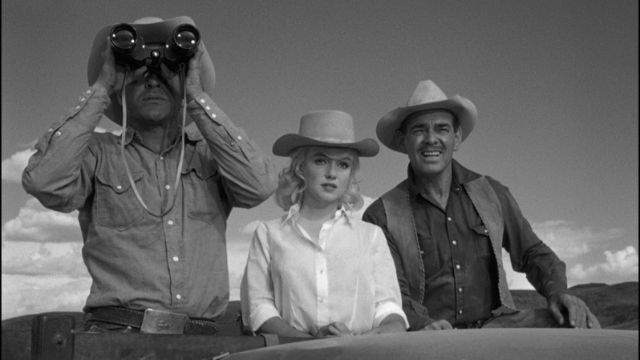 The Misfits — another collaboration between Monroe and director John Huston — three men, a gambling cowboy (Clark Gable), a former WWII pilot (Eli Wallach) and a retired rodeo rider (Clift Montgomery) all fall in love with a former stripper (Monroe). Lacking any other options, the four move into a ranch home together and get into the horse business. This widely-acclaimed film was also Monroe's last before her passing.
Howard Hawks' Monkey Business (1952)
In the Howard Hawks-directed screwball comedy, a chemist (Cary Grant) is trying to develop an elixir of youth. One of his test chimpanzees gets loose and accidentally creates such a concoction and dumps it into the water cooler. The mixture causes him and his wife (Ginger Rogers) to regress to a younger state of mind — wreaking havoc on their lives and those around them, including the chemist's boss's comely secretary (Monroe).
Clash by Night (1952)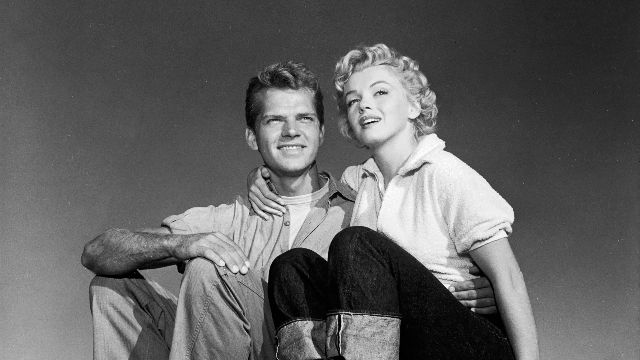 In the Fritz Lang noir film Clash by Night, a woman (Barbara Stanwyck) returns home to California after a decade away—a time during which she had an affair with a politician. Her brother (Keith Andes) and his girlfriend (Monroe) feel differently about her return, the former less warm than the latter. Upon her return, she begins to get involved with a number of local men. It is a sturdy drama film by the talented filmmaker.
The Prince and the Showgirl (1957)
The Prince and the Showgirl is directed and starring Laurence Olivier. In the year 1911, a regent (Olivier) visiting England becomes smitten with an American showgirl (Monroe). It is a well-received — if not especially acclaimed — romantic comedy. The film was also the first film produced completely independently by Marilyn Monroe Productions.
We are a participant in the Amazon Services LLC Associates Program, an affiliate advertising program designed to provide a means to earn fees by linking to Amazon.com and affiliated sites.