Andy Samberg is one of the funniest comedians in Hollywood.  He spent seven years on Saturday Night Live and killed it with his impressions of Nicholas Cage and Rick Santorum, among many others.  However, it was his digital shorts that really put him on the map. He, along with his Lonely Island bandmates, brought back the pre-recorded comedy sketch in a big way and really made a name for himself.  Now, he is out there headlining his own comedy films, winning prestigious awards for his work on Brooklyn 99, and voicing animated characters.  In a word, he is killing it. The best news the comedy world had gotten in a long time was that NBC bought and saved his hit sitcom when Fox canceled it.  So Andy Samberg is not going anywhere. 
D*ck in a Box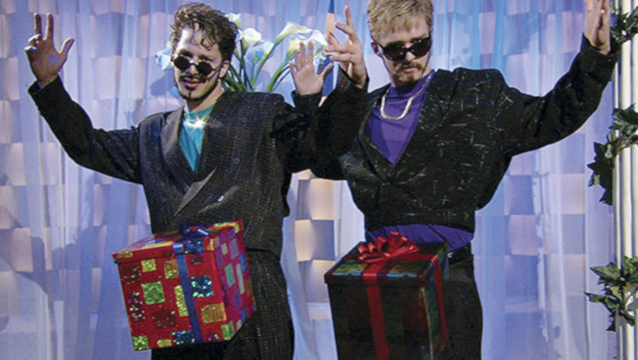 It is a testament to Andy Samberg's talent that he made such a classic short out of such a simple concept.  Teaming up with Justin Timberlake and emulating Color Me Badd, the entire song focuses on the subversive prank.  Think about this. Combining the numbers of views for this skit and its sequels Mother Lover and 3-Way hits the hundreds of millions.  Also, Samberg received a Creative Arts Emmy for this idea.  All of this for a song about gift-wrapping your manhood.
Purchase commemorative Funko Pops now on Amazon for $15.00.
The Lonely Island Shorts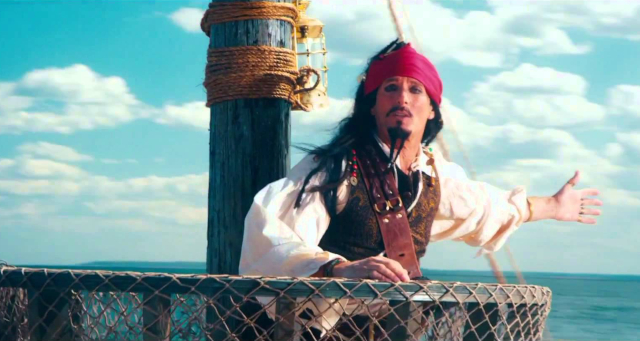 Each Lonely Island video is better than the next.  Andy Samberg, Akiva Schaffer, and Jorma Taccone were longtime friends from Junior High.  They reconnected in LA in 2001, got hired as writers on SNL in 2005, and the rest is history.  Their Lazy Sunday digital short with Natalie Portman became an internet sensation and they never looked back.  All of their shorts are hysterical. However, none more so than Jack Sparrow with Michael Bolton.
Not currently available on Amazon.
Rod Kimble in Hot Rod (2007)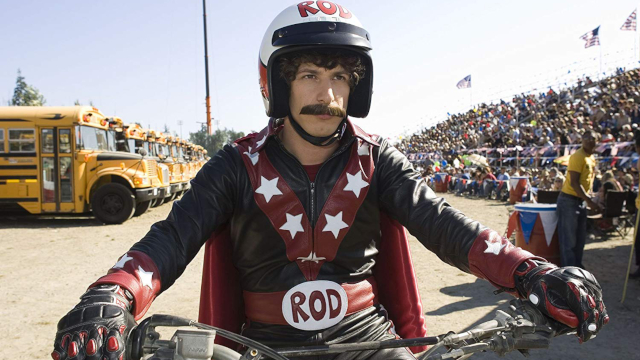 Hot Rod is the perfect litmus test to see whether or not Andy Samberg is your cup of tea.  The 2005 film is just so hysterically odd. Samberg plays a loser daredevil wannabe who needs to raise $50,000 for his stepdad's Conveniently priced surgery".  What's more, he wants his stepdad to get better so he can kick his ass.  There is plenty of perfect ad-libbing and the supporting cast is hysterical (How on earth did they get Sissy Spacek and Ian McShane in this film).  There are two possibilities. You may laugh out loud at the ridiculous randomness of Rod's hijinks. However, you may cringe at the idiocy.
Purchase now on Amazon for $7.89.
Robbie Klaven in I Love You, Man (2009)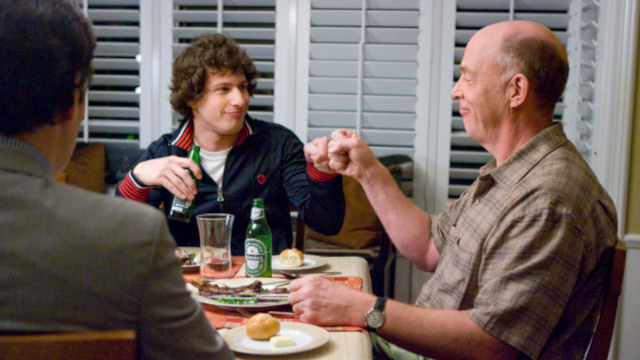 You have to love Paul Rudd.  In John Hamburg's I Love You, Man, he plays Peter, a guy with no friends.  He is about to get married and has no one that he would consider close enough to be a groomsman.  In the perfect contrast to Peter, Andy Samberg is his gay brother, Robbie. In the small amount of screen time Robbie has, he exudes confidence and friendliness to a point that deflates Peter even further.  Peter can't even have a coffee with someone without it being awkward. Robbie is shown converting straight guys at the gym and being best friends with their Dad.
Purchase now on Amazon for $8.99.
Todd in That's My Boy (2012)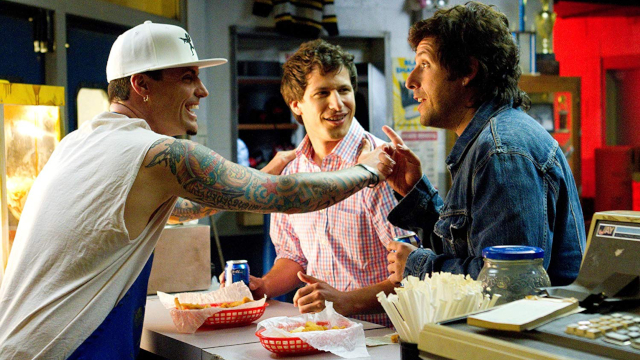 Adam Sandler hasn't had a great comedy in years.  However, 2012's That's My Boy is hilarious.  Sandler plays Donnie Berger, a man who became famous in his youth for knocking up his middle school teacher.  Presently, he owes a ton of money in back taxes and looks to crash his son Todd's upcoming wedding. The tabloid reporters will pay Donnie a huge windfall if he can get Todd to visit his mother in prison.  Andy Samberg plays Todd, and he is pretty much the straight man to Sandler's outrageous goofball. The comedy just works. It is crude and subversive, but isn't that when Sandler is best? When Todd realizes things like Uncle V from his youth was Vanilla Ice and his New Kids on the Block back tattoo has morphed, you will struggle to catch your breath.
Purchase now on Amazon for $12.99.
Jonathan in the Hotel Transylvania Franchise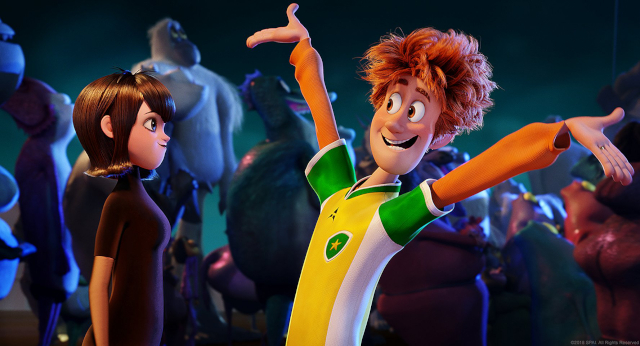 That's My Boy is not the only time Andy Samberg played the perfect straight man to Adam Sandler's unhinged character.  Samberg also voices Jonathan in the massively successful Hotel Transylvania series.  He is best in the first film as an unknowing human who stumbles into Dracula's(Sandler) hotel for monsters.  Of course, he is going to fall for Dracula's daughter, and that is a problem. Samberg does such a great job keeping at least a portion of the film grounded, and that is why it works.  If Hotel Transylvania was just wall to wall antics, it would become exhausting.
Purchase now on Amazon for $9.96.
Aaron Williams in 7 Days in Hell (2015)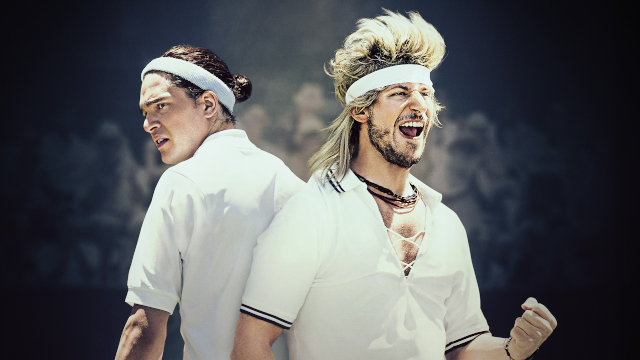 7 Days in Hell is a pretty crazy project.  Jake Szymanski and Murray Miller set out to make a parody of HBO's sports specials…on HBO.  It follows a bad boy of tennis, Aaron Williams (step-brother to the Williams sisters) and the lead-up to a 7-day long match against his rival.  Kit Harrington plays said rival, Charles Poole. He is on the straight-and-narrow and can't quite handle Williams' outrageousness. Aaron Williams is the type of player that actually has sexual intercourse with people on the court.  That is how ridiculous this all is. However, it is always hysterical and breezes by at a short 43 minutes.
Purchase now on Amazon for $9.99.
Marty Hass in Tour de Pharmacy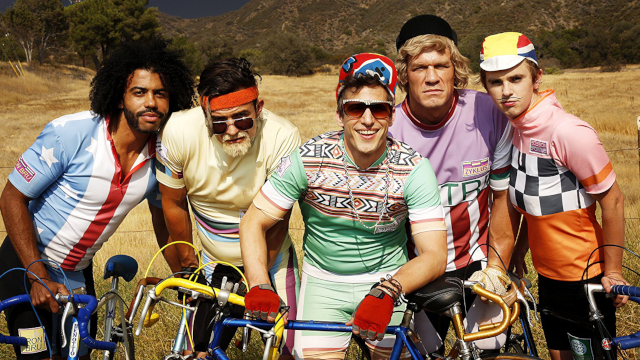 After the rousing success of 7 Days in Hell, Szymanski, Miller, and Samberg returned with Tour de Pharmacy.  This time around, the sport being skewered is cycling, and focusing on the rampant doping throughout the sport.  While not quite as funny as the first project, Tour de Pharmacy is still a lot of fun.  Andy Samberg is not quite as in the forefront as he was in 7 Days in Hell, but he certainly shines as Marty Hass.  He is one of two cyclists left in the 1982 Tour de France after a massive pileup.  Also, prepare yourself for the joke where John Cena tries to convince people he is NOT on steroids.
Purchase now on Amazon for $7.99.
Conner in Popstar: Never Stop Never Stopping (2016)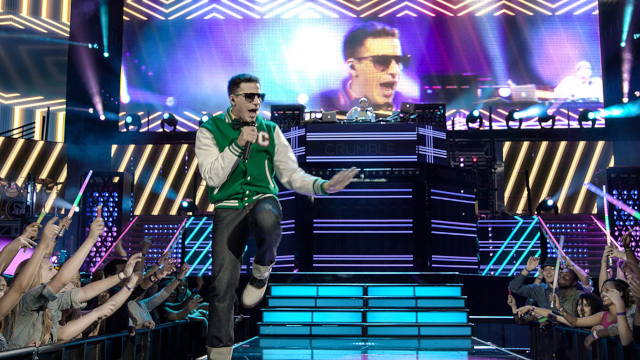 It is an absolute travesty that Popstar: Never Stop Never Stopping was such a disaster upon release.  This is the perfect vehicle for Andy Samberg and his Lonely Island boys and it is laugh-out-loud hysterical.  The film follows Connor4real, a Justin Bieber-esque pop star who went solo after early success in the boy band, The StyleBoyz.  He is a self-absorbed egomaniac whose career is slipping away.  There has to be a way to autopsy what happened with Popstar: Never Stop Never Stopping.  It was one of the funniest films of 2016.  Critics embraced it with a 78% on Rotten Tomatoes. The film didn't open against anything massive that would have stolen its business. Finally, Andy Samberg and the Lonely Island boys are massively popular.  It is scary that a movie so funny can be such a box-office failure. That means we may not get any more films like this again.
Purchase now on Amazon for $9.99.
Officer Jake Peralta in Brooklyn 99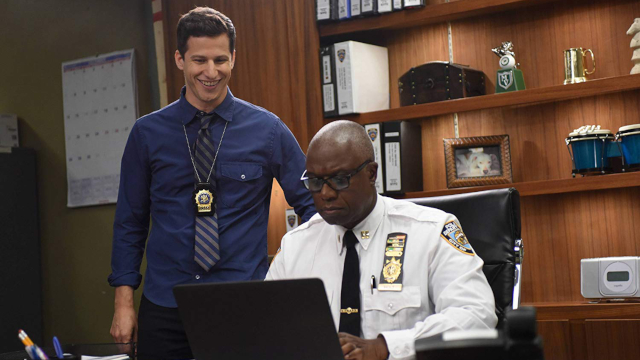 By far, Jake Peralta is the best role thus far in Andy Samberg's career.  Not since Arrested Development has an irreverent ensemble comedy been so perfect.  With Samberg at the forefront, Brooklyn Nine-Nine did for cop shows what Scrubs did for doctor shows.  Samberg is great goofing off with his a-little-too-obsessed friend, Charles (Joe Lo Truglio).  He is sweet as he courts the adorable Amy (Melissa Fumero). However, none of that matters more than his relationship with Captain Holt (Andre Braugher).  The banter between Samberg and Braugher is what made the entire show.  Samberg brought an intelligence but a recklessness to Jake. It so perfectly contrasted to Braugher's no-nonsense, by the book captain.  Every moment that Captain Holt's facade was barely cracked by Peralta's antics is classic. Brooklyn Nine-Nine was a perennial nominee for several Emmy awards while it was on-air.  Though, it is a testament to Andy Samberg that both he and the show overall were awarded Golden Globes in 2014.
Purchase now on Amazon for $16.59.
We are a participant in the Amazon Services LLC Associates Program, an affiliate advertising program designed to provide a means to earn fees by linking to Amazon.com and affiliated sites.