The Top 5 Guy Ritchie Movies
Known for his very stylish direction, Guy Ritchie has made some truly unique movies. The British director has dabbled in low budget indie fare and mid-level blockbuster filmmaking. Set to tackle a live-action remake of Aladdin for Disney, Ritchie has made a career of energetic, stylish action thrillers. Working consistently for almost two decades, his debut is somewhat of a cult classic, whereas his more recent films have seen some commercial success. With nine films under his belt, what are his best movies? Surely, he will work for a while, but let's take a look at what he's done thus far.
#5. King Arthur: Legend of the Sword

Yes, the movie was not a hit with critics, nor at the box office. Let's face it, Ritchie has seen his fair share of duds on both fronts. However, there is manic energy to this film and at the very surface level, it is a fun action film. Charlie Hunnam gives a charismatic performance that helps elevate the movie above standard action fare. The cast has tremendous chemistry, and above all, it's modern action style makes for an interesting take on a tried and true fable.
Purchase now on Amazon for $9.42.
#4. Sherlock Holmes

Ritchie brought his stylized eye for action to a different legendary character. Robert Downey Jr. is a charming Sherlock Holmes, and his pairing with Jude Law's take on Dr. Watson is really fun to watch. The script offers some sharp banter between the two leads and a twisty but engaging story. Part of what makes his films so easy to watch (for the most part) is his ability to make the film fly by. The 2009 film does ultimately hold up better than the sequel, but this film franchise was a quiet success.
Purchase now on Amazon for $16.50.
#3. The Man from U.N.C.L.E.

This is a film that didn't hit at the box office, but it is one of the more entertaining spy movies of recent memory. A great cast, an engrossing story, and some more colorful and stylish work from the director, The Man from U.N.C.L.E. does just enough to be a memorable movie. Like all Guy Ritchie films, it is a high energy action thriller with some really dazzling set pieces and a lush color palette to bring its characters to life. It's throughline to the end of the story is predictable, but it is a fun ride to get where we are going. Not to mention, it features a well-matched duo of Henry Cavill and Armie Hammer giving some charismatic performances.
Purchase now on Amazon for $6.99.
#2. Snatch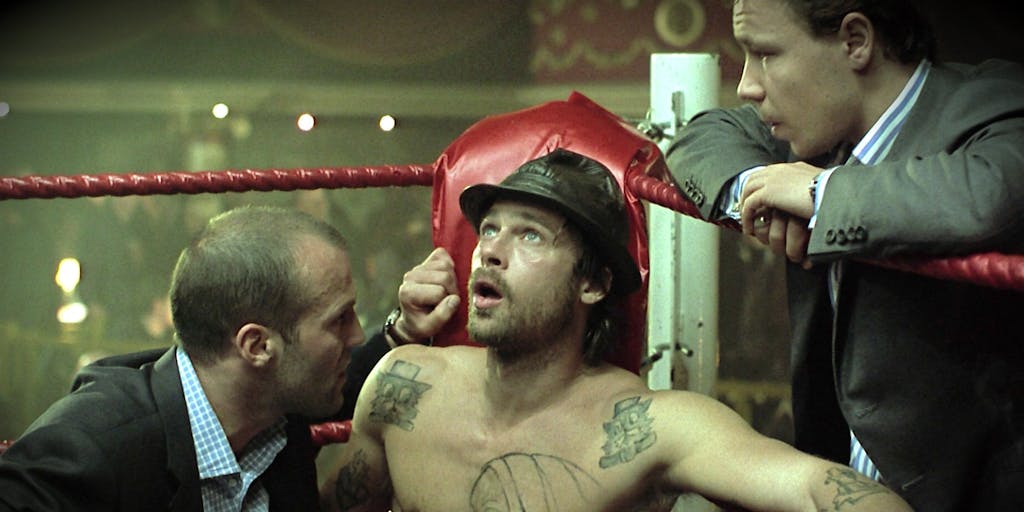 Again, Ritchie seems to be one of the only directors who can make style over substance work. Snatch's snappy and hysterical dialogue makes for highly entertaining crime caper. Some really great work from the likes of Jason Statham, Dennis Farina, Benecio del Toro and even Brad Pitt playing a bare knuckle boxer help to bolster the movie. Guy Ritchie loves to make fun films about gangsters, a feat he achieves in his first two films. There is never a lot of depth to his movies, but they are usually breezy and fun. Ritchie's dialogue is often very funny, and the movie revels in its eccentricities. Snatch is a solid film and does echo our next movie heavily, but sometimes more is good.
Purchase now on Amazon for $12.99.
#1. Lock, Stock and Two Smoking Barrels

Unfortunately, Snatch does feel a bit too similar to Ritchie's first film. Even more unfortunate, Ritchie in the two decades he's been working has yet to top his feature debut. Borrowing from, but never quite ripping off Quentin Tarantino, Ritchie's London gangster crime film is funny, quirky and helped establish his style as a director. His inventiveness with the camera is something he has relied a bit too much on, but if you had never seen one of his films prior to seeing this, it all works. Statham again is featured in the movie and the cast all great chemistry. Ritchie's peak was his first, and he has made some solid stuff since.
Purchase now on Amazon for $9.99.
We are a participant in the Amazon Services LLC Associates Program, an affiliate advertising program designed to provide a means to earn fees by linking to Amazon.com and affiliated sites.