On Thanksgiving Day Netflix released Mystery Science Theater 3000: The Gauntlet, the 12th season of MST3K where Jonah and the bots have to endure six terrible B-movies back-to-back. When we chatted with series creator Joel Hodgson and current host Jonah Ray about the new season, they explained why they decided to change format from 14 episodes to just 6, and adding in a season arc that carries through all 6 episodes.
"This came from the top, man, this came from Netflix," Hodgson explained of the format change. "We started to talk to them about how it was going, and they have so much data and ways of measuring the way people are using the show. The biggest thing that came back was your diehard fans loved 14 episodes and the Netflix viewers aren't negotiating that many, because you basically created a series that's three times longer than a Netflix series."
"Netflix wanted six, so that's how we came up with the idea of the gauntlet," added Ray. "14 episodes is a lot for people. No one knows how to pace themselves in the TV world. People tried to binge it and it didn't work and there was no arc. With the second season the episodes are a little shorter, and we're also just more comfortable with who we are in making the show. I always try to tell people it was a show that came back after a real long time, but for almost everybody working on it that was the first time they had made that show. There were a lot of growing pains that had to happen."
Another growing pain involved the return of J. Elvis Weinstein, who back in 1988 originated the roles of Tom Servo and Gypsy on Mystery Science Theater 3000, as well as the mad scientist role of Dr. Laurence Erhardt. While Weinstein happily returned this season for an extended cameo, the intention was for more of the original crew to come back.
"We had designed it so Trace Beaulieu and Frank Conniff and J. Elvis Weinstein all came back, because they're the original mad scientists," Hogson explained apologetically. "We did a lot of development, developed their visual, and this was all at the request of Trace Beaulieu. He wanted to see the script and he wanted approval on it, and when we showed him what we had done he passed on it. He and Frank ended up passing on it, but this has gone on since we started. I don't think people understand he was actually invited to work on Season 11 and be a head writer or a show runner for it. We just keep coming back, and for whatever reason, they just didn't want to be a part of it this year. The door is always open."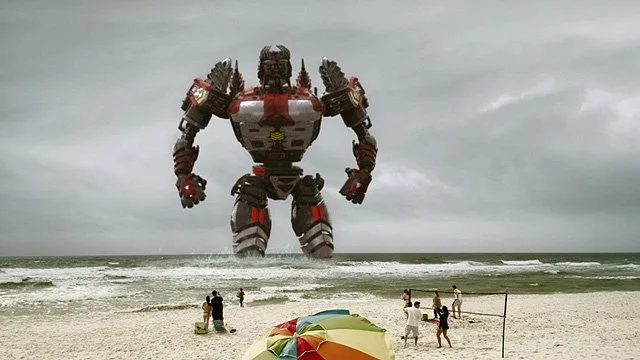 Season 12 also allowed Jonah & Co. the chance to riff on a more contemporary movie with Atlantic Rim, a 2013 Pacific Rim knockoff from infamous production company The Asylum. This newer film presented challenged some of the older B-movies did not.
"Entertainment's gotten faster," explained Ray. "You see these old movies, and they were just trying to fill up time. With these newer movies they have to make it seem action-packed, so there's a lot of cutting. That pacing makes it really hard to squeeze riffs in without getting in the way of the movie."
"You also have these really bland CG effects that seem to have no texture," Hodgson added. "You can throw about one or two jokes at them and that's about it."
A lot of the drive-in movies made in the 50s and 60s and 70s that have been MST3K fodder have an earnestness to them, whereas The Asylum has made their reputation on movies that are self-consciously cheesy. Thus, Hodgson and his team had to review many Asylum offerings before landing on Atlantic Rim.
"We were able to find an Asylum movie that wasn't self-conscious," Hodgson said. "They're not winking at the camera, and so it worked for us really good. After 'Mystery Science Theater' came out 30 years ago people making B movies suddenly started being self-conscious and kind of admitted they were making a crummy movie. Once that happens, it doesn't work that great for what we do."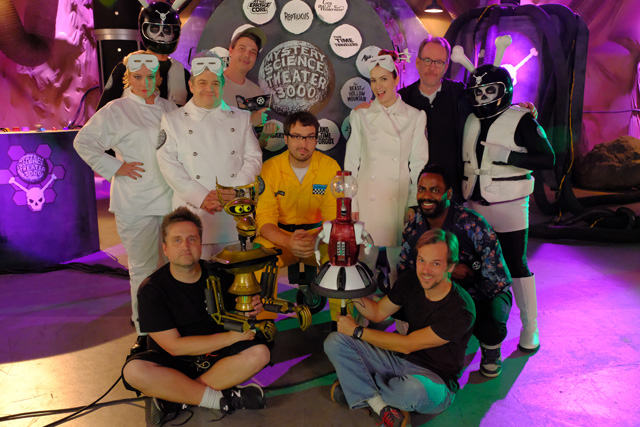 While Atlantic Rim posed new challenges, they were able to dive back into the show's past with Ator, the Fighting Eagle, a 1982 Italian sword and sorcery film that is part of the series that also spawned Cave Dwellers, one of the most beloved episodes from the original run of MST3K.
"'Cave Dwellers' was like a high watermark for us," said Hodgson, who riffed on the film back in a 1991 episode. "We just really liked it and had fun making it back when we started."
"I think it's kind of fun because if you really like a joke from that old one, you pop it in there," said Ray, who brought back several jokes relating to the film's star Miles O'Keefe's name. "I'm not comparing anything we do to The Beatles, but at the end of 'All You Need is Love' they start singing, 'She Loves You, Yeah, Yeah, Yeah.' It's fun to kind of be self-referential in a space like this, where it's all just jokes."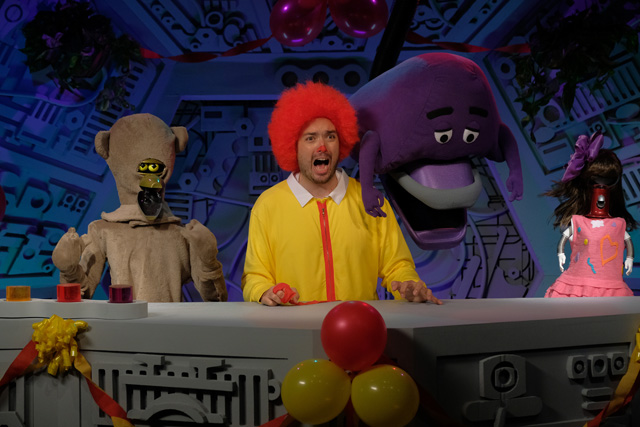 Ray also got the chance to riff on the notorious McDonald's-sponsored 1989 E.T. ripoff Mac and Me, and when we asked him if he could find anything redeeming about it after viewing it so many times he was quite blunt.
"No," admitted Ray. "Everything in the movie is so derivative and ham-fisted, and so drenched in capitalistic entertainment. It's like an undercover cop trying to do a drug deal. Like, 'Hey, I'm a regular movie. Hey kids, don't you want to dance with Mac?' Everything is so terrible in it. With any other movie I'll find something really cool in, but it's just so derivative that it just doesn't work. It's McDonald's, one of the biggest money-making endeavors in American history, and the effects are terrible."
*SPOILER WARNING*
Mystery Science Theater 3000: The Gauntlet ends its season with Jonah's torturers Kinga Forrester (Felicia Day) and Max (Patton Oswalt) trapped in the theater, forced to riff on bad movies. We asked Hodgson if this will be explored more in a third Netflix season of the show.
"I really don't know," Hodgson claimed. "We have to treat it like a position that we're going to come back to and evaluate.It's just like the end of any TV shoot: You want to create something interesting so people want you to come back. Felicia and Patton are incredible. It was so much work just to get everything to fit for this season that I could not tell you what we're going to do with them. I think when we get to the other end, if it works well, if we get another season, we'll go, 'Okay. What do we want to do? What's going to happen? They can riff now. They've been trapped in this theater riffing for five months. What's going to happen? Who are they now?'"
RELATED: Mystery Science Theater 3000: The Gauntlet Trailer Released
This year's Mystery Science Theater 3000: The Gauntlet riffs on six classic movies, including 1979's Killer Fish, 1980's The Day Time Ended, 1989's Lords of the Deep, 2013's Pacific Rim knockoff Atlantic Rim, the McDonald's-sponsored E.T. ripoff Mac and Me and 1982's Ator, the Fighting Eagle (another in the film series that also included MST3K classic Cave Dwellers!). In keeping with the binge-watching model of Netflix, all six episodes are part of one long story arc in which Jonah and the bots have to endure all six movies back-to-back.
Created and co-directed by Joel Hodgson, the Mystery Science Theater 3000 revival stars Jonah Ray (The Nerdist Podcast, Maron) as Jonah Heston, along with his robot sidekicks Tom Servo (Baron Vaughn, Grace and Frankie) and Crow T. Robot (Hampton Yount, The Eric Andre Show), who are forced by Kinga Forrester (Felicia Day, The Guild, Dr. Horrible's Sing-Along Blog) to watch (and hilariously mock) terrible movies onboard the Satellite of Love. Comedian Patton Oswalt (Young Adult) appears as TV's Son of TV's Frank, Kinga's henchman.
In late 2015, Hodgson started a highly-successful Kickstarter campaign to fund the new season, which through voracious fan contributions netted $5.7 million, a Kickstarter record. The B-movie titles for the new season were licensed through Shout Factory, the label that also distributes the classic episodes of MST3K on DVD/Blu-ray. Highlights from Season 11 included the bigfoot kids movie Cry Wilderness, 70's disaster flick Avalanche and the sexy sci-fi romp Star Crash, as well as a guest star roster that included Wil Wheaton, Erin Gray, Neil Patrick Harris, Jerry Seinfeld, Joel McHale and Mark Hamill!
The original Mystery Science Theater 3000 was created and hosted by comedian Joel Hodgson and produced out of Minnesota from 1988 to 1999 for 197 episodes, each cracking jokes over a different piece of trash cinema from badly-dubbed Japanese Gamera movies to the obscure sleaze masterpiece Manos: The Hands of Fate. Halfway through the show's run, Hodgson left the show over creative differences and was replaced as host by head writer Michael J. Nelson, who also starred in 1996's Mystery Science Theater 3000: The Movie.
Mystery Science Theater 3000
Episode 1101: Reptilicus

Episode 1102: Cry Wilderness

Episode 1103: The Time Travelers

Episode 1104: Avalanche

Episode 1105: The Beast of Hollow Mountain

Episode 1106: Starcrash

Episode 1107: The Land That Time Forgot

Episode 1108: The Loves of Hercules

Episode 1109: Yongary - Monster from the Deep

Episode 1110: Wizards of the Lost Kingdom

Episode 1111: Wizards of the Lost Kingdom II

Episode 1112: Carnival Magic

Episode 1113: Il Natale Che Quasi Non Fu

Episode 1114: At the Earth's Core

Mystery Science Theater 3000

'Mystery Science Theater 3000' starring Jonah Ray, Patton Oswalt, Felicia Day, Bill Corbett, Kevin Murphy, Mary Jo Pehl, Hampton Yount, Baron Vaughn, Rebecca Hanson, Tim Blaney, Elliot Kalan. Directed by Joel Hodgson & Rob Cohen. Photo by Darren Michaels, SMPSP

Mystery Science Theater 3000

'Mystery Science Theater 3000' starring Jonah Ray, Patton Oswalt, Felicia Day, Bill Corbett, Kevin Murphy, Mary Jo Pehl, Hampton Yount, Baron Vaughn, Rebecca Hanson, Tim Blaney, Elliot Kalan. Directed by Joel Hodgson & Rob Cohen. Photo by Darren Michaels, SMPSP

Mystery Science Theater 3000

'Mystery Science Theater 3000' starring Mark Hamill, Jonah Ray, Hampton Yount, Baron Vaughn, Rebecca Hanson, Tim Blaney, Joel Hodgson, & Elliot Kalan. Photo by Darren Michaels, SMPSP

Mystery Science Theater 3000

'Mystery Science Theater 3000' starring Joel Mchale, Jonah Ray, Bill Corbett, Kevin Murphy, Mary Jo Pehl, Hampton Yount, Baron Vaughn, Rebecca Hanson, Tim Blaney, Elliot Kalan. Directed by Joel Hodgson & Rob Cohen. Photo by Darren Michaels, SMPSP

Mystery Science Theater 3000

'Mystery Science Theater 3000' starring Joel Mchale, Jonah Ray, Bill Corbett, Kevin Murphy, Mary Jo Pehl, Hampton Yount, Baron Vaughn, Rebecca Hanson, Tim Blaney, Elliot Kalan. Directed by Joel Hodgson & Rob Cohen. Photo by Darren Michaels, SMPSP

Mystery Science Theater 3000

'Mystery Science Theater 3000' starring Jonah Ray, Patton Oswalt, Felicia Day, Bill Corbett, Kevin Murphy, Mary Jo Pehl, Hampton Yount, Baron Vaughn, Rebecca Hanson, Tim Blaney, Elliot Kalan. Directed by Joel Hodgson & Rob Cohen. Photo by Darren Michaels, SMPSP

Mystery Science Theater 3000

'Mystery Science Theater 3000' starring Jonah Ray, Patton Oswalt, Felicia Day, Bill Corbett, Kevin Murphy, Mary Jo Pehl, Hampton Yount, Baron Vaughn, Rebecca Hanson, Tim Blaney, Elliot Kalan. Directed by Joel Hodgson & Rob Cohen. Photo by Darren Michaels, SMPSP

Mystery Science Theater 3000

'Mystery Science Theater 3000' starring Jonah Ray, Patton Oswalt, Felicia Day, Bill Corbett, Kevin Murphy, Mary Jo Pehl, Hampton Yount, Baron Vaughn, Rebecca Hanson, Tim Blaney, Elliot Kalan. Directed by Joel Hodgson & Rob Cohen. Photo by Darren Michaels, SMPSP

Mystery Science Theater 3000

'Mystery Science Theater 3000' starring Jonah Ray, Hampton Yount, Baron Vaughn, Rebecca Hanson, Tim Blaney, Joel Hodgson, & Elliot Kalan. Photo by Darren Michaels, SMPSP for Satellite of Love, LLC © 2016

Mystery Science Theater 3000

'Mystery Science Theater 3000' starring Jonah Ray, Patton Oswalt, Felicia Day, Bill Corbett, Kevin Murphy, Mary Jo Pehl, Hampton Yount, Baron Vaughn, Rebecca Hanson, Tim Blaney, Elliot Kalan. Directed by Joel Hodgson & Rob Cohen. Photo by Darren Michaels, SMPSP

Mystery Science Theater 3000

'Mystery Science Theater 3000' starring Jonah Ray, Hampton Yount, Baron Vaughn, Rebecca Hanson, Tim Blaney, Joel Hodgson, & Elliot Kalan. Photo by Darren Michaels, SMPSP for Satellite of Love, LLC © 2016

Mystery Science Theater 3000

'Mystery Science Theater 3000' starring Jonah Ray, Patton Oswalt, Felicia Day, Bill Corbett, Kevin Murphy, Mary Jo Pehl, Hampton Yount, Baron Vaughn, Rebecca Hanson, Tim Blaney, Elliot Kalan. Directed by Joel Hodgson & Rob Cohen. Photo by Darren Michaels, SMPSP

Mystery Science Theater 3000

'Mystery Science Theater 3000' starring Jonah Ray, Hampton Yount, Baron Vaughn, Rebecca Hanson, Tim Blaney, Joel Hodgson, & Elliot Kalan. Photo by Darren Michaels, SMPSP for Satellite of Love, LLC © 2016

Mystery Science Theater 3000

'Mystery Science Theater 3000' starring Jonah Ray, Hampton Yount, Baron Vaughn, Rebecca Hanson, Tim Blaney, Joel Hodgson, & Elliot Kalan. Photo by Darren Michaels, SMPSP for Satellite of Love, LLC © 2016

Mystery Science Theater 3000

'Mystery Science Theater 3000' starring Jonah Ray, Hampton Yount, Baron Vaughn, Rebecca Hanson, Tim Blaney, Joel Hodgson, & Elliot Kalan. Photo by Darren Michaels, SMPSP for Satellite of Love, LLC © 2016

Mystery Science Theater 3000

'Mystery Science Theater 3000' starring Jonah Ray, Patton Oswalt, Felicia Day, Bill Corbett, Kevin Murphy, Mary Jo Pehl, Hampton Yount, Baron Vaughn, Rebecca Hanson, Tim Blaney, Elliot Kalan. Directed by Joel Hodgson & Rob Cohen. Photo by Darren Michaels, SMPSP

Mystery Science Theater 3000

'Mystery Science Theater 3000' starring Jonah Ray, Patton Oswalt, Felicia Day, Bill Corbett, Kevin Murphy, Mary Jo Pehl, Hampton Yount, Baron Vaughn, Rebecca Hanson, Tim Blaney, Elliot Kalan. Directed by Joel Hodgson & Rob Cohen. Photo by Darren Michaels, SMPSP

Mystery Science Theater 3000

'Mystery Science Theater 3000' starring Jonah Ray, Hampton Yount, Baron Vaughn, Rebecca Hanson, Tim Blaney, Joel Hodgson, & Elliot Kalan. Photo by Darren Michaels, SMPSP

Mystery Science Theater 3000

'Mystery Science Theater 3000' starring Jonah Ray, Hampton Yount, Baron Vaughn, Rebecca Hanson, Tim Blaney, Joel Hodgson, & Elliot Kalan. Photo by Darren Michaels, SMPSP

Mystery Science Theater 3000

'Mystery Science Theater 3000' starring Jonah Ray, Patton Oswalt, Felicia Day, Bill Corbett, Kevin Murphy, Mary Jo Pehl, Hampton Yount, Baron Vaughn, Rebecca Hanson, Tim Blaney, Elliot Kalan. Directed by Joel Hodgson & Rob Cohen. Photo by Darren Michaels, SMPSP

Mystery Science Theater 3000

'Mystery Science Theater 3000' starring Jonah Ray, Patton Oswalt, Felicia Day, Bill Corbett, Kevin Murphy, Mary Jo Pehl, Hampton Yount, Baron Vaughn, Rebecca Hanson, Tim Blaney, Elliot Kalan. Directed by Joel Hodgson & Rob Cohen. Photo by Darren Michaels, SMPSP

Mystery Science Theater 3000

'Mystery Science Theater 3000' starring Jonah Ray, Patton Oswalt, Felicia Day, Bill Corbett, Kevin Murphy, Mary Jo Pehl, Hampton Yount, Baron Vaughn, Rebecca Hanson, Tim Blaney, Elliot Kalan. Directed by Joel Hodgson & Rob Cohen. Photo by Darren Michaels, SMPSP

Mystery Science Theater 3000

'Mystery Science Theater 3000' starring Jonah Ray, Patton Oswalt, Felicia Day, Bill Corbett, Kevin Murphy, Mary Jo Pehl, Hampton Yount, Baron Vaughn, Rebecca Hanson, Tim Blaney, Elliot Kalan. Directed by Joel Hodgson & Rob Cohen. Photo by Darren Michaels, SMPSP

Mystery Science Theater 3000

'Mystery Science Theater 3000' starring Jonah Ray, Hampton Yount, Baron Vaughn, Rebecca Hanson, Tim Blaney, Joel Hodgson, & Elliot Kalan. Photo by Darren Michaels, SMPSP for Satellite of Love, LLC © 2016

Mystery Science Theater 3000

'Mystery Science Theater 3000' starring Jonah Ray, Hampton Yount, Baron Vaughn, Rebecca Hanson, Tim Blaney, Joel Hodgson, & Elliot Kalan. Photo by Darren Michaels, SMPSP for Satellite of Love, LLC © 2016

Mystery Science Theater 3000

'Mystery Science Theater 3000' starring Jonah Ray, Hampton Yount, Baron Vaughn, Rebecca Hanson, Tim Blaney, Joel Hodgson, & Elliot Kalan. Photo by Darren Michaels, SMPSP for Satellite of Love, LLC © 2016