While accessibility in video games has come a long way, it's still far from where it needs to be. But some games in recent years have been leading the charge to accommodate different types of handicaps. The Vale: Shadow of the Crown is one of those titles as it is a first-person game that's focused on bringing in blind and low-vision players.
While announced in March 2020, developer Falling Squirrel spoke about the game in its newest developer diary, which is at the bottom of the article. In it, Creative Director Dave Evans talked about how the game started as something he could do by himself without visuals because he is, by his own claim, not an artist. But in doing so, he noticed that he could make a game for the underserved visually impaired community.
MORE: No Man's Sky Celebrates Fifth Anniversary, Teases Frontiers Update
When he realized that this would be an all-audio game, he contacted the Canadian National Institute for the Blind for feedback. There are even visually impaired voice actors in the game.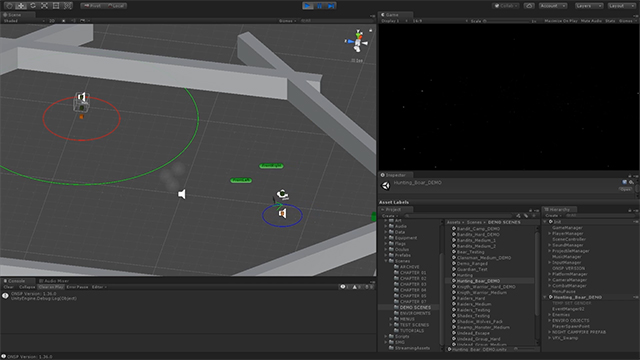 From the snippets of gameplay in the video, there isn't much more than a black screen. It's mainly an audio experience. However, its audio is made to be immersive thanks to some repurposed VR technology. Plugins normally used for virtual reality have allowed him to create binaural audio in a virtual 3D space, meaning the sounds will be more lively. The above screenshot shows the tool in question so even though it's a "blank" screen, players are still moving through a space and hearing audio along the way.
Evans said he has two hopes for the game.
"There are two things I am hoping will happen with The Vale," he said. "One is it will be a great game that the community can play. Hopefully, it will be an introduction to maybe what video games could mean for the community. People who have never considered playing a game before might be drawn the The Vale. And then the second aspect of that is potentially developing mechanics that can replace the visual mechanics that are common in video games to allow mainstream games to be more accessible."
MORE: Gamora Makes Her Way Into Fortnite Next Week
The Vale: Shadow of the Crown is about an heir to a throne that was blind from birth and exiled. There's also gear, combat, and resource management. It releases on PC and Xbox One on August 19 and will also come to the Epic Games Store "shortly after."