There is a ton of depth to Roll7's skateboarding game OlliOlli World. Even series veterans will find plenty of new mechanics to master in this sequel. While ultimately nothing will replace the learning experience that is playing the game, failing, and hopping back on the board with a newfound perspective, there are quite a few OlliOlli World tips for new and returning players that will help make your time more enjoyable and save you some frustration.
Here are six OlliOlli World tips for players that are struggling to progress through stages and get high scores.
RELATED: OlliOlli World Review: Ascending to Gnarvana
Connect on Your Wallrides Early
OlliOlli World's new wallride mechanic is easy to mess up since many will likely start wallriding at the apex of their jump. However, that will usually kill most of your momentum. What you want to do is hit the wallride as early as possible as you're still going up. This momentum will see you ride up the wall and you can actually improve your height through a series of wallrides rather than dropping with each one. It's a small change but one that makes getting through wallrides a breeze if you were having issues with them.
Don't Be Afraid to Bank Your Points
Most of OlliOlli World's score challenges aren't that difficult to achieve. However, if you are trying to trick through an entire level in one continuous combo, then chances are you will eventually mess up. Considering your score only counts after you land a trick, this means that if you crash halfway through a level, then you will respawn with zero points.
Instead of trying to go for extended combos or high score runs on your first time around, make sure to land tricks before reaching checkpoints. This way if you mess up you'll respawn with tens of thousands of points instead and won't have to worry about finishing with a paltry number. It's not as flashy as a full combo but you don't need 400,000 points when the high score goal is just 80,000.
Manual and Time Your Landings
Several key mechanics of past games that make racking up a combo easy aren't introduced until later in this sequel. By hitting a manual after doing a trick (pressing the land button while pointing your analog stick left or right when you hit the ground), you can continue your combo similar to Tony Hawk's Pro Skater. Timing is key as you'll need momentum to get through levels, so if you're entering a manual too late and slowing down, then give up on it and land to power push to regain speed. Additionally, you should be using similar timing to land all your tricks to get a points boost at the end of a combo.
RELATED: Danny Trejo Is Making an Appearance in Skateboarding Game OlliOlli World
Use the Checkpoints to Your Advantage
If you've played OlliOlli2 then it's very tempting to try to get through every stage in a single combo. However, OlliOlli World features plenty of branching paths and using the checkpoints can make finishing challenges a lot easier. Rather than trying to collect 10 items in one go, don't be afraid to crash if you miss one and get it on the second attempt. The checkpoint system makes completing a lot of the game's challenges much easier and allows you to experiment with routes. Your initial runs on levels should focus on learning them, not trying to show off your sick skills (although if you can do both, then more power to you).
Always Be Spinning
Spinning was a risky maneuver in past games but it's essentially a free points boost and combo upper in OlliOlli World. There is a generous amount of correction when landing, so don't worry about accidentally turning your 540 spin into a 600 because the game will fix it and you won't crash. Due to this, an easy way to up your score is to just hold the right trigger in the entire time so you're spinning every time you jump. Sure, you look pretty silly but the high scores you set will be worth it. Grabs, which use the right analog stick, are also great for adding to combos, but are riskier since landing during a grab will cause you to wipe.
Watch Replays on the Leaderboards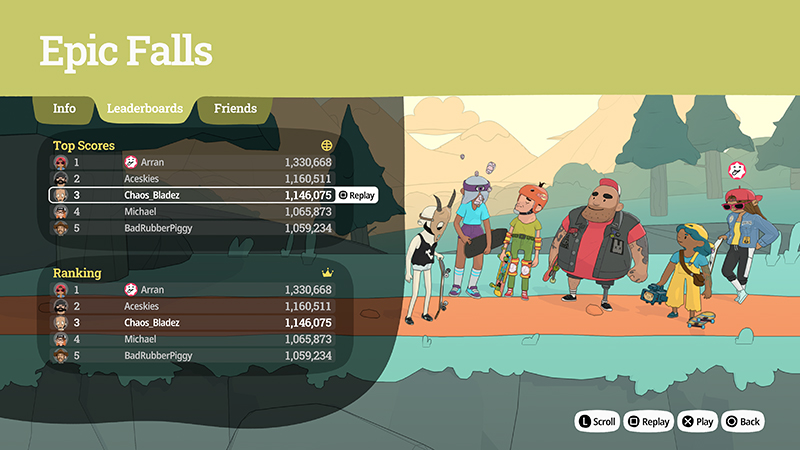 If you find yourself particularly stuck on a section or wondering about the more advanced strategies that the game has to offer, then watching replays straight from the leaderboards can be quite helpful. Whether it's of the phenomenal players at the top of the leaderboard or the runs of your friends that are playing, you can learn a lot from simply watching. From figuring out that you simply are lacking speed when going into a jump or that an alternate path offers up more potential for scoring points, OlliOlli rewards its players that are patient enough to study some tape.
---
This is just a small look at the depth of Roll7's skateboarding game as there are plenty more mechanics to master like late tricking and grind switching. However, these OlliOlli World tips should make your path to Gnarvana much easier.