Fans of the hit series Inuyasha are in for a treat this month, as the popular series is partnering with both Loot Crate and Steve Aoki in two different, but very unique collaborations. 
MORE: Lupin the Third: Part VI Announced for Series' 50th Anniversary
First up, Loot Crate has announced that an Inuyasha Special Edition Crate will be releasing, honoring the popular manga series and its anime adaptation. The Special Edition Crate was curated to fan the flames of Inuyasha enthusiasts and was approved by VIZ Media. It includes officially licensed, exclusive merchandise including new apparel and original replicas inspired by the world of Inuyasha. The crate is available now on Loot Crate's website and will run fans $74.99 if they'd like to pick one up, with shipping taking place in Fall 2021. There's also a special Sesshomaru jacket that can be added, which brings it up to $124.99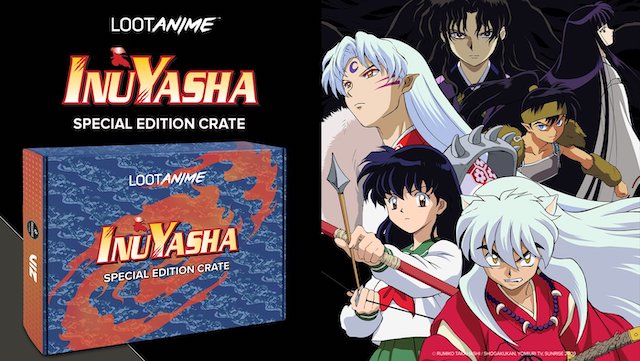 Additionally, Steve Aoki's fashion brand, Dim Mak Collection, has also announced that they have partnered with VIZ Media to release an officially licensed "Dim Mak x Inuyasha" collaboration, which includes a collection of anime-inspired apparel celebrating the artistry and epic storytelling of Inuyasha. Clothing will be priced between $38 to $85.
"I love the story of togetherness in Inuyasha. I am all about collaboration whether it's in my music, fashion, or every day. I have always been inspired by the magic of when people from differing perspectives align to create something new," said Steve Aoki.
MORE: Demon Slayer Game English Version Announced by Sega, Out This Year
The Dim Mak x Inuyasha collaboration will be available starting on Friday, May 28 at 12 a.m. PST, exclusively at dimmakcollection.com, and on the NTWRK platform.
Check out the full lookbook and product shots of the apparel below:
Inuyasha x Dim Mak Collection
Inuyasha x Dim Mak Collection

Inuyasha x Dim Mak Collection

Inuyasha x Dim Mak Collection

Inuyasha x Dim Mak Collection

Inuyasha x Dim Mak Collection

Inuyasha x Dim Mak Collection

Inuyasha x Dim Mak Collection

Inuyasha x Dim Mak Collection

Inuyasha x Dim Mak Collection

Inuyasha x Dim Mak Collection

Inuyasha x Dim Mak Collection

Inuyasha x Dim Mak Collection

Inuyasha x Dim Mak Collection

Inuyasha x Dim Mak Collection

Inuyasha x Dim Mak Collection

Inuyasha x Dim Mak Collection

Inuyasha x Dim Mak Collection

Inuyasha x Dim Mak Collection

Inuyasha x Dim Mak Collection

Inuyasha x Dim Mak Collection

Inuyasha x Dim Mak Collection

Inuyasha x Dim Mak Collection

Inuyasha x Dim Mak Collection

Inuyasha x Dim Mak Collection

Inuyasha x Dim Mak Collection

Inuyasha x Dim Mak Collection

Inuyasha x Dim Mak Collection

Inuyasha x Dim Mak Collection

Inuyasha x Dim Mak Collection

Inuyasha x Dim Mak Collection

Inuyasha x Dim Mak Collection

Inuyasha x Dim Mak Collection

Inuyasha x Dim Mak Collection

Inuyasha x Dim Mak Collection

Inuyasha x Dim Mak Collection

Inuyasha x Dim Mak Collection

Inuyasha x Dim Mak Collection

Inuyasha x Dim Mak Collection

Inuyasha x Dim Mak Collection

Inuyasha x Dim Mak Collection

Inuyasha x Dim Mak Collection

Inuyasha x Dim Mak Collection